After your arrival, there is time to discover the sights of Constance, for example the council building, the cathedral of our Lady, the Imperia, the flower island Mainau or the SEA LIFE centre. You can find the living Middle Ages at the Rosgartenmuseum. The cafeteria in the inner courtyard of the museum invites you to stay.
The route leads you through picturesque places along the Untersee lake and into the medieval town Stein am Rhein, over which the Hohenklingen castle is enthroned. Pay a visit to the Lindwurm museum. Via the peninsula Höri, you continue to Radolfzell, which developed from a modest fishermens's and winegrowing settlement to a pilgrimage site and touristic centre at lake Untersee.
You pass the natural protected Mindelsee lake and arrive via Bodman-Ludwigshafen at the former free imperial city Überlingen. In Uhldingen, a visit to the pile dwellings from the stone and bronze ages is recommended. The way leads you further to the zeppelin city Friedrichshafen.
You reach the Bavarian Lake Constance metropolis Lindau through lovely villages. Pay a visit to the historic town of the island Lindau. In Bregenz, you can enjoy a unique view over the lake after taking part in a cable car ride onto the Pfänder (mountain).
On the last day you cycle via the Thurgau canton, with its neat villages and the typical half-timbered houses, back to Constance. Enjoy the rest of the day in the historical city and pay a visit to the cafeteria at the Rosgartenmuseum. The route can be shortend with a train ride from Romanshorn to Constance (on one's own) by 21 km.
After breakfast you leave Constance with a lot of great impressions.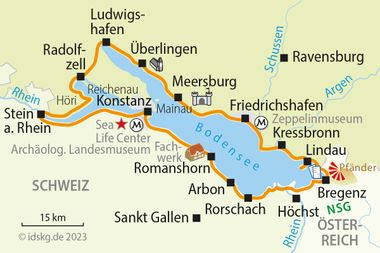 Accommodation incl. breakfast
Cat. B: taverns and middle-class hotels (3*)
Cat. A: taverns and comfort hotels (3* - 4*)
Room with shower/bath/WC
Luggage transport
Admission to Rosgartenmuseum Constance incl. 1 cup of coffee
Admission to museum Lindwurm in Stein am Rhein (only cat. A)
Detailed route description
Map of bike trails with marked route
Tips for tour preparation
Touristic information
7 days hotline service
Below you will find specific information about the bike trip Lake Constance - thrilling ride ahead. If you have further questions about this trip, you simply call us: Phone: 06421 – 886890.
Arrival by train
Constance is easily accessible by train from all major cities in Germany. We recommend taking a taxi from the station to get to our partner hotels in Constance. Current schedule information and price information can be found via
Parking facilities at the first hotel
At the first hotel paid parking is possible, partialy. It is also possible to use free parking spaces on public roads or public parking spaces / car parks. Parking garages (fish market, Dammgasse, old town, Benedictine square), cost apprx. 10-20 EUR per day / car.
Furthermore, it is possible to park on our partners parking lot for the duration of the bike tour (cost: EUR 50, - per car). Spaces are limited, no reservation possible.
Condition of cycle paths
You cycle on flat, paved bike trails near the shore most of the time. Occasionally there are short sections of unpaved roads. In the area around Friedrichshafen, you cycle along a main road. The cycle routes are well signposted.
Available rental bikes
You can choose between a 7-speed gear shift with coaster brake or a 21-speed gear shift with freewheel and a low opening that makes mounting and dismounting much easier. Men's bikes on request. You simply specify your wishes at time of booking. Each bike is equipped with a tachometer, lock, pump and a repair kit. Electric bikes are available as well.
Currencies in Switzerland
For Switzerland, we recommend to exchange Swiss franc. Although you can pay in euros. Franken can easily be lifted by debit or credit card at an ATM.
Extra costs which are not inculded in the price
A possibly applicable city tax is not part of the price and has to be paid at the hotel locally.
7 days hotline service
In case of chain breakdown, flooding makes it impossible to continue your tour or any other nasty surprise: you can reach us seven days a week and we will do anything to help you as fast as possible.
Passport and visa requirements
For EU citizens, there are no special passport or visa requirements and no health formalities to be considered for this trip.
Travel insurance
The tour price already includes the statutory insolvency insurance. In addition, we recommend that you take out travel cancellation insurance upon receipt of your travel confirmation in order to protect yourself against financial disadvantages in the event of travel cancellation, interruption of travel, illness or accident.
You might also be interested in