Start early, it's worth it! Take the opportunity to stroll through the old town of Constance. Take your time and visit the aquariums of the Sea Life Center and the National Archaeological Museum.
After breakfast your first cycling tour starts. The Lake Constance cycle path takes you quickly to the old imperial town of Radolfzell. Bishop Radolf of Verona founded Radolfzell in 826 as a spiritual destination. Afterwards a fishing village had been established and finally the today's flourishing town of Radolfzell developed. Visit the famous city museum in the "Alte Stadtapotheke", stroll through the streets and visit the Cathedral of Our Lady. Look forward to the north bank, as it will show you numerous historical testimonies: monasteries, imperial cities, baroque churches and old castles. Visit the cathedral of St. Nicholas, the biggest Gothic church on Lake Constance and the town hall with one of the most beautiful late Gothic council rooms in Southern Germany or the city garden built in 1875. Let yourself be enchanted by the patrician houses and the historic old town of Überlingen.
This morning you can visit the reconstructed pile dwelling in Unteruhldingen. A guide will lead you through selected houses from the Neolithic and Bronze Age period. You will be amazed. Afterwards you continue cycling to Meersburg. This small town awaits you with numerous attractions. Visit the Old Castle, the oldest inhabited castle in Germany and the last residence of the poetess Annette von Droste-Hülshoff. Admire the New Palace with its magnificent staircase of Balthasar Neumann and stroll over the square, which is lined with picturesque half-timbered houses. Accompanied by the most beautiful alpine panorama you cycle further to Friedrichshafen. Visit the famous Zeppelin Museum, before you reach Langenargen. Look forward to the suspension bridge, which is considered to be the small example of the famous Golden Gate Bridge in San Francisco.
Accompanied by a great view of the Alps you cycle along the "Bregenzer Bucht" to the famous city Bregenz with its unique lake stage. If you want to get up high in the air, get into the cable car and climb the 1064 m high Pfänder. Enjoy an overwhelming view of the Alps and Lake Constance. Continue your trip and cross the young Rhine, which flows into Lake Constance.
Today you cycle through Switzerland. Look forward to the town of Arbon with its castle and the half-timbered houses. On your way you should make a stop to try the "Schümli" (= Swiss espresso-based coffee) on one of the many lakeside terraces. With such a fantastic view the cafe tastes even better!
Durch malerische Schweizer Fischerdörfer radeln Sie heute am Südufer des Untersees nach Stein am Rhein. Was für eine herrliche Stadt! Staunen Sie über die vielen erker- und freskengeschmückten Häuser, die alten Stadttore und die mittelalterlich anmutenden Gassen. Ganz zu Recht trägt Stein am Rhein stolz den Beinamen "Rothenburg des Hochrheins". Nach lohnenswerter Besichtigung radeln Sie weiter nach Schaffhausen. Sein intaktes, mittelalterliches Stadtbild wird geprägt von der Festung Munot, errichtet im 16. Jahrhundert nach Grundsätzen von Albrecht Dürers Befestigungslehre. Genießen Sie zum Tagesabschluss einen entspannten Abend in einen der vielen guten Restaurants der Stadt und lassen Sie sich einfangen vom Flair des Fronwagplatzes.
Look forward to today's spectacle: You visit the Rhine falls, the most powerful waterfall in Central Europe! A boat takes you to the falls, so you can experience the force of the thundering waters. Along a beautiful river landscape you cycle back to Stein am Rhein. Via the Lake Constance peninsula Höri, which attracted numerous artists and writers in search of inspiration, you cycle to Gaienhofen, where you board the ship to the island Reichenau. Look forward to the monastery island Reichenau, which is a UNESCO World Heritage since 2000. The well-preserved churches of the island show monastic architecture from the 9th to 11th century. You will be impressed by the restored wall paintings. Dont miss Strabo's herb garden, which was rebuilt according to the historical model within the ancient monastery walls of the Cathedral of St. Maria and St. Mark in 1991.
Your bike trip ends after breakfast. We would be happy to book extra nights for you, as Lake Constance still provides many discoveries.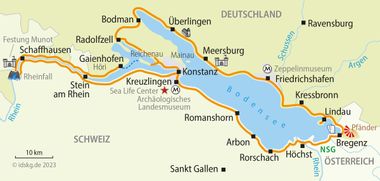 Accommodation incl. breakfast
Room with shower/bath/WC
Luggage transport
Entrance Rosgartenmuseum Constance incl. 1 Coffee
Boat trip to the Rheinfallfelsen
Boat trip Gaienhofen-Reichenau incl. bicycle
Detailed route description
Map of bike trails with marked route
Tips for tour preparation
Touristic information
7 days hotline service
Worth knowing about the bike tour Lake Constance and Rheinfall
Please find more information about the bike tour "Lake Constance and Rheinfall" below. If you have any further questions feel free to contact us by phone: 0049 - (0)6421 - 886890.
Arrival by train
Constance is easily accessible from all major cities in Germany by train. We recommend to take a taxi from the station to get to our partner hotels in Konstanz. Current schedule information and price information can be found at: www.bahn.de.
Parking facilities at the hotel
At the first hotel paid parking is possible, partialy. Furthermore, it is possible to park in a fenced parking lot for the duration of the bike tour (cost: EUR 49.00 per trip / per car). Reservation required. It is also possible to use free parking spaces on public roads or public parking spaces / car parks. Parking garages (fish market, Dammgasse, old town, Benedictine square), costs approx. 25 EUR per day / car.
Condition of cycle paths
You cycle on flat, paved bike trails near the shore around the lake mostly. Occasionally there are short sections of unpaved roads. The first sections takes place around the peninsula Höri through hilly terrain. In the area of Friedrichshafen, the bike path goes along the main road. The lakeshore is largely open to the public.
Available rental bikes
You can choose between woman's and men's bicycles either with 8-speed gear shift and coaster brake or 27-speed gear shift and freewheel or electric bikes (by Flyer). All ladies' bikes have a low opening that makes mounting and dismounting much easier. The bikes are suitable for all ladies from 150 cm in height. Men's bikes are suitable for all gentlemen from 175 cm in height. You simply specify your wishes at time of booking. Each bike is equipped with a tachometer.
Currencies in Switzerland
For Switzerland, we recommend to exchange Swiss franc. Although you can pay in euros. Franken can easily be lifted by debit or credit card at an ATM.
Extra costs which are not inculded in the price
A possibly applicable city tax is not part of the price and has to be paid at the hotel locally.
7 days hotline service
In case of chain breakdown, flooding makes it impossible to continue your tour or any other nasty surprise: you can reach us seven days a week and we will do anything to help you as fast as possible.
Passport and visa requirements
For EU citizens, there are no special passport or visa requirements and no health formalities to be considered for this trip.
Travel insurance
The tour price already includes the statutory insolvency insurance. In addition, we recommend that you take out travel cancellation insurance upon receipt of your travel confirmation in order to protect yourself against financial disadvantages in the event of travel cancellation, interruption of travel, illness or accident.
You might also be interested in