You start your beautiful bike tour in the beautiful city of Constance, the largest town at Lake Constance, which still presents itself medieval. 1414 it was the site of the only church council north of the Alps. Landmark is the statue of Imperia, which is a monument to the prostitutes of the times of the council.
From Constance you cycle to the flower island of Mainau. Marvel at the flowers and the beautiful gardens. By bike you quickly reach the pier in Wallhausen and you cruise comfortably across Lake Constance to the old imperial city of Überlingen with its striking Gothic cathedral. Look forward to the bike path along the baroque pilgrimage church Birnau and the reconstructed Pfahlbaumuseum in Uhldingen. You continue cycling to Meersburg, from where the car ferry will take you back to Constance.
After breakfast you will go to the car ferry pier and across the lake to the medieval Meersburg. Use the time to visit the old town, Meersburg Castle and enjoy the view over the lake. Then cycle on via Immenstaad to Friedrichshafen with its famous Zeppelin Museum, where you can see a detailed replica of the "Hindenburg" Zeppelin (flying ship). Overnight stay in Friedrichshafen.
Your way to Spieleland is not so far by bike, but quite hilly. That's why you can easily take the bus from Friedrichshafen to the amusement park (not included). Ravensburger Spieleland is a great place to play, romp and explore all day long.
Today you will first cycle through Langenargen, where you can admire the model of the famous Golden Gate Bridge in San Francisco. Through sprawling orchards with stunning views of the Alps you cycle relaxed to the Bavarian town of Lindau, whose old town is on an island. Here a small city tour is a must! Marvel at the beautiful waterfront where lighthouse and lion frame the famous harbor entrance.
After a few kilometers you are in Austria and cycle directly along the lake to the town of Bregenz. Stroll around the city of Bregenz with its perfectly preserved upper town. Marvel at the Martin's Tower, the largest onion domes in Central Europe and look forward to a unique atmosphere that radiates from the streets, rows of houses, plazas and fountains. The cable car takes you up to the top of the Pfänder! At the top you can enjoy a wonderful view over the lake and say hello to native animals in the Alpine Wildlife Park. Shortly after Höchst your cross the Swiss border and are fast in Rorschach or Arbon.
The last day of the cycle route belongs the canton of Thurgau, also fondly called Mostindien for its many orchards and its remote location from a Swiss perspective. Look forward to the town of Arbon and Romanshorn with its castles and half-timbered houses. Today you should absolutely try the "Schümli" (= Swiss coffee espresso-based) at one of the many lakeside terraces. With fantastic views the cafe tastes even better! Through well kept villages you cycle along the lake shore back to Constance.
After breakfast, your round tour ends back in Constance in the hotel.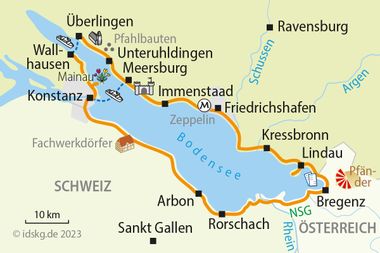 Accommodation incl. breakfast in hotels of the local 3 star category
Room with shower/bath/WC
Luggage transport
Ferry Meersburg - Constance incl. bike
Ferry Constance - Meersburg incl. bike
Boat trip Wallhausen/Dingelsdorf - Ueberlingen incl. bike
Entrance Rosgartenmuseum in Constance incl. 1 coffee
Entrance Pfahlbaumuseum in Unteruhldingen
Entrance "Ravensburger Spieleland" in Meckenbeuren-Liebenau
Entrance Zeppelin museum
Ascent and descent Pfänderbahn (excl. bike)
Detailed route description
Map of bike trails with marked route
Tips for tour preparation
Touristic information
7 days hotline service
Please find more information about the Lake Constance - family tour below. If you have any further questions feel free to contact us by phone: 0049 - (0)6421 - 886890.
Arrival by train
Konstanz is easily accessible from all major cities in Germany by train. We recommend to take a taxi from the station to get to our partner hotels in Konstanz.
Current schedule information and price information can be found at: www.bahn.de.
Parking facilities at the hotel
At the first hotel paid parking is possible, partialy.
Furthermore, it is possible to park in a fenced parking lot for the duration of the bike tour (cost: EUR 45.00 per trip / per car). Reservation required.
It is also possible to use free parking spaces on public roads or public parking spaces / car parks.
Parking garages (fish market, Dammgasse, old town, Benedictine square), costs apprx. 10-20 EUR per day / car.
Condition of cycle paths
You cycle mostly on flat, paved bike trails near the shore around the lake. Occasionally there are short sections of unpaved roads.
In the area of Friedrichshafen, the bike path goes along the main road. The lakeshore is largely open to the public.
Available rental bikes
You can choose between woman's and men's bicycles either with 8-speed gear shift and coaster brake or 27-speed gear shift and freewheel or electric bikes. All ladies' bikes have a low opening that makes mounting and dismounting much easier. The bikes are suitable for all ladies from 150 cm in height. Men's bikes are suitable for all gentlemen from 175 cm in height. You simply specify your wishes at time of booking.
Currencies in Switzerland
For Switzerland, we recommend to exchange Swiss franc. Although you can pay in euros. Franken can easily be lifted by debit or credit card at an ATM.
Extra costs which are not inculded in the price
The entrance to Mainau Island as well as a possibly applicable city tax are not part of the price and has to be paid on site.
7 days hotline service
Just in case the bike chain is broken, flooding makes it impossible to continue your tour or any other nasty surprise: you can reach us seven days a week and we will do anything to help you as fast as possible.
Passport and visa requirements
For EU citizens, there are no special passport or visa requirements and no health formalities to be considered for this trip.
Travel insurance
The tour price already includes the statutory insolvency insurance. In addition, we recommend that you take out travel cancellation insurance upon receipt of your travel confirmation in order to protect yourself against financial disadvantages in the event of travel cancellation, interruption of travel, illness or accident.
You might also be interested in