The key aim of our comprehensive services is to ensure that you enjoy your bike tour with Velociped to the full. Whether an individual tour or a guided group tour, you can rely on our service.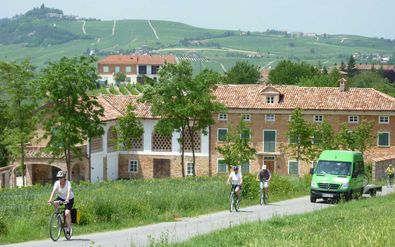 All-carefree service for individual tours
Well equipped with our detailed tour documents you determine your personal daily routine, the highlights of your tour as well as where and how long you are going to stay. All our individual tours include our special all-carefree service for individual tours:
Overview
Accommodation incl. breakfast
Room with shower/bath/WC
Luggage transport
Map of bike trails with marked route
Digital route guidance via smartphone app for almost all journeys
Tips for tour preparation
Touristic information
7 days hotline service
Details
Lodging
For all of our individual tours we offer you either comfortable hotels or good family-owned guesthouses. You may, often, even choose between these two different standards:
Category B: smaller family-run inns and hotels
Category A: comfortable middle-class hotels
Category Charme: hotels with a special ambience
All rooms are equipped with shower/bath and WC, and offer a comfort as corresponds to the category selected. We think that an eventful day on the bike deserves a pleasant end.
Board
You'll always go fortified on tour. Breakfast is included in all our individual tours. For dinner, we'll provide you recommendations for good restaurants.
Luggage transport
We also organise the transport of your luggage from hotel to hotel! You can sit on your bike totally untroubled.
The right route
We'll provide you very exact maps and a detailed description of the routes or the data for digital route guidance via smartphone app. Frequently, routes are especially tagged leading to the selected destinations and to the nicest places of interest without any detours.
Digital travel guide (smartphone app)
For almost all our tours we provide the travel documents with tourist information, maps and GPS-based route guidance as an app for your smartphone. In this way, you always have all the information relating to the individual day tours immediately available. Each sight is explained, special daily tips are stored and each recommended café and restaurant are precisely listed and therefore easy to find. On the digital map you can see exactly where you are and whether you are still on the right path. The app is free to download. After booking, we will be happy to provide you with the digital travel guide for your trip. You will receive all information about this with the travel documents.
GPS navigation using your own smartphone or GPS deviceIn addition, we can also provide GPS tracks for your trip on request and send them to you by e-mail free of charge. You can use these for digital route guidance on your smartphone with an app of your choice or on your own GPS device.
A short video on GPS navigation with an iPhone and the app "MapOut" can be found here.
Additional reservations
On request, we put bike for rent at your disposal and book additional lodging in one or more of our hundreds of contractual hotels for you. For many individual tours, we offer you the booking of a transfer back to the hotel where your tour started.
Tour preparations
We book your rooms at the requested hotel category, give you tips as to suitable clothing and luggage, and help you to organise your arriving and returning journey. We also gladly answer any further questions you may have.
7 days hotline service
During your trip, we are also on duty for you at the weekend in case of emergency and can be reached by phone 7 days a week.
On the guided tours you travel with a group of like-minded individuals and can enjoy support and assistance throughout from our on-site tour guides. The tours take place on specified dates. If not stated otherwise in the travel description, the minimum number of participants in group tours is 8. This number must be reached until 4 weeks before the date of departure.
Our guided tours services covers the following services:
Comfort Hotels
During our guided tours you will be accommodated in selected mid-class-hotels or good guesthouses.
Board
The biker breakfast is always included and will fortify you before you start to padel. If desired, your tour guide will organise a picnic in beautiful natural surroundings at lunch time, depending on availability and weather conditions. In the evening we always have a table reserved in a restaurant for a meal together. We also see to attend your special wishes. For instance, if you are vegetarian simply let us know on the registration form.
Cycling guide
The guide accompanies the group all the time. He knows the routing like the back of his hand, gives you details on places of interest at the roadside and takes your sudden wishes and demands into consideration.
Luggage transport
We organise the transport of your luggage from hotel to hotel! You can sit on your bike totally untroubled. In case that a service-coach (toureigener Begleitbus) is with your group all the time, it does not only carry your luggage but also can take tired bikers for some distance.
Additional reservations
On request, we put bike for rent at your disposal.
Tour preparations
We book your rooms in the requested mid-class-hotels or guesthouses, give you tips as to suitable clothing and luggage, and help you to organise your arriving and returning journey. We also gladly answer any further questions you may have.
Do you think you might like the starting location or the destination of your bike tour so much that you would decide to stay there longer? Or do you want to begin you holiday passing one week on your own in the respective region? No problem, we will organise everything for you. The price for additional nights are stated under the respective tour. Simply state in your booking form where and how long you'd wish to stay.
Online payment by credit card
Secure and convenient online payment
With Velociped you can pay either by bank transfer or online with your credit card (Visa- or Mastercard). For our online payment service we use a system of the Volksbanken Raiffeisenbanken. It is easy to use and offers you the highest possible online security. For customers from EU countries, payments to Velociped by credit card are also free of charge.
Please note!
When paying by credit card from a non-EU country, a fee of 3 % of the invoice amount will be charged.
The Velociped bike tour guide (APP)
THIS IS HOW OUR DIGITAL TRAVEL GUIDE WORKS:
The Velociped Cycling Tour Guide offers digital travel guidance via app for your next Velociped original tour.
During the tour, you have all relevant information at your fingertips on your smartphone and are guided to your respective daily destination via GPS navigation on elaborated routes. In addition, sights, recommended stops and cycle service stations as well as your accommodation are displayed directly on the map and are backed up with tourist information.
The app is free of charge and works on all commercially available smartphones (both Android and iPhone).
You will automatically receive the access data for downloading the booked tour with your travel documents before the start of the tour.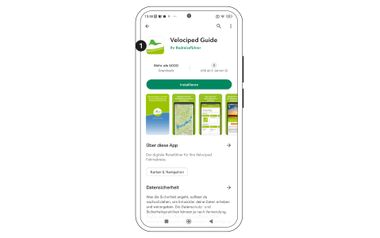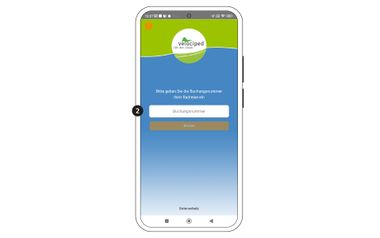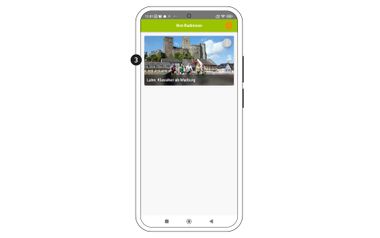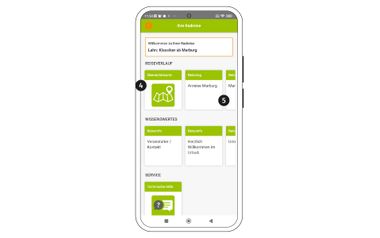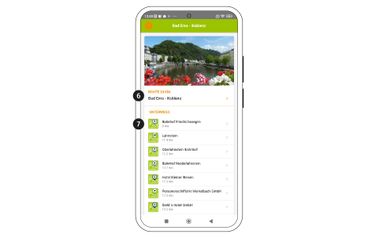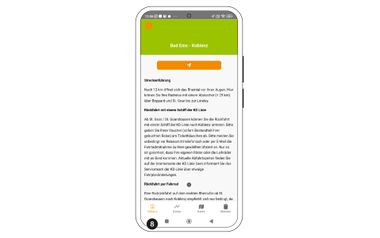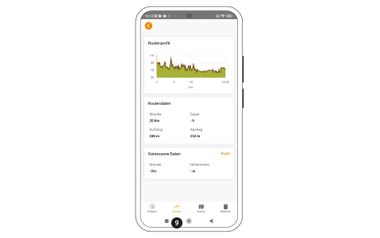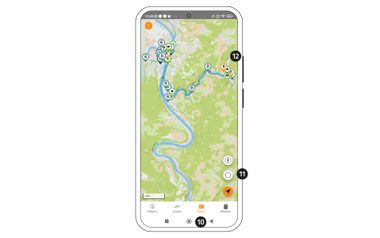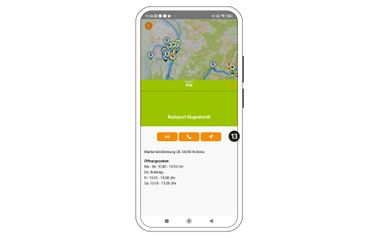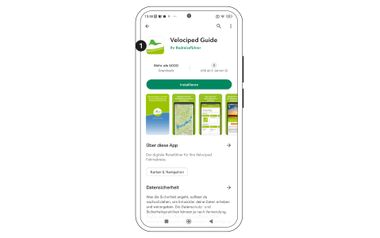 You can find our app under the name "Velociped" in the Apple App Store and the Google Play Store. Download the app to your phone and open it (1).
Here you can download the Velociped bike tour guide app to your mobile phone for:
> Android smartphone (Google Play Store)
Important basic settings
In the settings of your mobile phone, allow the app to access your location so that you can see where you are during route guidance as well as notifications so that you can receive push messages in the lock screen.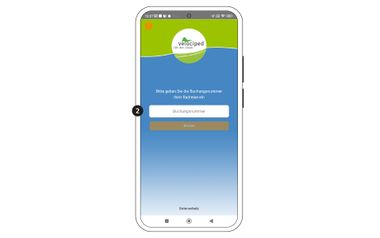 Under "Booking number" enter the download code we sent you by email and confirm by clicking "Next" (2). Now the travel documents will be downloaded to your smartphone. This may take several minutes. We recommend using a WLAN connection. After downloading, the travel documents are available to you until one week after the end of the journey and then expire automatically. Two different mobile devices can be used per traveller.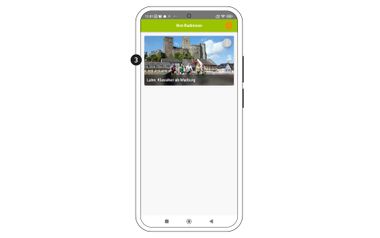 Travel information
You can access the travel information by tapping on the preview image (3).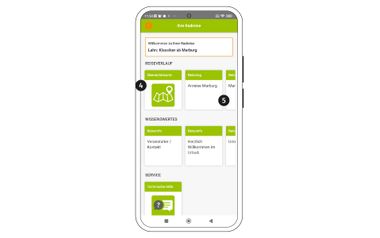 Menu
In the menu, you will find the Area Map and the respective daily stages, as well as all information worth knowing about the journey (4).
Select travel day (5)
To access the route guidance and the detailed information for the daily stage, select the respective day of the journey.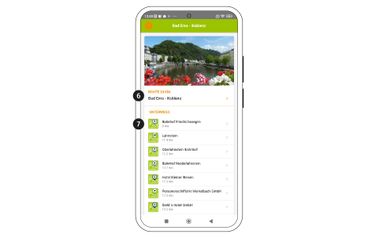 All information about the route (6)
Under "Route" you can access the detailed information for the day's stage as well as the route guidance.
Sights at a glance
On your way (7): In the list "On your way" you will find an overview of all the sights, places to stop for refreshments, cycle repair shops and hotels relevant for the day. Information such as addresses, telephone numbers and opening hours for the stations of the day's stage are provided.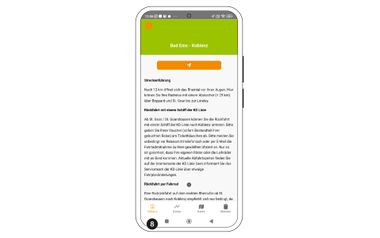 Details (8): Under "Details" you will find the most important information about this stage.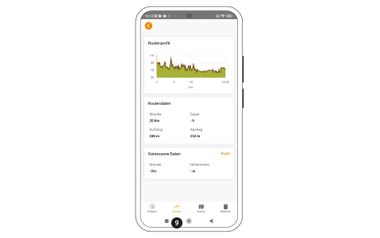 Data (9): The menu item "Data" shows you the altitude profile with your current position. This gives you an overview of how many kilometres and metres of altitude you have already covered and what is still ahead of you.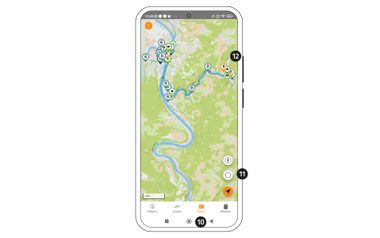 Map and route guidance
Map (10): Tap on "Map". Enlarge the map with two fingers. Now you can see your current position as an orange dot and the route you want to follow as a blue line.
Map menu (11) (from top to bottom):
- Align map in direction of travel or north
- Centre the map on your current location
- Start/stop navigation: start with direction arrow, stop with X
How do I get information on interesting locations?
All places of interest, recommended stops, cycle repair shops and hotels are marked with a symbol on the map (12). Tap on the symbol and the information we have provided will appear immediately.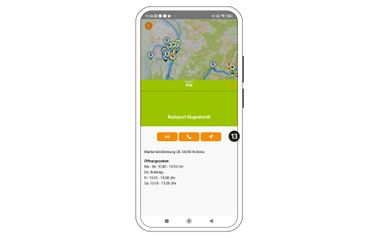 In addition, you can use the three buttons displayed (13) to switch to the official website of the places of interest, call them or have yourself navigated there.
Note: Opening internet links and navigating to points of interest and starting points only work in ONLINE mode!
Sustainability bonus for digital travel documents
Price advantage when using digital travel documents only
For almost all of our tours, we provide our travel documents digitally (via smartphone app with the Velociped Cycling Tour Guide and, on request, also as GPS tracks for digital route guidance via smartphone with an app of your choice or on your own GPS device).
Of course, you will continue to receive your travel documents from us in printed form. They contain the same information that we also make available to you digitally in our smartphone app (tourist information, route descriptions, recommended stops, sights and service stations).
For all those who want to combine comfort with sustainability and only require digital travel documents, we grant a discount of € 20.00 per room.
Please indicate when booking your trip if you do not require printed travel documents.