You will start your beautiful bike tour in Constance, the largest city on Lake Constance, which is still medieval today. In 1414 it was the scene of the only church council north of the Alps. The city's landmark is the statue of Imperia, a monument to the prostitutes of the council period. The aquariums of the Sea Life Center are also highly recommended.
From Constance you cycle to the beautiful flower island Mainau, which is worth a visit. You will quickly reach the landing stage in Wallhausen by bike and you will be cruising comfortably across Lake Constance to the old imperial town of Überlingen with its Gothic cathedral, which is well worth seeing. Look forward to your bike route past the baroque pilgrimage church Birnau and the reconstructed pile dwellings in Uhldingen to Meersburg with its ancient Merovingian castle. Meersburg awaits you with many attractions. Visit the oldest inhabited castle in Germany, last residence of the poet Annette von Droste-Hülshoff, the New Castle with the magnificent staircase by Balthasar Neumann and the market square. Accompanied by the most beautiful alpine panorama, you will then cycle to Friedrichshafen with its famous Zeppelin Museum. Overnight stay in Immenstadt or Friedrichshafen.
Today you first cycle through Langenargen, where you can admire the model of the famous Golden Gate Bridge in San Francisco. Through extensive orchards with magnificent views of the alpine panorama you cycle with pleasure to the Bavarian town of Lindau, whose old town is located on an island. Here, a short city tour is a must! Marvel at the beautiful lakeside promenade, where the lighthouse and lion frame the famous harbor entrance. After a few kilometers you are on Austrian soil and cycle directly along the lake to the festival city of Bregenz. Overnight stay in Lindau or Bregenz.
Stroll through the city of Bregenz with its excellently preserved upper town. Marvel at the Martinsturm, the largest onion tower in Central Europe and look forward to a unique atmosphere radiating from the streets, rows of houses, squares and fountains. On your bike, you will then cross the Rhine at Hard, which comes from the Swiss Alps and whose estuary delta is now an important nature reserve. Already on Swiss soil, you cycle along the lakeshore via Staad to the old St. Gallen port town of Rorschach. Overnight stay in Rorschach or Arbon.
The last day on the Lake Constance Cycle Path belongs to the canton of Thurgau, also affectionately known as Cider India due to its significant apple cultivation and its remote location from a Swiss point of view. Look forward to the small towns of Arbon and Romanshorn with their castles and half-timbered houses. Today you should definitely try the "Schümli" (= Swiss coffee on espresso basis) on one of the many lake terraces. With the fantastic view here, the coffee tastes even better! You cycle back to Constance along the lakeshore through neat little villages.
After breakfast, your round trip ends back in Constance at the hotel.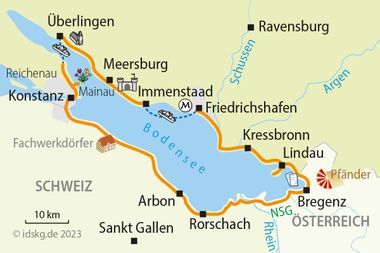 Accommodation incl. breakfast
Room with shower/bath/WC
Luggage transport
Boat trip Wallhausen / Dingelsdorf - Überlingen incl. bike
Admission Rosgarten Museum Constance incl. 1 cup of coffee
Detailed route description
Map of bike trails with marked route
Tips for tour preparation
Touristic information
7 days hotline service
Below you will find specific information about the bicycle tour Obersee and Alpenpanorama. If you have further questions about this trip, please call us: 06421 - 886890.
Arrival by train
Constance can be reached by train from all major cities in Germany. The best way to reach our partner hotels in Constance from the train station is a short cab ride. Current timetable information and price information can be found very conveniently at:
Bahnauskunft
Parking possibilities at the arrival hotel
There are a few parking spaces available at the starting hotel (for a fee). There is also the possibility to use free parking on public streets or public parking lots/parking garages. Parking garages (Fischmarkt, Dammgasse, Altstadt, Benediktinerplatz), cost approx. 10-20 EUR per day/car. Furthermore, it is possible to park the car in a fenced parking lot for the duration of the bike trip (cost: EUR 45,- per trip/per car). Reservation through Velociped is required.
Condition of the cycle paths
You will cycle on mostly flat, dedicated and asphalted cycle paths near the shore around Lake Constance. Occasionally there are short unpaved sections. In the Friedrichshafen area, the cycle path runs along the main road.
Available rental bikes
8-speed touring bikes hub gears (unisex) with coaster brake or 27-speed touring bikes derailleur gears (unisex) are available. Men's bikes can be booked from 1.75 m height. All bikes are equipped with speedometers and handlebar bag. 8-speed electric bikes with freewheel are also bookable.
Means of payment in Switzerland
For Switzerland, it is recommended to exchange into francs, although it is possible to pay in euros. Francs can be conveniently withdrawn from ATMs by debit or credit card.
Extra costs that are not included in the travel price
A possible tourist tax is not part of the travel price and therefore payable at the hotel on site.
7 days hotline service
If the bicycle chain is broken, floods make it impossible to continue your journey or other nasty surprises are waiting for you: We are available for you 7 days a week and organize help as soon as possible.
Passport and visa requirements
For EU citizens, there are no special passport or visa requirements and no health formalities to be considered for this trip.
Travel insurance
The tour price already includes the statutory insolvency insurance. In addition, we recommend that you take out travel cancellation insurance upon receipt of your travel confirmation in order to protect yourself against financial disadvantages in the event of travel cancellation, interruption of travel, illness or accident.
You might also be interested in