Whether in Germany, in Europe or overseas, when you travel with us you can expect a colourful mix of out-of-this-world natural experiences, historic towns and villages, unforgettable tour highlights and plenty of insider tips. Our carefully developed tours will make your holiday a varied and exciting experience every step of the way.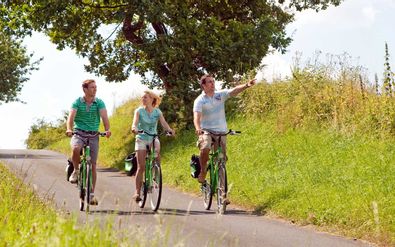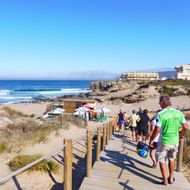 Travel safely with Velociped
With our modules for risk-free holiday planning and safe travel, you can look forward to your cycling trip in a relaxed manner.
Flexible rebooking option
Up to 28 days before the start of your trip, you can flexibly rebook your trip for a later date of your choice. The rebooking fee is € 50.00 per person.
Full consideration of travel warnings
In the event of an official travel or transport ban for your destination, arrival or departure areas during your travel period, you can rebook or cancel your trip free of charge.
Money-back guarantee
If you cancel your trip due to a travel warning for your holiday destination, we will refund any payments already made in full within 14 days.
100 % customer money protection
Your payments to Velociped are 100% protected by the "insolvency insurance" which Velociped has taken out as a tour operator with TourVers. You will receive a corresponding "security certificate" from us at the time of booking, which proves this. You will get your payment back in any case, even if Velociped would be forced to file for insolvency.
Travel insurance
In order to cover the financial risks of an unexpected cancellation or interruption of your trip, we recommend that you take out travel insurance.
7 days hotline service
During your trip, we are also on duty for you at the weekend in case of emergency and can be reached by phone 7 days a week.
For further questions and answers, we are happy to help by e-mail or telephone. Our office is staffed Monday to Friday from 9:00 a.m. to 12:30 p.m. and from 1:30 p.m. to 5:30 p.m. Telephone: +49 (0) 6421 88689-0
Tour type: individual or guided
To ensure that you have a wonderful time, with us you don't just have a large choice of tours; you can also pick the right tour type for you.
Individual bike tours
Individual bike tours mean that you determine your personal daily routine, the highlights of your tour as well as where and how long you are going to stay. You may, of course, ask us for suggestions and insider tips, and we will gladly be at your disposal for a perfect planning and coordination of your tour. In any case, we will always fit in with your ideas and wishes. But you can also make it easy for yourself resorting to our long-standing classics of individual bike tours. You will be amazed about these classics, too.
Your individuality does not at all mean that you should renounce to the amenities of a Velociped tour: We have developed for all of our individual tours our special all-carefree service for individual tours.
Guided tours
Guided tours mean that you just get on your bike and enjoy your holiday. The tour guide will care about everything else.
We have sorted out the most beautiful routes for you, taking you on and off to some hidden corners and telling you exciting stories about the people and regions. Wherever it is worthwhile, we have organised sightseeings and guidances for you. But there is still more we will do for you on a guided tour. We will care about the transport of your luggage, we will care about relaxing rests, and in many cases a tour's own accompanying bus will be with your group all the time.
In short: We take care of everything that simply makes your holiday unforgettable.
The maximum number of participants normally is approx. 20 per group. It is the mix that guarantees interesting conversations and good mood.
Routing and Level of difficulty
Routing
There are many routes to reach a destination. The right choice of the routing is decisive for your travel experience. We have, therefore, put special emphasis on the selection of our tours adapting the routing to current regional changes.
Beside the running route, the respective speeds and altitude differences are also crucial factors for an individual sense of well-being. We have marked all of our tours with the corresponding levels of difficulty. So, you'll always have a good run with us.
Level
easy:
Very relaxed cycling in mostly flat terrain
easy to moderate:
Easy cycling, pushing the bike now and then
moderate:
For people in a general good shape, a few stretches across more difficult terrain, or pushing the bike
advanced:
For experienced bikers, several tracks in hilly terrain
Velociped-Original-Tour and Velociped-Partner-Tour
Whatever the situation, quality is priority. We offer a large choice of original Velociped tours, for which Velociped is the tour operator. We put particular care and detail into ensuring top-quality arrangement and implementation of our bike tours. Through selected partner tours we open up additional, attractive routes. With these Velociped partner tours, we are the tour broker. Our good and, in some cases, already long lasting co-operation with our partners, enables us to guarantee you a pleasant holiday also on these tours.

Velociped-Original-Tour:
On these bike tours we are personally responsible for making things perfect for you:
Velociped-Partner-Tour:
On these bike tours we collaborate with selected partners
We would like you to share with us. Namely, our enthusiasm for bicycle travel and our conviction that everyone can join in. Whether young or old, whether family, group or people with disabilities: with us everyone rides well.
Our bike tours provide the ideal framework for shared experiences. Not only the destinations and cycling routes are varied, but also the different levels of difficulty take into account individual ideas and requirements.
Young and old
There is no age limit on our bike tours. The youngest tour participants take a seat in our children's trailers or cycle on comfortable youth bikes. And the somewhat older ones are supported in their condition by our electric bikes.
Family
Whether in a bicycle trailer or on a youth bike: children of all ages are welcome. There's a lot to discover for kids and teens on our Family Plus tours.
On the Velociped tours, you will receive the following children's discounts on the seasonal price (when staying in a room with at least 1 full-paying adult):
0 to 5 years: 100% / 6 - 11 years: 50% / 12 - 17 years: 25%.
When staying in their own room, children traveling with them do not receive a discount. You will find further child discounts under "Prices & Services" for the corresponding tour.
Your own group
Are you planning a group tour? A week with your friends or a long weekend with your work colleagues? Then we will be happy to create a suitable tour offer for you without obligation. You tell us your desired region as well as other relevant specifications and we will provide you with a tailor-made bike tour. Of course, we will also be active for you on the road, if you wish, transporting your luggage and taking care of the smooth running of your tour.