Individual arrival to the council town Constance with the many sights. You can find the living Middle Ages at the Rosgartenmuseum. The cafeteria in the inner courtyard of the museum invites you to stay.
Through picturesque fishermen's villages, along the Untersee lake, you reach the medieval city Stein am Rhein. High above the town lies the Hohenklingen castle, dating back to the Middle Ages. Pay a visit to the Lindwurm museum, before continuing to cycle to Gailingen, the pearl of the High Rhine.
In the morning, you have time for a stroll through the city, before you arrive at the fishermen's village Radolfzell. The town enchants you with its charming atmosphere and a unique view of the Untersee lake. After its founding Radolfzell developed from a small, wine-growing settlement into a place of pilgrimage that is well known throughout southern Germany.
The appealing city Bodman decoys with its castle grounds. Pass the picturesque town Sipplingen and the monastery church of Birnau, which attracts thousands of visitors every year. In Unteruhldingen, a visit to the pile dwelling museum is recommended. It is one of the largest open air museums in Europe!
Meersburg, the city of museums, invites you back to the Middle Ages with its romantic corners. Your way leads you through wine and fruit cultures to Friedrichshafen with its zeppelin museum, which you should absolutely pay a visit.
You reach the Lake Constance metropolis Lindau through the natural reserve Eriskircher Ried. Pay a visit to the historic town and the lighthouses with the Löwenmole, the landmark of Lindau. In Bregenz, you should enjoy the beautiful view on the Pfänder (mountain) after riding up with a cable car.
You reach Switzerland through the natural reserve of the Rhine delta and continue cycling to the city Rorschach with its beautiful "Kornhaus" (museum). Fruit and berry cultures still dominate this region.
The last day belongs to the alpine upland of the Thurgau. The lakeshore invites you to relax, before you cycle back to Constance. At the SEA LIFE centre, you can plunge into a fascinating underwater world.
Today your tour at Lake Constance comes to an end, unfortunately. Individuel departure.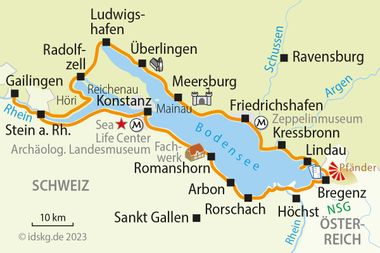 Accommodation incl. breakfast:
Cat. B: good inns and middle-class hotels at 3-star level
Cat. A: good to very good inns and comfort hotels at 3- and 4-star level
Room with shower/bath/WC
Luggage transport
Entrance Rosgartenmuseum incl. one cup of coffee
Entrance to museum Lindwurm in Stein am Rhein (only Cat. A)
Detailed route description
Map of bike trails with marked route
Tips for tour preparation
Touristic information
7 days hotline service
Please find more information about the Lake Constance - Laid-back tour below. If you have any further questions feel free to contact us by phone: 0049 - (0)6421 - 886890.
Arrival by train
Constance is easily accessible from all major cities in Germany by train. We recommend to take a taxi from the station to get to our partner hotels in Konstanz. Current schedule information and price information can be found at: www.bahn.de.
Train schedule information
Parking facilities at the hotel
At the first hotel paid parking is possible, partialy. It is also possible to use free parking spaces on public roads or public parking spaces / car parks. Parking garages (fish market, Dammgasse, old town, Benedictine square), costs approx. EUR 25 per day / car. Furthermore it is possible to park your car for the duration of the bicycle tour on our partners' company area (cost: EUR 50,- per trip / per car, 2024: EUR 60,- per trip / car), the number of parking spaces is limited. Reservation not possible
Condition of cycle paths
You cycle mostly on flat, paved bike trails near the shore around the lake. Occasionally there are short sections of unpaved roads. The first sections takes place around the peninsula Höri through hilly terrain. In the area of Friedrichshafen, the bike path goes along the main road. The lakeshore is largely open to the public
Available rental bikes
24-speed touring bikes with freewheel are available. As a rule, unisex bikes (with low entry) are provided. The bikes are equipped with a waterproof saddle bag as well as a tool kit, air pump, odometer and lock. You will also receive one handlebar bag per room. Electric bikes are also bookable.
Currencies in Switzerland
For Switzerland, we recommend to exchange Swiss franc. Although you can pay in Euros. Franken can easily be lifted by debit or credit card at an ATM.
Extra costs which are not included in the price
A possibly applicable city tax is not part of the price and has to be paid at the hotel locally.
7 days hotline service
Just in case the bike chain is broken, flooding makes it impossible to continue your tour or any other nasty surprise: you can reach us seven days a week and we will do anything to help you as fast as possible.
Passport and visa requirements
For EU citizens, there are no special passport or visa requirements and no health formalities to be considered for this trip.
Travel insurance
The tour price already includes the statutory insolvency insurance. In addition, we recommend that you take out travel cancellation insurance upon receipt of your travel confirmation in order to protect yourself against financial disadvantages in the event of travel cancellation, interruption of travel, illness or accident.
You might also be interested in