You can look forward to Trier and plan enough time for a visit. You stay in the elegant Hotel Villa Hügel or just 500 meters from the cathedral, in the 4-star superior Hotel Park Plaza.
Today you ride comfortably on the Mosel cycle path to the old ferry tower in Schweich. Just a few kilometers further in Mehring you can visit Villa Rustica. Marvel at the freely accessible area and the historic remains of a Roman estate, before you follow the Mosel cycle path to Neumagen-Dhron, the oldest wine town in Germany. Look forward to a family-run winegrower hotel in Piesport (Schanz Hotel) or Wintrich (Weingutshotel St. Michael) with tastefully furnished rooms, an in-house wine tavern and a wonderful terrace with Mediterranean flair.
With Bernkastel-Kues and Traben-Trarbach, today's day has two wonderful Moselle towns ready for you. Enjoy a tranquil boat trip in Bernkastel-Kues, stroll through the pretty half-timbered town or visit the remarkable wine museum. Passing the Zeltinger sundial, the largest sundial in a German vineyard, you cycle on the Moselle Cycle Path to Traben-Trarbach. Marvel at Traben-Trarbach at the bridge gate, the landmark of the old city. Built as a decorative bridge in 1899, it has housed a café-restaurant since its construction. In the 1960s, a conversion also added a gallery with temporary exhibitions.
Small and large pearls are waiting for you today. Immediately after 5 km, take a rewarding break in the small village of Enkirch. Marvel at the interesting Mosellan half-timbered architecture and stroll along the 3 km long "Gässchen Rundweg" to get to know Enkirch's hidden corners. Hardly in the bicycle saddle you reach Reil which is located on the other bank of the Moselle. A small village with narrow streets, stylish old half-timbered houses and quaint cellars, testify to a colorful past and 1000 years of wine culture. But also the half-timbered idyll of Pünderich (6 km before Zell) and the village Beilstein (10 km before Cochem) are waiting for your visit. Go on an entertaining sightseeing tour in Cochem with a lendable GPS-supported city guide and be sure to visit the remarkable Reichsburg Cochem before you end your day in peace.
Who does not shy away from the effort, today can make a worthwhile detour to the castle Eltz. The castle Eltz is a hilltop castle from the 12th century and is one of the most famous castles in Germany. Through the historic wine-growing towns of Kobern-Gondorf and Winningen, you cycle flatly to the mouth of the Moselle to the Deutsches Eck in Koblenz. Take a cable car ride across the Rhine to Ehrenbreitstein Fortress and enjoy a spectacular view of the UNESCO World Heritage Upper Middle Rhine Valley from the panoramic cabin.
Much too fast passed the beautiful time. If you like, book a return transfer to Trier or another night on the Rhine or Moselle.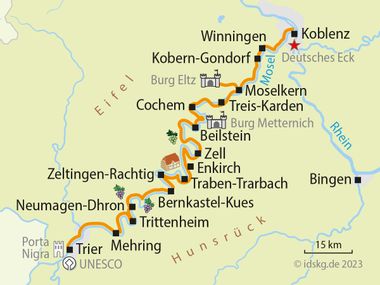 Accommodation incl. breakfast
Room with shower/bath/WC
Luggage transport
Map of bike trails with marked route
Digital route guidance via smartphone app for almost all journeys
Tips for tour preparation
Touristic information
7 days hotline service
Worth knowing about your Moselle Tour
Below please find more information about your bike trip. If you have any further questions please feel free to contact us by phone: 0049 - (0)6421-886890.
Arrival by train
From Koblenz Trier is easily accessible by train. We recommend to take a taxi from the station to get to our partner hotels in Trier. Current schedule information and price information can be found at
Parking facilities at the hotel
Our charming hotels in Trier offer only a few parking facilities. Parking is possible in a public underground car park for approx. 15,00 EUR per day (2023). Detailed information on parking at your hotel, you will receive together with the detailed travel documents two weeks prior to departure.
Condition of cycle paths
The quality of the bike tail is very good. There are practical no unpaved or poorly developed path. The route runs almost exclusively on paved roads and is very well signposted. The volume of traffic varies, but between Trier and Cochem there is almost always a seperate bike trail on the right or left shore side, off the main road. Only during your last day you have to cycle a section on a wide bicycle lane next to the main road. Detailed information about which shore side is best to cycle on, you will receive together with the detailed travel documents two weeks prior to departure.
Available rental bikes
If you choose to rent a Velociped-rental bike for the tour, we take it to your first hotel and pick it up at your destination. You can choose between ladie´s and men's bicycles either with 7-speed gear shift and coaster brake or 27-speed gear shift and freewheel or electric bikes. All ladies' bikes have a low opening that makes mounting and dismounting much easier. The bikes are suitable for all ladies from 150 cm in height and for all gentlemen from 165 cm in height. Available rental bikes
Transfer back to the starting point of the journey
Daily at 9:00am there is the possibility to transfer back to Trier with a small bus (with bike trailer). Arrival at 11:00am. The driver comes to pick you up at your hotel and has much space for you, your luggage and where required your own bicycle. The bus takes you back to your first hotel, thus ensuring a perfect return service without transfer and the hassle of hauling luggage.
Your accommodation
Accommodation for this trip is in our specially selected Charme Hotels.
Villa Hügel in Trier: In an elegant comfort, quiet, romantic atmosphere, close to the center you will spend the night in one of the 45 rooms. An inviting restaurant, a beautiful sauna area, a year-round sky pool and a Mediterranean indoor pool awaits you.
Park Plaza in Trier: Not far from the Porta Nigra, in the heart of Trier's city center, the 4-star hotel offers stylishly furnished rooms, the Plaza Grill restaurant and an inviting wellness area with sauna, steam bath and much more.
Weinguthotel St. Michael in Wintrich: Enjoy a family-run wine-growing hotel with tastefully furnished rooms, an in-house wine bar and terrace with a Mediterranean flair.
Hotel Schanz in Piesport: Small but fine gourmet hotel in the heart of the Middle Moselle with excellent cuisine and warm service.
Jugendstilhotel Bellevue in Traben-Trarbach: This historic hotel on the Moselle offers a spacious beauty and spa area. The main house has 42 comfortable rooms, junior suites and suites, which are individually and tastefully decorated by various interior designers.
Trabener Hof in Traben-Trarbach: In the modern Hotel Trabener Hof you spend the night in a suite with a spacious living and sleeping area and a bathroom with bath and shower.
Kessler-Meyer in Cochem: Many of the rooms in the family-run 4-star Superior Hotel Kessler-Meyer offer impressive views of the River Moselle. Enjoy numerous wellness, massage, spa and beauty treatments.
Schlosshotel Petry in Treis-Karden: Relax in one of the luxuriously and elegantly furnished Kohlbecher rooms. Enjoy the culinary highlights in one of the numerous restaurants and relax in the wellness area.
Kleiner Riese in Koblenz: You stay in the modern hotel Kleiner Riese directly on the Rhine promenade with view of the Rhine. Each of the 25 rooms is individually and tastefully furnished and invites you to linger.
Mercure Hotel in Koblenz: The 4-star hotel is invitingly located on the banks of the Rhine and offers 168 cozy rooms as well as a restaurant and a bar that invites you to relax together.
Train and bus in the Moselle Valley
In the Moselle Valley runs not always a train. After Trier the train is leaving the Moselle Valley and the nearest station is not before Bullay. After only a few kilometres, the railway disappears in the Kaiser-Wilhelm-Tunnel and only reappears in Cochem. From Cochem the train runs completely in the Moselle Valley to Koblenz.
In the period from 1.5. - 31.10. a bus operates daily between Trier and Bullay with a max. capacity of 22 bicycles.
Boat trips on the river Moselle
From April to October there are many passenger ships on the Moselle. Boat docks are available in almost all places on both directions. Often tours are offered. Information about the exact departure times you find at the bulletin boards of the shipping companies.
A regular ferry traffic exists between Trier and Treis-Karden.
Boat schedule information Moselle
Costs which are not included in the travel price
A possibly resulting tourist tax is not part of the travel price and therefore it has to be paid locally in the Hotel.
7 day hotline service
In case of chain breakdown, flooding or other bad surprises that makes a continuation of your tour impossible: no problem, we also work during weekends and you can reach us 7 days a week in case of emergency.
Passport and visa requirements
For EU citizens, there are no special passport or visa requirements and no health formalities to be considered for this trip.
Travel insurance
The tour price already includes the statutory insolvency insurance. In addition, we recommend that you take out travel cancellation insurance upon receipt of your travel confirmation in order to protect yourself against financial disadvantages in the event of travel cancellation, interruption of travel, illness or accident.
You might also be interested in