The 27-speed tourer is the best choice for cyclists that value the advantages of the dérailleur gear shift for flexibility whilst going up and down hills. This bike allows you to be a little more active without compromising on saddle comfort and practical everyday suitability.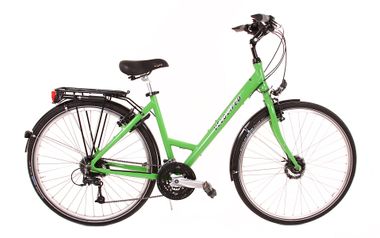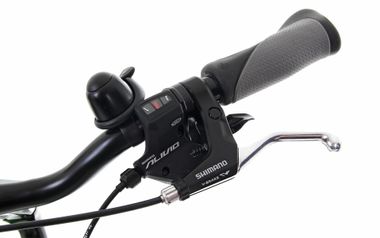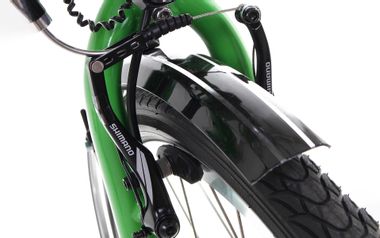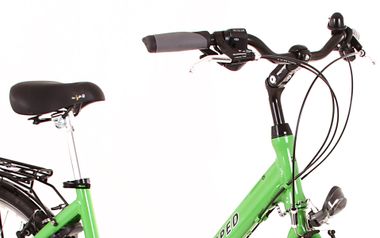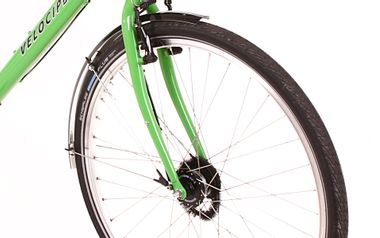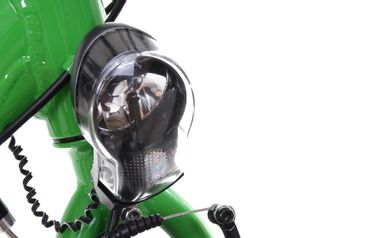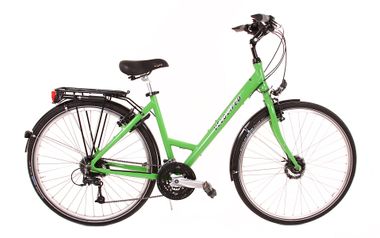 The robust modern aluminium frame with moulded lower tube guarantees quiet running even in case of high "payload". Same applies to the steel fork. All frames are coated with a long-living and non-polluting powder lacquer showing the typical Velociped green. There are, of course, different types of frame available depending on the size of ladies and gentlemen, as the bike must fit the "rider". And: all ladies' bikes have a low opening that makes mounting and dismounting much easier.
We have the following frame sizes available for you:ladies: size 48
gentlemen below 165 cm: size 48
gentlemen from 165 to 178 cm: size 52
gentlemen from 178 to 188 cm: size 56
gentlemen exceeding 188 cm: size 60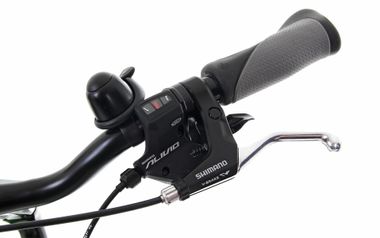 Modern Shimano 27-speed derailleur (Alivio shifter und Deore XT rear derailleur) without back pedal, with one speed grading deriving from the mountainbike. There is no reason at all to dismount at the mountain! Operation is ergonomic, using your thumb directly on the handlebar handle, allowing you to change gear easily without having to take your hand off the handlebars. Newcomers also cope optimally with it.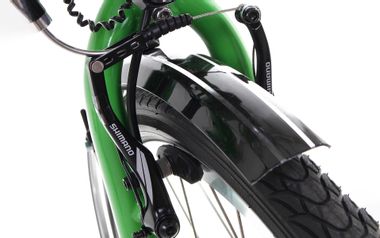 Fast drivers should brake well: the brakes are 'borrowed' from the mountainbike. All bikes are equipped with most modern rim brakes (V-brakes), in the front and at the back, offering fair braking power. For a better dosification, braking-power modulators have been installed.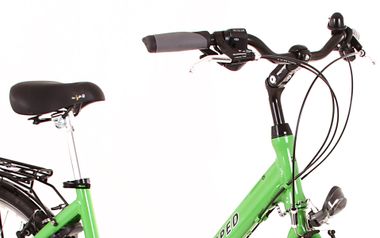 Our comfortable handlebar offers exactly the right bend lying perfectly in your hand. Together with the front part that can be adjusted in height and inclination using only one key, any biking position can be chosed. Sitting sportively stretched or comfortably upright – just as you like. Well pedded bars are a matter of course. All changing and braking bars are ergonomically ready to hand.
The 27-speed tourers are equipped with slightly more sportive (i.e. smaller) gel saddles for ladies and gentlemen. The seat post has a quick release skewers in order to adjust the saddle size without tools. In case you swear by your own saddle, there is no problem at all to mount it to the Velociped tourer.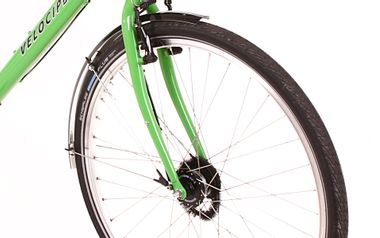 Smooth-running 28 inch wheels with sealed hubs, stable spokes and robust aluminium hollow chamber rims. We only use the extra breakdown-safe tires 'Marathon Plus' by Schwalbe in the size 40-622, that run smoothly on the road allowing at the same time excursions to open terrains. "Flats" have become a rarity.
Aluminium pedals with a large rubber surface offer a wide and safe support for normal shoes.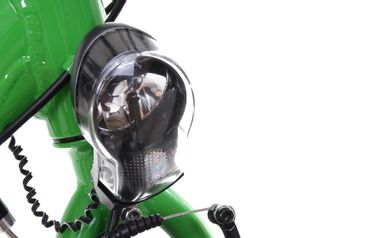 Lights, mudguards, reflectors, carriers, lateral kickstands, lock
The smooth-running hub dynamo (side runner) generates current for the modern halogen lamp which illuminates the route perfectly. Behind, a LED-bike-backlight with parking light function and a big reflector keeps watch. Of course, our tourers are equipped with the prescribed reflex bars on the wheel and on the pedals. And a bell, anyway, as it is already required by the road traffic regulations. The stable carrier made of steel wire admits uncomplainingly the panniers. A spring mounted flap retains small pieces of luggage. Mudguards keep face and back clean, a lateral kickstand makes parking considerably easier, and a frame ring-lock protects against sudden desire of third parties.
Velociped without the original Velociped tourers? Unthinkable! They are manufactured for us by Campus, the specialists for high-quality, custom-made bicycles. Many pleased guests compliment us on these bikes as they have turned out to be their trusty companion. Following the great demand, you can now also buy your tourer. New or second hand, i.e. the bikes have run one or two seasons. Simply contact us.