Get here early to see the 700+ half-timbered houses in the city, as well as the renaissance-era city hall. There is parking close to the hotel, and bicycles are also available for rent.
The former Benedictine monastery at Bursfelde, and Oberweser with its open-air milling museum await you.
Today your ride takes you along the border of Solling. You'll pass the Fürstenberg castle, where porcelain is made, before you reach the monastery at Corvey. After that, continue on to the next highlight of the tour: the palace at Bevern, one of the most impressive buildings of the renaissance at the Weser.
After leaving Bodenwerder, you'll be greeted by the picturesque Hämelschenburg, before being captivated by the Pied Piper of Hameln's song in Hameln.
You'll see Bad Oeynhausen, famous for its "Jordansprudel," the largest carbonated hot spring in the world. But things will get a bit tight (literally!) in the valley at Porta Westfalica, the gateway to Westphalia, before you reach Minden.
Here the landscape changes as you enter the Northern German lowlands. Try following the bear tracks through Nienburg's old city, for a unique way to see the historical sights.
Your ride takes you through little villages filled with red brick houses before you arrive in Verden, famous for its horses. There are many photo opportunities among the broad meadows, windmills, and occasional farmhouses.
Welcome to Bremen! Perhaps you heard the famous town musicians on your ride in, or maybe it was your imagination. Either way, don't forget to check out the statue of them in front of the city hall.
Bremen is not necessarily the end of your journey. There is much to discover on the route to Cuxhaven. You should visit the museum of navigation in the telegraph tower of Brake. With the help of mock-ups of ships, nautical instruments and tools of sail makers and shipbuilders you learn much about the history of navigation at the lower Weser.
Under the shelter of the dyke you cycle towards north. Be impressed by lush green meadows, black and white specked cows and sheep at the dyke. A fresh wind, the smell of salt in the air, much water and seagulls indicate that you are at the coast. Today you may go on a trip through the beautiful region Butjadinger Land with an excursion by ship to Wilhelmhaven. No matter how you decide the fresh sea air is always the same! In Bremerhaven the "Schaufenster Fischereihafen" is worth visiting. It is a centre for culture and communication with small shops, handcraft, restaurants and cooking studio for salt-water fish.
It is very clear – you are at the coast and in a seaport. For the first 9 kilometres you cycle through the huge harbour with large docks and the flair of freeport. Past old lighthouses you roll along the coast of the North Saxon wadden sea. Be enchanted by small fishing villages, quiet camping sites and wonderful white beaches with colourful canopied beach-chairs. In Cuxhaven you may gain insight into this cultivated landscape at the information centre Nationalpark Wattenmeer (national preserve wadden sea). Also the harbour bulwark "Alte Liebe" and the lighthouse "Dicke Berta" are worth seeing.
Today your tour ends after breakfast. We recommend to book extra nights in Cuxhaven or to go on a trip to the island of Helgoland. You can leave your rented bike at the hotel. Trains leave back to Hann. Münden or you can book our back transfer (daily at 1.30 p.m.).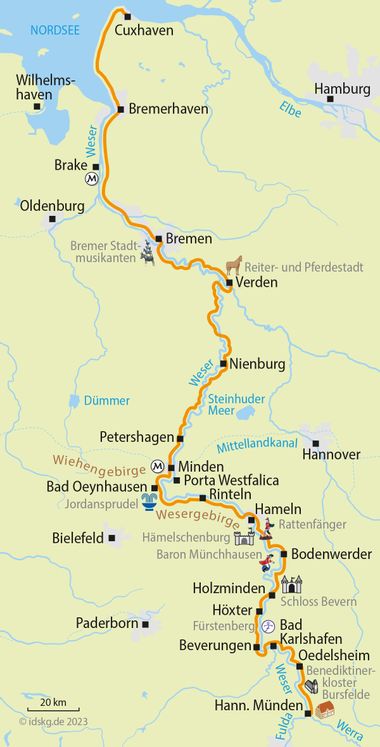 Accommodation incl. breakfast
Room with shower/bath/WC
Luggage transport
Map of bike trails with marked route
Digital route guidance via smartphone app for almost all journeys
Tips for tour preparation
Touristic information
7 days hotline service
Please find more information about the Weser bike trail: Hann. Münden - Cuxhaven below. If you have any further questions feel free to contact us by phone: 0049 - (0)6421 - 886890.
Arrival by train
Hann.Münden is easily accessible from all major cities in Germany by train. We recommend to take a taxi from the train station to get to our partner hotels in Hann. Münden.
Parking facilities at the hotel
Our partner hotels in Hann.Münden have only a limited number of parking spaces.
You can park your car for the duration of the trip in the car park at the "Tanzwerder".
Detailed information on parking at your hotel, you will receive by mail together with the detailed travel documents two weeks prior to departure.
Condition of cycle paths
The Weser bike trail is one of the best cycle routes in Europe. In surveys conducted by the Allgemeiner Deutscher fahrrad-Club (ADfC - General German Cycling Club), the Weser cycle path has become the most popular cycling route in Germany!
Most of the time the bike trail runs parallel to the Weser waterway: especially between Hann.Münden and Rinteln it makes the special charm of this bicycle route.
Large sections of the Weser bike track are well developed, paved bike trails, farm roads, or at least roads with separate routing paths. Occasionally short sections lead over country roads with less traffic. There are hardly any sections where you have to drive on unsurfaced roads.
Often there are bike trails along both the banks of the Weser River. Especially between Hann.Münden and Werder you can pick the site and take the ferry to switch banks. However, the official Weserradweg bike route leads only on one side of the river.
Available rental bikes
If you choose to rent a velocipede-rental bike for the tour, we bring it to your first hotel and pick it up at your destination.You can choose between woman's and men's bicycles either with 7-speed gear shift and coaster brake or 27-speed gear shift and freewheel or electric bikes. All ladies' bikes have a low opening that makes mounting and dismounting much easier. The bikes are suitable for all ladies from 150 cm in height and for all gentlemen from 165 cm in height. You simply specify your wishes at time of booking.
Transfer back to the starting point of the journey
Daily at 1:30pm there is the possibility to transfer back to Hann.Münden with a small bus (with bike trailer). The driver comes to pick you up at your hotel and has much room for you, your luggage and where required your own bicycle. The bus takes you back to your first hotel, thus ensuring a perfect return service without transfer and the hassle of hauling luggage. If you bring your own bicycles, an additional fee will be charged. The minimum number of participants for this transfer is 2 persons.
Tourist tax
A possibly resulting tourist tax is not part of the travel price and therefor it is payable locally at the hotel.
7 days hotline service
Just in case the bike chain is broken, flooding makes it impossible to continue your tour or any other nasty surprise: you can reach us seven days a week and we will do anything to help you as fast as possible
Passport and visa requirements
For EU citizens, there are no special passport or visa requirements and no health formalities to be considered for this trip.
Travel insurance
The tour price already includes the statutory insolvency insurance. In addition, we recommend that you take out travel cancellation insurance upon receipt of your travel confirmation in order to protect yourself against financial disadvantages in the event of travel cancellation, interruption of travel, illness or accident.
You might also be interested in: