Make sure to arrive in the historical town of Eisenach, home of the Wartburg, on time; you will not regret it! A great number of famous persons like Johann Sebastian Bach, the heilige Elisabeth or Martin Luther have found their inspiration here. Their achievements can be visited in the respective museums. (arrival by train is possible / parking facilities at the hotel/ rental bikes at the hotel).
Following the course of the Hörsel you will cycle through the Thuringian basin on small streets. Wide fields seam your way to the "Galopprennbahn Boxberg", a well preserved horse race track in Jugendstil-style with a restaurant. The residence town Gotha is not far from there. Thus, you will have enough time to visit Friedenstein castle with the integrated Ekhof-theatre during the afternoon as well as to take a walk around the worthwhile market place.
New destinations lure today: In the morning, you will reach Wechmar, elected the most beautiful village of Thuringia in 2003 and famous for its Bach-museum. The distinctive castle trio of Wachsenburg-castle, Mühlburg-castle and Gleichen-castle, often called "The 3 equal ones" lies in front you afterwards. Not far from this castle-arrangement, one of Thuringia's oldest restaurants will be waiting for you even before you will follow the Gera river through most lovely parks right into the heart of the ancient trade centre Erfurt. The cathedral with the Severi-church towers strikingly out of this medieval pearl. The overbuilt grocer's bridge is regarded as the town's landmark.
The Thuringian town cluster sticks to its promises! After a rather short day on your bikes you will roll comfortably into Weimar, town of classical music, to stroll on Goethe's and Schiller's footprints. Here, you will have the chance to visit the residence castle, the Bauhaus-museum and the national theatre or to just take a walk along the Ilm river. But one thing is for sure: You will once again not have a chance to get bored!
Time has passed too fast and there is a lot left to see yet. We recommend staying another few days in Weimar in order not to miss any of the cultural highlights.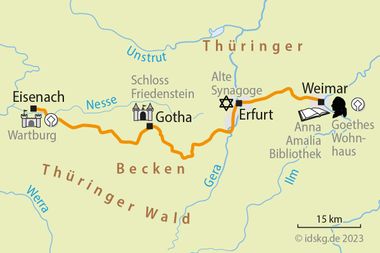 Overnight stay with breakfast
room with D/bath/WC
luggage transport
Cycling map with marked route
Digital route guidance via smartphone app
Tips for trip preparation
Tourist information
7-day hotline service
Please find more information about the bike tour Thuringian Highlights: Eisenach - Weimar below. If you have any further questions feel free to contact us by phone: 0049 - (0)6421 - 886890.
Arrival by train
Eisenach is easily accessible from all major cities in Germany by train. We recommend to take a taxi from the station to get to our partner hotels in Eisenach. Current schedule information and price information can be found at: www.bahn.de
Parking facilities at the hotel
Our partner hotels in Eisenach provide parking spaces for the entire duration of your bike trip, usually liable to costs.
Detailed information on parking at your hotel, you will receive with the travel documents two weeks prior to departure.
Condition of cycle paths
The bike path "Thuringian Town Chain" has a total length of 225 km. Each cycling day includes long flat sections, some sections through wavy landscapes and only occasionally a few pushing sections must be overcome. The route is well signposted. Sometimes a railway line runs parallel to the bike path. For more information on the bike path and the profile GPS data can be found at:
Bike trail: Thuringian Highlights
Available rental bikes
If you choose to rent a velocipede-rental bike for the tour, we bring it to your first hotel and pick it up at your destination. You can choose between woman's and men's bicycles either with 7-speed gear shift and coaster brake or 27-speed gear shift and freewheel or electric bikes. All ladies' bikes have a low opening that makes mounting and dismounting much easier. The bikes are suitable for all ladies from 150 cm in height and for all gentlemen from 165 cm in height. You simply specify your wishes at time of booking.
Transfer back to the starting point of the journey
Thursdays at 9am there is the possibility to transfer back to Eisenach with a small bus (with bike trailer). The driver comes to pick you up at your hotel and has much room for you, your luggage and where required your own bicycle (extra fee). The bus takes you back to your first hotel, thus ensuring a perfect return service without transfer and the hassle of hauling luggage. The minimum number of participants is 2 persons.
Tourist tax
A possibly resulting tourist tax is not part of the travel price and therefor it is payable locally at the hotel.
7 days hotline service
Just in case the bike chain is broken, flooding makes it impossible to continue your tour or any other nasty surprise: you can reach us seven days a week and we will do anything to help you as fast as possible.
Passport and visa requirements
For EU citizens, there are no special passport or visa requirements and no health formalities to be considered for this trip.
Travel insurance
The tour price already includes the statutory insolvency insurance. In addition, we recommend that you take out travel cancellation insurance upon receipt of your travel confirmation in order to protect yourself against financial disadvantages in the event of travel cancellation, interruption of travel, illness or accident.
You might also be interested in