Your Hotel
Hotel Webers - Das Hotel in Ruhrturm
The relatively centrally located hotel has 137 rooms, in-house garage parking, an elevator and a bar. The rooms (all air-conditioned) are furnished with many amenities such as cable TV, free Wi-Fi or
coffee maker. This hotel's windows are soundproofed and do not open, and the controlled room air system provides regular fresh air.
Look forward to Essen and use the first afternoon to visit the Folkwang Museum, see the cathedral and its treasury, or visit the synagogue just next door.
Today you cycle to the Nordsternpark in Gelsenkirchen. Here, many things are reminiscent of the former coal mine that used to stand here. Numerous colliery buildings have been integrated into the park, which hosted the Federal Garden Show in 1997. The 18 meter high 'Hercules of Gelsenkirchen' towers above this park. The Hercules of Gelsenkirchen is a monumental statue that stands on a former winding tower of the former Nordstern colliery. It is considered a landmark of industrial and regional structural change in the Ruhr region. The circular tour takes you over two other slagheaps, which also feature modern sculptures. Enjoy the exciting and beautiful view of the surroundings from the heights of the slagheaps.
One of the world's most extraordinary exhibition halls awaits your visit today and is the first stop on your round trip. Look forward to the Gasometer in Oberhausen. The Gasometer Oberhausen is an industrial monument and at the same time the highest exhibition and event hall in Europe! The Gasometer is located directly on the Rhine-Herne Canal. With a storage volume of 347,000 m³, 117 meters high and almost 68 meters in diameter, it was Europe's largest operating disc gasometer until 1988. After the renovation, the first exhibition in the gasometer will show the beauty of nature and the influence of man on his environment. After a worthwhile visit, you will cycle leisurely along the Rhine-Herne Canal to the Duisburg-Nord Landscape Park, where another industrial-cultural highlight awaits you. Since 1994, a disused steel mill has been transformed step by step into what is now a metropolitan oasis with an average of one million visitors a year. Former factory halls have been converted for corporate and cultural events, Europe's largest artificial diving center has been created in an old gasometer, former ore storage bunkers have been transformed into an alpine climbing garden, a high ropes course has been set up in a casting hall and an extinct blast furnace has been converted into an observation tower. Leisure, recreation and sports are emphasized on the 180-hectare site. You can wander through the landscape park on foot or explore it by bicycle or join an interesting public guided tour. With surely great impressions you cycle back to the hotel afterwards.
You will cycle quickly to Mülheim via the cycle path. Now you follow the well signposted Ruhr cycle path past the worth seeing Saarn monastery with herb garden and nice café. Then you cycle to the much-used Baldeneysee, which is a wonderful local recreation destination. On its banks rises the imposing castle-like Villa Hügel, the former home of the Krupp family of entrepreneurs (1873 - 1945). With its 269 rooms in the middle of a 28-hectare park, it is far more than just the former residence of a well-known business family. It is a symbol of the age of industrialization in Germany. Numerous historic rooms as well as the Krupp Historical Exhibition can be visited. Afterwards, you can take a break in one of the numerous beer gardens at Lake Baldeney or along the Ruhr River before cycling back to your hotel in Essen.
This tour is all about mining. You cycle to Bochum, where you can enter a coal mine underground. Afterwards you will cycle along the ore railway line to the Zollverein coal mine, probably the most beautiful coal mine in the world and also a UNESCO World Heritage Site! Discover industrial history at a place that stands for superlatives like no other: Get to know the once largest and most powerful coal mine in the world and the largest central coking plant in Europe. Every day, a variety of activities on the 100-hectare site invite you to experience the world of coal, coke, art and culture in the heart of the Ruhr region.
After breakfast your surely beautiful and also instructive star bike tour ends in Essen. We would be happy to book you additional nights to get to know this interesting region even better.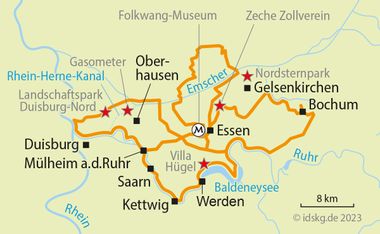 Overnight stay with breakfast
room with D/bath/WC
luggage transport
Cycling map with marked route
Digital route guidance via smartphone app
Tips for trip preparation
Tourist information
7-day hotline service
1 multi-course dinner on the day of arrival (2024: in a restaurant nearby on a day of your choice (except Thursdays))
1 welcome drink on the day of arrival
1 bottle of mineral water in the room
5 nights with breakfast buffet at the hotel the niu Cobbles Essen (2024: Hotel Webers - Das Hotel im Ruhrturm)
Below you will find concrete information about the bicycle tour Ruhrgebiet Sternradtour Essen. If you have any further questions about this trip, just give us a call: Tel.: 06421 - 886890.
Arrival possibilities by train
Essen is easy to reach by train from all major cities in Germany. The Hotel the niu Cobbles Essen is a short walk from the main train station, alternatively you can take a short cab ride.
Current timetable information and price information from the DB can be found very conveniently at:
Parking at the hotel
There is a limited number of paidparking spaces at the hotel, reservation is not possible.
Condition of the cycle paths
You will cycle mainly on very good cycle paths without car traffic, on disused railroad lines or along rivers and canals. Short stages are on moderately used roads, but usually you are on bike paths. If the day gets too long because of the many worthwhile stops, the nearest train station is usually not far away.
Available rental bikes
If you would like a rental bike for the tour, it will be available for you at the hotel. You can choose from ladies' and men's bikes with either 7-speed hub gears or 21-speed derailleur gears, as well as electric bikes (unisex) with coaster. All ladies' bikes have a low step-through and men's bikes are available in different frame sizes, so please state your body size when booking. You simply state your bike preference when you make your booking
Extra costs that are not included in the tour price
A possible tourism tax is not part of the tour price and therefore has to be paid at the hotel on site.
7 days hotline service
If the bicycle chain is broken, floods make it impossible to continue your journey or other nasty surprises are waiting for you: We are available for you 7 days a week and organize help as quickly as possible.
Passport and visa requirements
For EU citizens, there are no special passport or visa requirements and no health formalities to be considered for this trip.
Travel insurance
The tour price already includes the statutory insolvency insurance. In addition, we recommend that you take out travel cancellation insurance upon receipt of your travel confirmation in order to protect yourself against financial disadvantages in the event of travel cancellation, interruption of travel, illness or accident.
You might also be interested in