In Mainz you should be well on time! Not just the Roman-Germanic central museum, the Gutenberg museum, the emperors cathedral and the electors castle are worth an ample visit (Arrival possible by German railway/ rental bike at hotel).
The beautiful first stage leads through rolling vineyards and well-known wine villages. The Rhine is flowing quite unhurriedly, forming little islands and broadening its bed up to 800 m width! Until you reach Rüdesheim you may visit the half-timbered town of Eltville and monastery Eberbach (+ 14 km), which are worth seeing.
Pompous castles attract on your way. And you definitely should climb up to the Loreley! A hiking path leads up to this lovely spot and offers a beautiful sight to the narrowest part in the romantic Rhine Valley.
Further on in the narrow Rhine Valley, the route firstly leads to Boppart. In this place it is quite turbulent, but if you wish you can go to 'Vierseenblick' by cable car in densely wooded heights. Or you may visit on your further way to the 'Deutschen Eck' in Koblenz the well preserved castle Marksburg and castle Stolzenfels.
Nobody wants to leave, but after a 5 days in the beautiful Rhine Valley the tour ends in Koblenz (Departure possible with German railway).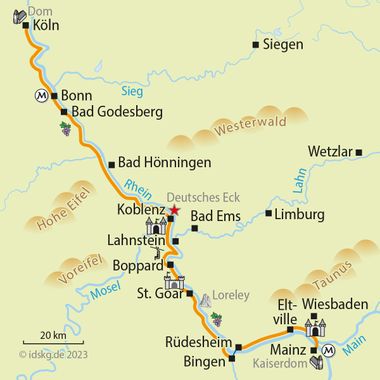 Accommodation incl. breakfast
Room with shower/bath/WC
Luggage transport
Map of bike trails with marked route
Digital route guidance via smartphone app
Tips for tour preparation
Touristic information
7 days hotline service
Below you will find specific information about the Rhine bike trail Mainz - Koblenz. If you have further questions about this trip, you simply call us: Phone: 06421 – 886890.
Arrival by train
Mainz is easily accessible from all major cities in Germany by train. All our partner hotels are located within easy access to the station. Current schedule information and price information can be found at: www.bahn.de.
Parking facilities at the hotel in Mainz
The hotels in Mainz have no parking facilities. You can park in one of the municipal parking garages near the hotel. Your will receive detailed information on the parking facilities together with your travel information package 2 weeks prior to your arrival.
Condition of cycle paths
The route along the Rhine runs almost exclusively on asphalted and paved hiking and cycling trails or along quiet country roads. Driving in traffic is rare. From Mainz to Koblenz, the route is marked with white and green signs, which always identify the next village. Due to the good signs the right way is easy to find.
Available rental bikes
If you choose to rent a velociped rental bike for the tour, we take it to your first hotel and bring pick it up at your destination. You can choose between woman's and men's bicycles either with 7-speed gear shift and coaster brake or 21-speed gear shift and freewheel or electric bikes. All ladies' bikes have a low opening that makes mounting and dismounting much easier. The bikes are suitable for all ladies from 150 cm in height and for all gentlemen from 165 cm in height. On our Velociped tours we use high-quality e-bikes of the Velo de Ville brand. They are technically mature and very robust.
You simply specify your wishes at time of booking.
Transfer back to starting point of the journey
Wednesdays and Saturdays at 11:30 am there is the possibility to transfer back to Mainz with a small bus (with bike trailer). Arrival at 1:30 pm. The driver comes to pick you up at your hotel and has much room for you, your luggage and where required your own bicycle. The bus takes you back to your first hotel, thus ensuring a perfect return service without transfer and the hassle of hauling luggage.
Bike and train
Along the route there are good rail connections, so you can always take the train for some sections.
Bike and boat
Particularly the Middle Rhine Valley a boat tour is a delightful addition to cycling. The major part of the passenger traffic on the Rhine route is done by the Cologne-Düsseldorf shipping company. Bicycles can be taken on all ships. Timetable Cologne-Düsseldorf shipping company
Schedule Köln-Düsseldorfer shipping company
Extra costs which are not included in the price
A possibly applicable city tax is not part of the travel price and therefore has to be paid at the hotel locally.
The ferry boat from Rudesheim to Bingen is not included in the price.
7 days hotline service
Just in case the bike chain breaks, flooding makes it impossible to continue your tour or any other nasty surprise: You can reach us seven days a week and we will do anything to help you as fast as possible.
Passport and visa requirements
For EU citizens, there are no special passport or visa requirements and no health formalities to be considered for this trip.
Travel insurance
The tour price already includes the statutory insolvency insurance. In addition, we recommend that you take out travel cancellation insurance upon receipt of your travel confirmation in order to protect yourself against financial disadvantages in the event of travel cancellation, interruption of travel, illness or accident.
You might also be interested in