Individual arrival to Trier. There is plenty to see, you should arrive early.
You should take your time for the visit of the historical centre, the Kaiserthermen (imperial thermal baths) and the Porta Nigra. Arrival possible by German railway. If you arrive by car there a parking sites. The rental bikes will be at the hotel, if booked.
The bicycle path leads through wide curves along the Moselle to the wine village of Trittenheim and further on to the Old Town of Bernkastel-Kues. The framework houses present theirselves like a jewel-box and form nice with cosy pubs.
Cycle along Traben-Trarbach to the beautiful framework town of Enkirch. Enjoy a boat trip and discover Cochem with the Reichsburg castle. After only 11 km you will reach happily the wine town Treis Karden.
You should visit Eltz castle during a trip (+ 16 km). You follow the last curves of the Moselle through famous wine villages to the Deuschen Eck in Koblenz - a wonderful end of your journey (return of rental bikes/ receipt of luggage in one of our partner hotels starting late afternoon).
You would like to explore the sights of Koblenz intensively?
In this case we recommend booking an extra night at the end of your bike tour. Our return transfer back to Trier is a quite comfortably way to come back to the starting point of the journey.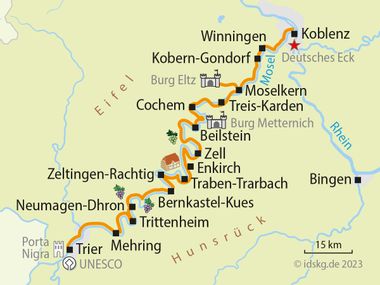 Overnight stay with breakfast
Room with D/bath/WC
Luggage transport
Cycling map with marked route
Digital route guidance via smartphone app
Tips for trip preparation
Tourist information
7-day hotline service
Worth knowing about the short Moselle Bike Trip
Below please find more information about the short Moselle Bike Trip. If you have any further questions please feel free to contact us by phone: 0049 - (0)6421-886890.
Arrival by train
From Koblenz Trier is easily accessible by train. We recommend to take a taxi from the station to get to our partner hotels in Trier. Current schedule information and price information can be found at: www.bahn.de.
Parking facilities at the hotel
Our partner hotels in Trier always provide parking possibilities. Sometimes even free, for the entire duration of your bike trip. There are always plenty of parking spots available, no pre-reservation is necessary. Detailed information on parking at your hotel, you will receive together with the detailed travel documents two weeks prior to departure.
Condition of cycle paths
The quality of the bike tail is very good. There are practical no unpaved or poorly developed path. The route runs almost exclusively on paved roads and is very well signposted. The volume of traffic varies, but between Trier and Cochem there is almost always a separate bike trail on the right or left shore side, off the main road. Only during your last day you have to cycle a section on a wide bicycle lane next to the main road. Detailed information about which shore side is best to cycle on, you will receive together with the detailed travel documents two weeks prior to departure.
Available rental bikes
If you choose to rent a Velociped-rental bike for the tour, we take it to your first hotel and pick it up at your destination. You can choose between ladies´and men's bicycles either with 7-speed gear shift and coaster brake or 27-speed gear shift and freewheel or electric bikes. All ladies' bikes have a low opening that makes mounting and dismounting much easier. The bikes are suitable for all ladies from 150 cm in height and for all gentlemen from 165 cm in height. You simply specify your wishes at time of booking.
Transfer back to the starting point of the journey
Daily at 9:00am there is the possibility to transfer back to Trier with a small bus (with bike trailer). Arrival at 11:00am. The driver comes to pick you up at your hotel and has much space for you, your luggage and if required your own bicycle. The bus takes you back to your first hotel, thus ensuring a perfect return service without transfer and the hassle of hauling luggage.
Please note that when booking the return transfer an extra night in Koblenz is mandatory.
Train and bus in the Moselle Valley
In the Moselle Valley there runs not always a train. After Trier the train is leaving the Moselle Valley and the nearest station is not before Bullay. After only a few kilometres, the railway disappears in the Kaiser-Wilhelm-Tunnel and only reappears in Cochem. From Cochem the train runs completely in the Moselle Valley to Koblenz.
In the period from 1.5. - 31.10. a bus operates daily between Trier and Bullay with a max. capacity of 22 bicycles.
Boat trips on the river Moselle
From April to October there are many passenger ships on the Mosel. Boat docks are available in almost all places on both directions. Often tours are offered. Information about the exact departure times you find at the bulletin boards of the shipping companies.
A regular ferry traffic exists between Trier and Treis Karden.
Boat schedule information Moselle
Additional nights during the tour
Of course it is possible to book additional nights in every regular town where you will stay.
The prices for these extra nights are (prices of 2024):
Category B
EUR 69,- per person and night in a double room
EUR 109,- per person and night in a single room
Category A
EUR 79- per person and night in a double room
EUR 119,- per person and night in a single room
Extra costs which are not inculded in the price
A possibly applicable city tax is not part of the travel price and therefore has to be paid at the hotel locally.
7 day hotline service
In case of chain breakdown, flooding or other bad surprises that makes a continuation of your tour impossible: no problem, we also work during weekends and you can reach us 24 hours-round-the-clock in case of emergency.
Passport and visa requirements
For EU citizens, there are no special passport or visa requirements and no health formalities to be considered for this trip.
Travel insurance
The tour price already includes the statutory insolvency insurance. In addition, we recommend that you take out travel cancellation insurance upon receipt of your travel confirmation in order to protect yourself against financial disadvantages in the event of travel cancellation, interruption of travel, illness or accident.
You might also be interested in