Your Hotel:
Hotel Deutscher Hof
You stay at the family-run 3*** superior Hotel Deutscher Hof in the heart of Trier. All sights can be reached in a few minutes. You will spend the night in a comfort room with double bed, on request with two separate beds. The rooms are equipped with desk, free Wi-Fi, LED TV with radio, telephone, coffee and tea station and refrigerator.
On request, rooms with cork or vinyl floors and allergy bed linen are available. The modernly decorated rooms are all non-smoking rooms. The breakfast buffet leaves nothing to be desired. After cycling, guests can relax in the hotel's sauna & wellness area.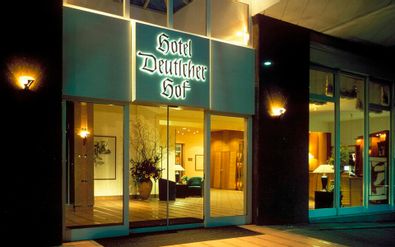 ©
Hotel Deutscher Hof Trier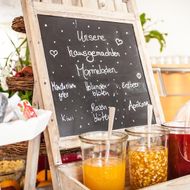 ©
Hotel Deutscher Hof Trier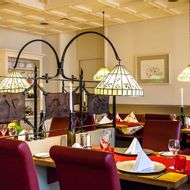 ©
Hotel Deutscher Hof Trier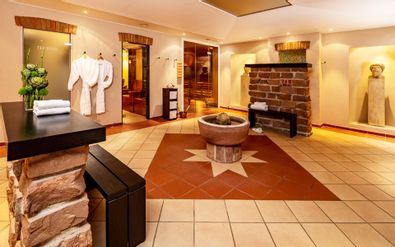 Your Hotel:
Vienna House Easy Trier
The Hotel Vienna House Easy Trier is located directly at the Kaiserthermen and near the city center. The 105 air-conditioned rooms are modern and friendly with comfortable box spring beds, desk and telephone as well as cable TV. Of course you can use free WiFi and digital newspapers in your room.
Fortify yourself at breakfast with fresh rolls, crusty bread, delicious jams and egg dishes for the day's cycling. In the evening, review the day's experiences in the bar.
You should plan enough time to visit the historic city centre, the Imperial Baths and the Porta Nigra. If you arrive by car you can park your vehicle at the hotel. If our arrive by train you travel to Trier mainstation. No matter how you arrive, your booked rental bike is ready for you at the hotel and is waiting to show you the lovely Moselle Valley.
Today we recommend a train ride to Mettlach (duration 41 minutes). In Mettlach you should visit a world company, thousand-year history, centuries of tradition and trend-setting home décor- all this is encountered in the Villeroy & Boch adventure centre. We recommend to change to the left side of the Saar in Mettlach and cycle 4 km up the Saar in the middle of the famous Saarloop. Get off the bike and climb up to the Cloef on Schuster's rapping. From up here you can enjoy a fantastic view of the famous Saar Loop. Back on your bike, follow the Saar cycle path towards the Moselle. You should definitely plan a nice break in the interesting place Saarburg before you roll over Konz back to Trier.
Look forward to the beautiful and well-developed Moselle cycle path. You cycle comfortably in the flat past the Old Ferry Tower from Schweich to Mehring. Here we recommend a break at the historical remains of Villa Rustica before continuing on the way to Trittenheim. You can arrange the return trip to Trier individually, either by bike for the sporty riders or by boat from Trittenheim. Alternatively, cycle from Trittenheim on the other bank of the Moselle to Schweich (20 km). From Schweich you can go by train back to Trier.
Today you leave your bikes at the hotel and experience Trier on foot on a city tour. Get to know the history of this wonderful city, which was already founded by the Romans. Visit the Porta Nigra, the remains of Roman bath houses, a stone bridge over the Moselle and many other sights.
Today you can explore the Moselle upwards. In the morning we recommend a train ride to Nennig (duration 40 minutes). Nennig is famous for it´s Roman villa and its beautiful mosaic floor. In 1852 a farmer came across mosaic stones that turned out to be parts of a representative Roman mosaic floor. The ground was probably in the large reception hall of a magnificent villa urbana. So you have the choice. Either you visit the Roman villa and then cycle 42 km comfortably on the Moselle bike path back to Trier or you cycle in the morning directly from Trier upstream to Nennig and continue the tour there with a bike trip to Luxembourg City (+32 km for sporty riders). In the evening you go back to Trier by train (duration 50 minutes).
Time passed too quickly. Trier has much more to offer. Book an extension of your cycling trip in Trier or follow the Moselle cycle path to Koblenz. It's worth it!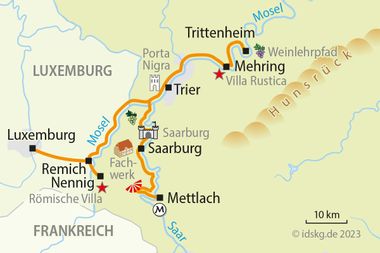 5 nights incl. breakfast in the selected hotel
Comfort room or superior room with shower / bath / WC
Guided city tour in Trier
Map of bike trails with marked route
Digital route guidance via smartphone app
Tips for tour preparation
Touristic information
7 days hotline service
Below please find more information about the Trier radial tour. If you have any further questions please feel free to contact us by phone: 0049 - (0)6421-886890.
Arrival by train
From Koblenz Trier is easily accessible by train. We recommend to take a taxi from the station to get to our partner hotels in Trier. Current schedule information and price information can be found at:
Parking facilities at the hotels
Our partner hotels in Trier always provide parking facilities:
Hotel Deutscher Hof outdoor parking approx. 10,00 EUR per day, underground parking space approx. 15,00 EUR per day (as of December 2023).
In the Vienna House Easy Trier there are 35 parking spaces available in the hotel's own underground car park: approx. EUR 9.00 per day, subject to availability, payable on site (as of December 2022). An additional 45 parking spaces can be found in the ERA underground car park.
Detailed information on parking at your hotel, you will receive together with the travel documents two weeks prior to departure.
Condition of cycle path
The quality of the Moselle bike path is very good. There are practical no unpaved or poorly developed path. The route runs almost exclusively on paved roads and is very well signposted. The volume of traffic varies, but between Trier and Cochem there is almost always a seperate bike trail on the right or left shore side, off the main road. The Saar cycle path is almost always flat, right on the riverbank of the Saar, mostly on a separate paved or finely graveled bike path. Along the route, you will find numerous information boards that will help you find your way around with detailed map sections. In short, the Saar cycle path is perfectly developed with high path quality.
Available rental bikes
If you choose to rent a Velociped rental bike for the tour, we take it to your first hotel and pick it up. You can choose between woman's and men's bicycles either with 7-speed gear shift and coaster brake or 27-speed gear shift and freewheel or electric bikes. All ladies' bikes have a low opening that makes mounting and dismounting much easier. The bikes are suitable for all ladies from 150 cm in height and for all gentlemen from 165 cm in height. You simply specify your wishes at time of booking.
Extra costs which are not included in the price
A possibly applicable city tax is not part of the travel price and therefore has to be paid at the hotel locally, ca. 3,00 - 5,00 EUR per person / per night. On this tour you can plan the bike tours individually and spontaneously. For this reason, rail and shipping tickets are not part of the travel price and must be paid locally.
Boat trip Trittenheim - Trier approx. 30,00 EUR p.p.
Train ticket Trier to Mettlach approx. 15,00 EUR p.p.
Train ticket Schweich to Trier approx. 10,00 EUR p.p.
Train ticket Trier to Nennig approx. 15,00 EUR p.p.
Train ticket Luxembourg to Trier approx. 10,00 EUR p.p.
7 days hotline service
In case of chain breakdown, flooding or other bad surprises that makes a continuation of your tour impossible: no problem, we also work during weekends and you can reach us 7 days a week in case of emergency.
Passport and visa requirements
For EU citizens, there are no special passport or visa requirements and no health formalities to be considered for this trip.
Travel insurance
The tour price already includes the statutory insolvency insurance. In addition, we recommend that you take out travel cancellation insurance upon receipt of your travel confirmation in order to protect yourself against financial disadvantages in the event of travel cancellation, interruption of travel, illness or accident.
You might also be interested in