This town it's worth it to arrive early in the day to see all the famous sights such as the Residence and the Fortress Marienburg. If you plane the arrival by plane land in Frankfurt and then take the train to Würzburg (about an hour).
On your way to Karlstadt and its famous downtown area, you'll pass through Veitshöchheim, getting a chance to see the bishop's summer residence, as well as the French rococo garden. The look of the countryside is changing: instead of the characteristic vines there are shady forests directly at the bicycle path. On flat paths you cycle to Gemünden, the town of the three rivers.
The Main took millions of years to carve out the close-packed hills of the area. Thankfully, your trip will not take that long. After you pass Rothenfels, whose castle guards the narrow valley, you'll reach Marktheidenfeld and, finally, Wertheim. Take some time to see the beautiful half-timbered houses in the old city during your stay here.
In the morning you should pedal hard in order to be in Miltenberg at noon. In Miltenberg you can see many stately half-timbered houses. In the afternoon you cycle on flat paths quickly between the rises of the Spessart and the forest Odenwald to the sandstone palace Johannisburg in Aschaffenburg.
After breakfast your nice cycle holiday ends in Aschaffenburg. Departure is possible by German railway. We recommend our transfer service back to Würzburg (daily, departure 9 a.m., duration about 1,5 hrs.)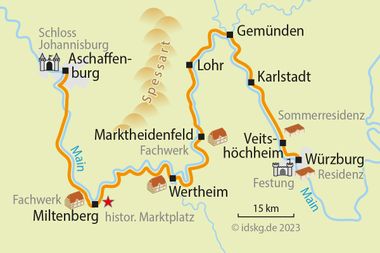 Accommodation incl. breakfast
Room with shower/bath/WC
Luggage transport
Map of bike trails with marked route
Digital route guidance via smartphone app
Tips for tour preparation
Touristic information
7 days hotline service
Please find more information about your bike trip below. If you have any further questions feel free to contact us by phone: 0049 - (0) 6421 - 886890.
Arrival by train
Würzburg is easily accessible from all major cities in Germany by train. We recommend to take a taxi from the station to get to our partner hotels in Würzburg. Current schedule information and price information can be found at: www.bahn.de.
Parking facilities at the hotel
In our partner hotels inWürzburg usually there is no parking. Here you can park for about 8.00 EUR per day in public car parks (2023). A big public parking lot is located 5 minutes walking from the center of Würzburg. Detailed information on parking at the hotel booked for you, you will receive together with the detailed travel documents two weeks prior to departure.
Condition of cycle paths
As Germany's first bike route the Main bike trail got awarded with five stars by ADFC (General German Bicycle Club) in 2008. Important criteria for this award were the almost universal asphalting and the nearly traffic-free routes. The specially signposted cycle track runs mostly every time directly at the Main riverside and is without significant gradients.
Available rental bikes
If you choose to rent a velociped-rental bike for the tour, we take it to your first hotel and bring pick it up at your destination. You can choose between woman's and men's bicycles either with 7-speed gear shift and coaster brake or 21-speed gear shift and freewheel or electric bikes. All ladies' bikes have a low opening that makes mounting and dismounting much easier. The bikes are suitable for all ladies from 150 cm in height and for all gentlemen from 165 cm in height.
Transfer back to the starting point of the journey
Every Saturday and Sunday there is the possibility to return to Würzburg by minibus (with bike transport trailer). The driver comes to your hotel and has room for you, your luggage and for your personal bike. Departure approx. 09:00, duration approx. 1,5 hours later.
The transfer will bring you back to your start hotel without any circumstances and efforts.
Extra costs which are not included in the tour price
A possibly applicable city tax is not part of the travel price and therefore has to be paid at the hotel locally.
7 day hotline service
Just in case the bike chain breaks, flooding makes it impossible to continue your tour or any other nasty surprise: You can reach us seven days a week and we will do anything to help you as fast as possible.
Passport and visa requirements
For EU citizens, there are no special passport or visa requirements and no health formalities to be considered for this trip.
Travel insurance
The tour price already includes the statutory insolvency insurance. In addition, we recommend that you take out travel cancellation insurance upon receipt of your travel confirmation in order to protect yourself against financial disadvantages in the event of travel cancellation, interruption of travel, illness or accident.
You might also be interested in