We recommend to arrive early, then you have enough time to visit the remarkable "Kleine Museum". Marvel at more than 100 works by the Austrian artist Hundertwasser, because this unique private collection is supplemented by loans from galleries from Germany and New York.
Today you start your first tour. After 18 km the first vineyards appear at Wipfeld. A beautiful bike course takes you through small wine villages in the heart of the Franconian wine country through the Volkacher Main loop, the largest contiguous vineyard region of Franconia. Enjoy the picturesque village Sommerach with its baroque houses and half-timbered wineries. In the afternoon we recommend a guided wine tour. You will learn about the Sommeracher vineyards, about hundred years of history of the wine cellars and the craftsmanship of the winery (every Friday, Saturday, Sunday at 3pm ).
Quickly you arrive in the old town of Dettelbach. You will be fascinated by the almost completely preserved city walls, many small towers, cobbled roads and picturesque rows of half-timbered houses from the late Gothic and Renaissance. Shortly afterwards you reach Kitzingen, the largest wine trading city on the Main. Marvel at the historic market square dominated by the Franconian half-timbered houses, impressive town houses and the Renaissance town hall. Cycle on to Ochsenfurt. Admire the new town hall from 1515 with lance turrets and elaborate figure- and moon clock before you continue to cycle to Sommerhausen. Look forward to the old town with townhouses and wine-growing houses surrounded idyllic by a well preserved defensive wall.
Cycle through the romantic village Eibelstadt, whose historic city wall surrounds many attractions. Shortly before Würzburg you cycle through the picturesque wine village Randersacker, where wine grows since 779 AD. Here the first wine school in Franconia had its origin (in Randersackerer Mönchshof). You cycle the bike trail to the beautiful city of Würzburg. Here you marvel at the market square, the town hall, the old Main bridge, the imposing fortress and the Lady Chapel with its sandstone figures by Tilman Riemenschneider. The highlight is the former bishop's residence, which was built 1720 - 1744 according to plans by Balthasar Neumann. In its unity it is regarded as one of the most beautiful palace buildings of South German Baroque. Through Himmelstadt with small organic wine trail you cycle to the worth-seeing Karlstadt. Go on an expedition in the old town surrounded by ancient walls, towers and gates.
Now the landscape is changing and the characteristic viticulture disappears and shady forests mark the bike path. In only 10 minutes (Karstadt - Gemünden) or 25 minutes (Karlstadt-Lohr) by train, you can shorten the stage of today. No matter how you decide, Lohr will welcome you with the charm of its fairytale old town. The bike path runs directly along the banks through the beautiful town of Marktheidenfeld with its venerable parish church and Franck-house (1745 built by wealthy wine merchant Franz Valentin Franck). Enjoy the romantic wine village Homburg and the vineyards, which now again enrich the landscape.
Today the wooded hills come close together, through which the Main winds. Passing Wertheim with a graceful half-timbered houses and a narrow old town you cycle mostly right on the shore and enjoy pure nature. In Bürgstadt you rediscover vineyards, where mostly red wine grapes grow. It is a pretty jolly wine village and offers small delicacies in the "Häckerwirtschaften". Look forward to the Red Wine Hiking Trail and the Martin Chapel with unique interior decor.
Only a few kilometres away you reach Miltenberg, which proudly presents itself with half-timbered houses! Marvel at the magnificent market square - better known as "Schnatterloch". Parallel to the Red Wine Hiking Trail you cycle to Großheubach. Wine determines the life in the village since 1254. On flat roads you quickly cycle through Klingenberg, where also excellent red wines are grown, to the sandstone Castle Johannesburg in Aschaffenburg.
Today your beautiful wine tour ends after breakfast in Aschaffenburg. Return by train is possible. If you want to go back to the first hotel (Hotel Schweinfurt), we recommend our quick back transfer service (Departure every Wednesday, Saturday and Sunday at 9am, it takes about 2 hours).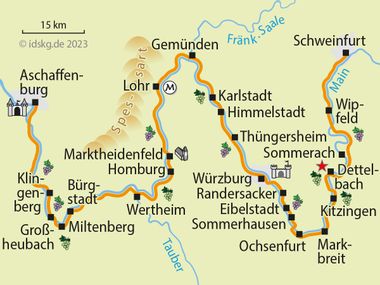 Overnight stays with breakfast
Room with bath/WC
Luggage transport
Cycling map with marked route
Digital route guidance via app
Tips for trip preparation
Tourist information
7-day hotline service
7 nights accommodation with breakfast (2 x comfortable middle class hotel in Schweinfurt and Aschaffenburg, 5 x wine hotel)
3 x wine tasting/ visiting of wine cellar
Please find more information about the Main vintner´s tour bike trip below. If you have any further questions feel free to contact us by phone: 0049 - (0) 6421 - 886890.
Arrival by train
Schweinfurt is easily accessible from all major cities in Germany by train. We recommend to take a taxi from the station to get to our partner hotels in Bamberg. Current schedule information and price information can be found at: www.bahn.de.
Parkfacilities at the hotel
Our partner hotels always provide parking possibilities. Sometimes even free of charge, for the entire duration of your bike trip. There are always plenty of parking spots available, pre-reservation is not always necessary. Detailed information on parking at your hotel, you will receive together with the travel documents two weeks prior to departure.
Condition of cycle paths
The quality of the bike tail is very good. There are practical no unpaved or poorly developed path. The route runs almost exclusively on paved roads and is very well signposted. The volume of traffic varies, but between Schweinfurt and Aschaffenburg there is almost always a seperate bike trail on the right or left shore side, off the main road. Detailed information about which shore side is best to cycle on, you will receive together with the detailed travel documents two weeks prior to departure.
Available rental bikes
If you choose to rent a bike for the tour, we bring it to your start hotel. You can choose between woman's and men's bicycles either with 7-speed gear shift and backpedal brake, 21-speed gear shift and freewheel or electric bikes. All ladies' bikes have a low opening and the bikes are suitable for all ladies from 150 cm in height. The men's bikes are available in various frame sizes for all gentlemen from 165 cm in height.
Transfer back to the starting point of the journey
Every Wednesday, Saturday and Sunday there is the possibility to return to Schweinfurt by transfer by minibus (with bike transport trailer) (departure approx. 09:00, duration approx. 1,5 hours later). The driver comes to your hotel and has room for you, your luggage and for your personal bike. The return transfer by bus will bring you back to your start hotel without any circumstances and efforts.
Extra costs which are not included in the tour price
A possibly applicable tourism tax is not included in the tour price and has to be paid locally.
7 day hotline service
Just in case the bike chain breaks, flooding makes it impossible to continue your tour or any other nasty surprise: You can reach us seven days a week and we will do anything to help you as fast as possible.
Passport and visa requirements
For EU citizens, there are no special passport or visa requirements and no health formalities to be considered for this trip.
Travel insurance
The tour price already includes the statutory insolvency insurance. In addition, we recommend that you take out travel cancellation insurance upon receipt of your travel confirmation in order to protect yourself against financial disadvantages in the event of travel cancellation, interruption of travel, illness or accident.