Arrive in time to visit Bayreuth with the margrave's residence still revealing the charm of the past and famous in the whole world for the Richard-Wagner-festival.
Follow the young Red Main to Kulmbach today! Let the cozy atmosphere of this charming Franconian landscape at the confluence of the Red and the White Main and at the foot of the Frankenwald and the Fichtelgebirge captivate you. Visit the Old-town of Kulmbach and Plassenburg castle, enthroned majestically above the town. You will quickly reach the pretty town of Burgkunstadt inviting for a short stop. And then, finally, todays final destination lies just ahead of you: Lichtenfels, famous for its basket-weaving art far past the limits of Franconia. Here, a short side trip to the baroque pilgrimage basilica Vierzehnheiligen, constructed by the famous architect Balthasar Neumann, is absolutely recommendable!
Let's begin the day with a short visit of Banz monastery. Along the route to Bamberg, you will see how the Main River is ponded in small lakes several times. You will find your hotel in the center of Bamberg. Benefit from this closeness and cycle into the Old-town, classified world cultural heritage by the UNESCO.
Follow the Regnitz for a short moment until you reach the Main River, taking you now to the beautiful pilgrimage church Maria Limbach. You will soon reach the first vineyards marking the border between the beer-brewing and the wine-growing areas of Franconia. Let a sunny day come to its end in Haßfurt where another historical Old-town will impress you.
A short side-trip to Theres is recommendable today: In the afternoon, you will cross Fahr, town of the "Bocksbeutel" (the local wine is sold in this unique kind of container), to reach Volkach, famous for its excellent wines!
Leaving Volkach behind, you will follow the Main-channel before catching up to the Main River again in Schwarzach. Via the even and well-paved bike trail, you will reach Würzburg quickly and have enough time to discover the town individually.
After breakfast your nice cycle holiday ends in Aschaffenburg. Departure is possible by German railway. We recommend our transfer service back to Bayreuth (each Saturday departure 10.30 a.m., duration about 2 hrs.).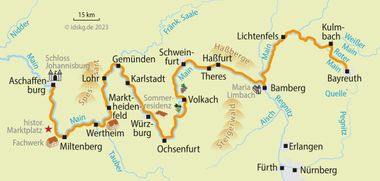 Accommodation incl. breakfast
Room with shower/bath/WC
Luggage transport
Map of bike trails with marked route
Digital route guidance via smartphone app
Tips for tour preparation
Touristic information
7 days hotline service
Please find more information about your bike trip below. If you have any further questions feel free to contact us by phone: 0049 - (0) 6421 - 886890.
Extra nights in Bayreuth during the Festival in Bayreuth (24.07. - 30.08.2024):
Prices for the extra nights in Bayreuth during the Festival in Bayreuth ( 24.07. - 30.08.2024) on request
Arrival by train
Bayreuth is easily accessible from all major cities in Germany by train. We recommend to take a taxi from the station to get to our partner hotels in Bayreuth. Current schedule information and price information can be found at: www.bahn.de.
Parking facilities at the hotel
Our partner hotels in Bayreuth always provide parking (subject to a fee) possibilities for the entire duration of your bike trip. There are always plenty of parking spots available, no pre-reservation is necessary.
Detailed information on parking at your hotel, you will receive together with the detailed travel documents two weeks prior to departure.
Condition of the bike paths
As Germany's first bike route the Main bike trail got awarded with five stars by ADFC in 2008. Important criteria for this award were the almost universal asphalting and the nearly traffic-free routes. The specially signposted cycle track runs mostly every time directly at the Main riverside and is without significant gradients.
Available rental bikes
If you choose to rent a velociped-rental bike for the tour, we take it to your first hotel and bring pick it up at your destination. You can choose between woman's and men's bicycles either with 7-speed gear shift and coaster brake or 21-speed gear shift and freewheel or electric bikes. All ladies' bikes have a low opening that makes mounting and dismounting much easier. The bikes are suitable for all ladies from 150 cm in height and for all gentlemen from 165 cm in height. You simply specify your wishes at time of booking.
Transfer back to the starting point of the journey
Saturday at 10.30 am there is the possibility to transfer back to Bayreuth with a small bus (with bike trailer). The driver comes to pick you up at your hotel and has much room for you, your luggage and where required your own bicycle. The bus takes you back to your first hotel, thus ensuring a perfect return service without the hassle of hauling luggage.
Extra costs which are not included in the tour price
A possibly applicable tourism tax is not included in the tour price and has to be paid locally.
7 day hotline service
Just in case the bike chain breaks, flooding makes it impossible to continue your tour or any other nasty surprise: You can reach us seven days a week and we will do anything to help you as fast as possible.
Passport and visa requirements
For EU citizens, there are no special passport or visa requirements and no health formalities to be considered for this trip.
Travel insurance
The tour price already includes the statutory insolvency insurance. In addition, we recommend that you take out travel cancellation insurance upon receipt of your travel confirmation in order to protect yourself against financial disadvantages in the event of travel cancellation, interruption of travel, illness or accident.
You might also be interested in