Once you have arrived, you should absolutely take your time to visit the Old-town of Bamberg.
Follow the Regnitz for a short moment until you reaching the Main River, taking you now to the beautiful pilgrimage church Maria Limbach. You will soon reach the first vineyards marking the border between the beer-brewing and the wine-growing areas of Franconia. Let a sunny day come to its end in Haßfurt where another historical Old-town will impress you.
A short side-trip to Theres is recommendable today: After a nice break there, you will continue along the edge of the Main to Schweinfurt. Discover the vestiges of the ancient imperial town and walk on the footprints of the industrial pioneers and discoverers and let the modern Schweinfurt treat you!
Passing numerous vineyards, you will cycle through the small, historic wine-growing town Wipfeld, home of the "Zehntgraf". Take a relaxing break here and marvel at the precious old buildings of the town and its idyllic situation. In the afternoon, you will cross Fahr, town of the "Bocksbeutel", to reach Volkach, famous for its excellent wines!
Leaving Volkach behind, you will follow the Main-channel before catching up to the Main River again in Schwarzach. By the side of the channel, you will have the chance to make a stop in Dettelbach, whose city wall has been preserved almost completely. It still has its 30 towers and both gates, making you want to take a walk around. The impressive St. Augustinus church in the centre of the Old-town with its two unequal towers is just as beautiful as the pilgrimage church "Maria im Sand", known all over Europe as a unique example of architecture from the Late-Gothic and Renaissance period. After this visit in Dettelbach, you will reach Kitzingen in no time thanks to the well-paved and even Main-bike trail. Another historical Old-Town and more wine in Germany's oldest wine cellar wait for you here.
How to find out which one of these lovely places with their wine-growing traditions is the most beautiful one? There will not be very much time to think about it as Ochsenfurt, Sommerhausen and Eibelstadt are waiting for you now on your way to the amazing residence of Würzburg. The market place, the town hall, the old bridge crossing the Main offering an impressive view over the fortress, the pilgrimage church, the Rococo-style face of the Falkenhaus and Tilman Riemenschneider's sandstone figures of the Chapel of Our Lady, will dazzle you. The highlight is the former residence of the prince-bishop, built between 1720 and 1744 according to plans of Balthasar Neumann. Considering the overall impression, it is the most beautiful castle of the southern German Baroque.
After breakfast your nice cycle holiday ends in Würzburg. Departure is possible by German railway. We recommend our transfer service back to Bamberg (each Wednesday, Saturday and Sunday, departure 10.30 a.m., duration about 2 hrs.)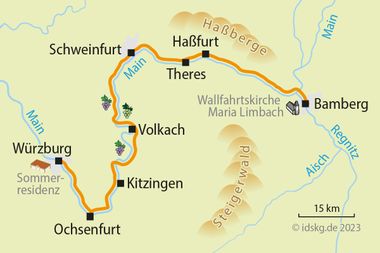 Overnight stays with breakfast
Room with bath/WC
Luggage transport
Cycling map with marked route
Digital route guidance via app
Tips for trip preparation
Tourist information
7-day hotline service
Please find more information about your bike trip below. If you have any further questions feel free to contact us by phone: 0049 - (0) 6421 - 886890.
Arrival by train
Bamberg is easily accessible from all major cities in Germany by train. We recommend to take a taxi from the station to get to our partner hotels in Bamberg. Current schedule information and price information can be found at: www.bahn.de.
Parking facilities at the hotel
In our partner hotels in the center of Bamberg usually there is no parking. Here you can park for about 8.00 EUR per day in public car parks. Detailed information on parking at the hotel booked for you, you will receive together with the detailed travel documents two weeks prior to departure.
Condition of cycle paths
As Germany's first bike route the Main bike trail got awarded with five stars by ADFC (General German Bicycle Club) in 2008. Important criteria for this award were the almost universal asphalting and the nearly traffic-free routes. The specially signposted cycle track runs mostly every time directly at the Main riverside and is without significant gradients.
Available rental bikes
If you choose to rent a velociped-rental bike for the tour, we take it to your first hotel and bring pick it up at your destination. You can choose between woman's and men's bicycles either with 7-speed gear shift and coaster brake or 21-speed gear shift and freewheel or electric bikes. All ladies' bikes have a low opening that makes mounting and dismounting much easier. The bikes are suitable for all ladies from 150 cm in height and for all gentlemen from 165 cm in height. Available rental bikes
Transfer back to the starting point of the journey
Every Wednesday, Saturday and Sunday at 10.30am there is the possibility to transfer back to Bamberg with a small bus (with bike trailer). Arrival at 12.00pm. The driver comes to pick you up at your hotel and has much room for you, your luggage and where required your own bicycle. The bus takes you back to your first hotel, thus ensuring a perfect return service without transfer and the hassle of hauling luggage.
Extra costs which are not included in the tour price
A possibly applicable tourism tax is not included in the tour price and has to be paid locally.
7 day hotline service
Just in case the bike chain breaks, flooding makes it impossible to continue your tour or any other nasty surprise: You can reach us seven days a week and we will do anything to help you as fast as possible.
Passport and visa requirements
For EU citizens, there are no special passport or visa requirements and no health formalities to be considered for this trip.
Travel insurance
The tour price already includes the statutory insolvency insurance. In addition, we recommend that you take out travel cancellation insurance upon receipt of your travel confirmation in order to protect yourself against financial disadvantages in the event of travel cancellation, interruption of travel, illness or accident.
You might also be interested in