The Magellan is an elegant, extremely seaworthy two-masted motor yacht, which lies pleasantly calm in the water even when the waves are rough. Spacious guest cabins with air conditioning and shower cabin/toilet are available on board. The tastefully furnished saloon with bar and the covered aft deck are equipped with comfortable seating. On the wide sun deck you will find sun loungers that invite you to relax and enjoy. You can also bathe in the sea in a very comfortable way from the bathing platform at the stern.
Great value is placed on good cuisine on the Magellan: the ship's owner is a member of the cooking academy for traditional Dalmatian cuisine and the owner of a restaurant on the island of Hvar, which is known beyond the borders of Croatia for its excellent cuisine. It goes without saying that he also implements these high culinary standards on his motor yacht. You can also look forward to an exquisite selection of Croatian wines.
You travel individually by car to Trogir or by plane to Split. After checking in between 2:00 p.m. and 2:30 p.m., the ship departs and takes you to Rogoznica, where you spend the first night.
In the morning you go by ship to Vodice, where your first bike tour begins. After a short time you will cross the bridge to the island of Murter. In Slanica you will meet your ship again, which will take you to the island of Dugi Otok. During the trip, enjoy the view of the crystal-clear water in the Kornati National Park, which is known for its diverse underwater world. Arrived in Telašćica Bay, take a short hike to impressive steep cliffs.
After breakfast you cycle from the Telašćica Nature Park on a panoramic road across the island. The views of the neighboring islands lying in the deep blue shimmering sea offer excellent photo opportunities. Your ship is waiting for you in Božava to take you to Zadar. Zadar has been the political, cultural and spiritual center of Dalmatia for centuries. Here your guide will lead you through the alleys of the old town. Discover 3000 years of history, the fortress wall with the defense towers, the loggia and the early Romanesque basilica of St. Donatus.
During breakfast your ship will take you to Preko on the island of Ugljan. Today's program is to explore the two islands of Ugljan and Pašman. Both islands are connected by a bridge. You always cycle along the coast and enjoy the beautiful views of the sea and the opposite mainland. From today's destination of Tkon, you will cross over to the well-known bathing resort of Vodice, where you will also spend the night.
Today's tour takes you from Vodice to the remote villages of the Dalmatian hinterland to the worth seeing port of Skradin at the foot of the Krka Canyon. In the afternoon you will take an excursion by boat and on foot to the natural lower waterfalls in the Krka Canyon National Park. You will spend the night in Skradin.
Während des Frühstücks bringt Sie Ihr Schiff weiter nach Šibenik. Ganz in der Nähe mündet die Krka in das Adriatische Meer. In Šibenik besuchen Sie die berühmte Kathedrale des Heiligen Jakob und die malerische Altstadt, bevor Sie am Mittag wieder ablegen und mit einer Badepause und einem leckeren MIttagessen, weiter bis nach Primošten fahren. In Primošten verbringen Sie den Nachmittag und Abend und übernachten auch dort.
Today you cycle on mostly quiet roads through the hinterland via small villages to Trogir. Enjoy the beautiful views of the city of Trogir and the offshore islands during this last bike tour of your trip. In the afternoon you have the opportunity to stroll through the medieval old town of Trogir. After dinner, let the trip come to an end with a cozy get-together of guests, crew and tour guides.
After breakfast at 09:00 in the morning your beautiful journey ends with disembarkation.
Due to different wind and weather conditions as well as organizational needs, we reserve the right to change the route.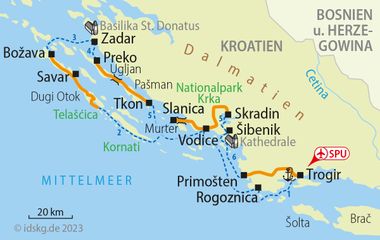 8-day cruise on a crewed motor yacht
7 nights in the booked cabin
2 x full board and 5 x half board
Guided bike tours and visits according to the program
Overview maps for the individual cycling stages on board
Group entry to national parks
bed linen and towels
German and English speaking tour guide
Below you will find specific information about the trip National Parks Dalmatia Deluxe with the deluxe ship Magellan. If you have any further questions about this trip, simply give us a call: Tel.: +49 (0)6421 - 886890.
Arrival by plane
Arriving by plane is the fastest, often cheapest and most comfortable way to get to Trogir. When booking your flight, please note that flights that land after 2:00 p.m. should only be booked in consultation with us. The nearest airport is Split (SPU). It is only 6 km away from the port in Trogir. To get from Split airport to the port in Trogir, we recommend using a taxi. A taxi ride costs around 20 euros. You can also use the regular bus number 37, which leaves right in front of the airport building towards Trogir and takes about 15 minutes. A bus ticket costs about 2.50 euros.
We can also organize a transfer for you from Split airport to Trogir port and back (price on request and only on embarkation/disembarkation day).
If you cannot find a suitable flight to Split, you have the option of flying to Dubrovnik or Zadar as an alternative, from where we can offer you an individual transfer (on request). You can research and book flight offers, for example, at www.opodo.com, www.skyscanner.de or www.swoodoo.com.
Arriving by car
Munich - Salzburg (130 km), Salzburg - Villach (180 km), Villach - Ljubljana (100 km), Ljubljana - Rijeka (130 km): Motorway behind Ljubljana to the Kozina exit, then continue on the country road to Rijeka. From Rijeka to Trogir: along the main road to Senj, there turn towards the motorway to Split (300 km, approx. 5 hours).
Parking options in Trogir
In Trogir, we will be happy to organize a secure parking space for you on a private property near the port upon prior notification. Parking costs 50 euros per week, payable locally upon arrival. Please reserve the parking space in good time before you start your journey. Please note: There is no insurance in Croatia that insures your vehicle against theft and burglary in the parking spaces provided by us. Damage of this kind is only covered by the local comprehensive insurance. If you have booked a parking space, ask one of the tour guides at the ships when you arrive. He will guide you to a guide who will drive ahead of your car, guiding you safely to the parking lot. After you have parked your car, the pilot will take you back to the ship in his car.
Requirements
The cycling stages require participants to be in good basic condition, which regular cyclists should have acquired. The daily stages of 30 - 60 km lead through hilly and mountainous terrain (approx. 400 - 700 m ascent per day) and are easy to manage as an e-bike rider. Due to the gradients, using a trekking bike requires a very good level of fitness, since steeper or longer gradients also have to be overcome. The roads are mostly paved and rarely used outside of the holiday season.
The tour is one of the lighter bike+boat tours in Croatia. The daily stages of 15 - 33 km lead through hilly and mountainous terrain (approx. 200 - 400 m ascent per day) and are cycled without time pressure. Steeper gradients only have to be overcome occasionally, but pushing them is definitely allowed. The roads are mostly paved and rarely used outside of the holiday season. Decide for yourself every day whether you want to cycle individually (i.e. alone) according to information and maps or join one of the two tour guides or individual participants. Instead of a bike tour, you can also spend half or a whole day bathing on the ship. Helmets are compulsory on our bike tours. Please bring your own well fitting helmet. A limited number of rental helmets are available on the ships (pre-registration required).
On this trekking bike tour, the guided group pace is based on the e-bike riders. Anyone who rides a trekking bike on an e-bike trip should not be surprised at the faster basic speed. Trekking cyclists should also have the necessary physical condition to ride at the higher speed, even on inclines.
Available rental bikes
There are unisex e-bikes with 11-speed derailleur gears and a low step-through or sportier unisex 9-speed hybrid e-bikes with a slightly higher step-through. The bikes are each equipped with an Ortlieb pannier
Meals
The accompanying cook is a member of the crew and prepares an extensive breakfast and one or two warm meals every day. It starts with dinner on embarkation day and ends with breakfast on disembarkation day. Depending on the course of the tour, one or the other lunch meal can also consist of a packed lunch. One meal a day is taken ashore and is not included in the tour price.
Changes
Due to different wind and weather conditions as well as organizational needs, we reserve the right to change the route.
Taking your own e-bikes
It is not possible to take your own e-bike with you due to safety regulations on the ships and to protect the health of the tour guide. If you would like to ride an e-bike, we are happy to offer it to you for booking.
Extra costs that are not included in the tour price
Flat rate for local taxes and drinking water on board and on the bike tours (payable locally to the captain): 60 euros per adult or 30 euros per child up to and including 16 years.
Drinks on board, meals and drinks ashore, entrance fees to places of interest, tips for crew and tour guide.
Children
Basically, we are of the opinion that only children with good stamina and a minimum age of 10 years can complete the bike tours on their own. Please note that there are no special children's e-bikes available and that the children have to take the adult e-bikes, which can be used from a height of 1.50m. Children's trekking rental bikes can be provided from a height of 1.20 m, but please note the information described under "Requirements". For children under the age of 16 there is also a legal obligation to wear a helmet in Croatia. Children's helmets cannot be borrowed.
Passport and visa requirements
For EU citizens, there are no special passport or visa requirements and no health formalities to be considered for this trip.
Travel insurance
The tour price already includes the statutory insolvency insurance. In addition, we recommend that you take out travel cancellation insurance upon receipt of your travel confirmation in order to protect yourself against financial disadvantages in the event of travel cancellation, interruption of travel, illness or accident.
Velociped can withdraw from the tour twenty-one days before the starting date of the tour, at the latest, in case the minimum number of participants stated under the tour description is not attained. You will duly be informed without any delay in case of a withdrawal. Velociped will of course refund the paid tour price immediately. Please note our General Terms and Conditions.
You might also be interested in