Your journey starts in the historical theatre town of Meiningen (arrival possible by train/parking garage close to the hotel/rental bike at hotel). The lovingly restored old town, Castle Elisabethenburg and many museums and theaters expect you!
After the cycling section today, you see Wasungen with its half-timbered town surrounded by dam walls and you still have enough time to relax in the health resort Bad Salzungen. Feel the vitalising effect of the unique Celtic bath (the only one in Germany). In the evening you can go and discover the lovely Old Town.
Today you cycle further between the southern slopes of the Thuringian forest and the impressive round end of the Rhone. You will reach Heringen quickly, which is famous for the "Monte Kali", the widely visible rock salt heap.
Many lakes and nature preserves will be on your way along the winding Werra and after a short ride you will reach Eisenach. Take your time for the Wartburg and visit the territory of the famous sons of the town, for example in the house of Luther or Bach.
It is quite lovely how the river meanders through a splendid low mountain landscape. You pass potash cliffs directly next to you and cross medieval villages and towns. In Creuzburg and Treffurt you should walk through the romantic alleys of the Old Town. Eschwege displays a special half-timbered charm, and is your accommodation for today.
Art along the bike lane: sculptures of well-known artists are lined up next to the bank in the Werra-Meißner-region. Have a break in the brine bath of Bad Soden-Allendorf. You cycle through the "land of cherries" around Witzenhausen to Hann. Münden. Hann. Münden offers a closed medieval townscape and aristocratic castle. You may finish your day with a stroll through the town.
After breakfast your journey along the Werra ends in Hann. Münden. If you want to, you can prolong your trip along the Weser or Fulda.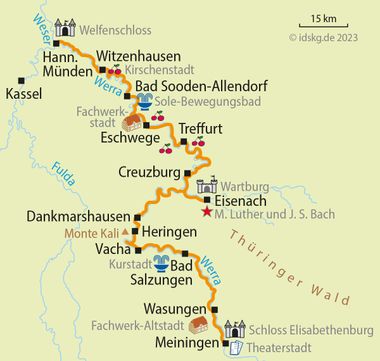 Overnight stay with breakfast
Room with D/bath/WC
Luggage transport
Cycling map with marked route
Digital route guidance via smartphone app
Tips for trip preparation
Tourist information
7-day hotline service
Please find more information about the Werra bike trail below. If you have any further questions feel free to contact us by phone: 0049 - (0)6421 - 886890.
Arrival by train
Meiningen is easily accessible from all major cities in Germany by train. We recommend to take a taxi from the station to get to our partner hotels. Current schedule information and price information can be found at:
Parking facilities at the hotel
Our partner hotels in Meiningen always provide parking possibilities. Sometimes even free, for the entire duration of your bike trip. There are always plenty of parking spots available, no pre-reservation is necessary. Detailed information on parking at your hotel, you will receive together with the detailed travel documents two weeks prior to departure.
Condition of cycle paths
Most of the time you cycle on well-paved like trails or asphalted rural roads and small side roads. Only a few short sections you have to cycle on dirt roads but in most cases it is possible to avoid thoses sections by cycling another way around. The entire route is largely flat and is well signposted. Further information can be found at:
Available rental bikes
If you choose to rent a velocipede-rental bike for the tour, we bring it to your first hotel and pick it up at your destination. You can choose between woman's and men's bicycles either with 7-speed gear shift and coaster brake or 27-speed gear shift and freewheel or electric bikes. All ladies' bikes have a low opening that makes mounting and dismounting much easier. The bikes are suitable for all ladies from 150 cm in height and for all gentlemen from 165 cm in height. You simply specify your wishes at time of booking.
Transfer back to the starting point of the journey
Saturdays at 9am there is the possibility to transfer back to Meiningen with a small bus (with bike trailer). Arrival at 12.00pm. The driver comes to pick you up at your hotel and has much room for you, your luggage and where required your own bicycle (extra fee). The bus takes you back to your first hotel, thus ensuring a perfect return service without transfer and the hassle of hauling luggage.
Tourist tax
A possibly resulting tourist tax is not part of the travel price and therefor it is payable locally at the hotel.
7 days hotline service
Just in case the bike chain is broken, flooding makes it impossible to continue your tour or any other nasty surprise: you can reach us seven days a week and we will do anything to help you as fast as possible.
Passport and visa requirements
For EU citizens, there are no special passport or visa requirements and no health formalities to be considered for this trip.
Travel insurance
The tour price already includes the statutory insolvency insurance. In addition, we recommend that you take out travel cancellation insurance upon receipt of your travel confirmation in order to protect yourself against financial disadvantages in the event of travel cancellation, interruption of travel, illness or accident.
You might also be interested in