The MS Olympia is a comfortable and cozy riverboat with a family atmosphere. The ship was renovated in 2015/2016. The panorama saloon with bar, furnished in the English club style, and the bright and friendly restaurant invite you to spend relaxing hours on board. Look forward to the spacious, partly covered sun deck with seats, which also serves as a parking space for bicycles. In total, the MS Olympia offers 49 comfortable outside cabins for a maximum of 96 guests. On the main deck there are 21 two-bed cabins with a size of approx. 11 square meters,
on the upper deck there are 22 two-bed cabins, which are also approx. 11 square meters, and 4 larger cabins in the rear part of the ship (12 square meters). 3 of them are equipped with a double bed. In these cabins, noise can be heard more intensely while driving. Here are also the 2 single cabins, which are about 9 square meters. All cabins have a shower/toilet, hairdryer, telephone, TV, individually adjustable air conditioning/heating, refrigerator, safe and a panoramic window. The windows on the upper deck can be opened, all other windows cannot.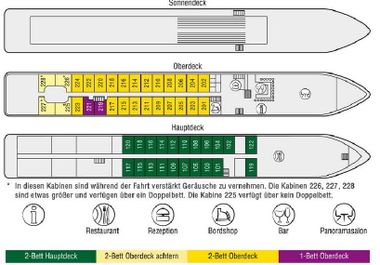 Individual arrival and embarkation from 16:00.
Your journey today will take you by boat to Alken. From there you will continue your journey by bike, first to Moselkern and then on to Cochem. In Cochem, historic half-timbered houses await you in the old town, the imposing town hall and the old market square with St. Martin's Fountain. Above it all rises majestically, as if from a fairy tale, the Reichsburg Castle.
For less experienced cyclists, we recommend spending the day on board the ship and enjoying the free afternoon in Cochem. This will allow you to explore the charming town and its sights without having to embark on a lengthy bike ride.
After you have had breakfast, you will continue your bike tour along the picturesque meanders of the Moselle, first towards the charming little town of Beilstein. Beilstein has even gone down in film history as "Rothenburg on the Moselle". After a short tour of this charming town, your route will take you past the steepest vineyard in Europe, the Bremmer Calmont, to Zell an der Mosel. Take the opportunity to get to know and taste the delicious wines of the Moselle region.
Today you continue your bike tour and first pass through the picturesque Traben-Trarbach, a town of Art Nouveau on the Middle Moselle. Your route then takes you through the world-famous wine town of Kröv to Bernkastel-Kues. In this enchanting town, impressive half-timbered houses line the medieval market square, which literally invites you to linger. Enjoy the atmosphere and the opportunity to take some well-deserved time out.
Your journey leads on the fifth day of the tour to Piesport, the largest wine-growing community on the Moselle. Here you will also find the largest Roman winepress ever discovered north of the Alps. In Neumagen-Dhron, Germany's oldest wine village, you will have the opportunity to see a replica of a Roman wine ship. You will then continue your tour in the early afternoon and reach Mehring.
You continue your bike tour and cycle via Pfalzel to Trier. This one of the oldest cities in Germany deserves a detailed tour: its Roman origins are reflected in imposing structures such as the Porta Nigra, a city gate of impressive size, and the Basilica of Constantine, which have been preserved to this day. Take time to explore these historical treasures.
On this day your bike tour leads along the river from Trier via Wasserbillig in Luxembourg to Saarburg. The town of Saarburg is characterized by its narrow streets, half-timbered houses, baroque buildings and the picturesque fishermen's and boatmen's houses. This charming townscape contributes to the special atmosphere of Saarburg and invites you to discover the beauty of the town.
Disembarkation after breakfast at 09:00 and individual journey home.
Exclusive departure 04.05.2024: Embarkation in Bonn instead of Koblenz, departure Bonn 5 pm Arrival in Andernach on 04.05.2023 at 10 pm. Departure on day 2 from Andernach at 7 am. Arrival in Alken at 10 am. The further course according to the timetable.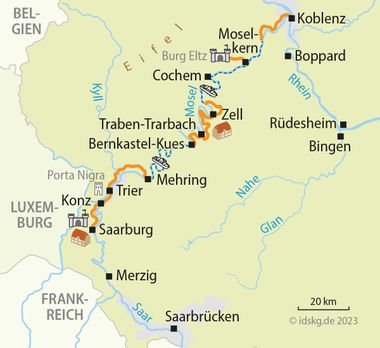 7 nights in outside cabins of the booked category with shower/WC
Program according to itinerary
Welcome drink
Full board with 7 x breakfast, 6 x packed lunch for bike tours or lunch snack, 6 x afternoon coffee and cake and 7 x 3-course dinner
Daily cabin cleaning
Change of bed linen and towels as required
Daily bike tour briefing
On-board tour guide
All passenger and port charges
1 x map and information material per cabin
GPS data
Please find more information about the Saar - Moselle boat & bike tour below. If you have any further questions feel free to contact us by phone: 0049 - (0)6421 - 886890.
Arrival Saarburg
The pier in Saarburg is about 3 km away from the main station. Detailed information you will receive with your travel documents two weeks prior to departure.
Parking in Saarburg / Koblenz
Parking Saarburg: Unguarded parking lot for the duration of your trip close to the pier (approx. 25 Euro/week/car, no reservation possible, payable on site).
Parking Koblenz: Parking in a public multi-storey car park near the pier costs around € 125 per week. Free Park & ​​Ride parking spaces are available outside of Koblenz. From there you can take the bus / train into the city. No reservation possible, payable on site.
(as of May 2023)
Embarkation
Embarkation on the MS Olympia in Saarburg and Koblenz is possible from 3:00 p.m to 5:00 pm.
Luggage
For lack of space please abstain from hard-top cases, storage space is limited.
Optional excursions
If the bike stages and lay times allow, an excursion program will be put together, which can only be booked and paid for on board. Depending on the group of participants, the excursions may be offered bilingual German-English.
Condition of cycle paths
The quality of the bike paths is good The Moselle cycle path usually runs on paved roads without significant gradients.
Available rental bikes
We provide 7-speed gear shift unisex bikes with hand and pedal brake by KTM and a pannier. A limited number of freewheel bikes and electric bikes is available.
Own bikes
You can travel with your own bike, by prior appointment (exclusion of liability for damage, loss and theft). Due to the limited space on the sun deck, you can only bring your own bike on request and only to a limited extent.
Transfer back to the starting point of the journey
By train in 2 hours: approx. 25,- € per person.
Changes
Subject to changes. If a route cannot be traveled due to low or high water or bad weather, the skipper reserves the right to change the route for your safety. This is not a free reason to withdraw.
Extra costs which are not included in the travel price
Arrival and departure, transfers, rental bike, optional excursions, entrance and sightseeing fees, city maps, insurance, tips and personal expenses.
7 days hotline service
Just in case the bike chain is broken, flooding makes it impossible to continue your tour or any other nasty surprise: you can reach us seven days a week and we will do anything to help you as fast as possible.
Passport and visa requirements
For EU citizens, there are no special passport or visa requirements and no health formalities to be considered for this trip.
Travel insurance
The tour price already includes the statutory insolvency insurance. In addition, we recommend that you take out travel cancellation insurance upon receipt of your travel confirmation in order to protect yourself against financial disadvantages in the event of travel cancellation, interruption of travel, illness or accident.
Velociped can withdraw from the tour twenty-one days before the starting date of the tour, at the latest, in case the minimum number of participants stated under the tour description is not attained. You will duly be informed without any delay in case of a withdrawal. Velociped will of course refund the paid tour price immediately. Please note our General Terms and Conditions.
You might also be interested in