Look forward to Villingen-Schwenningen, located on the edge of the Middle Black Forest, in the headwaters of the Neckar and Danube. Marvel at the historic atmosphere of the Zähringer city with its many churches and monasteries, the magnificent cathedral, the defiant city wall and the mighty defense and gate towers. Individual arrival with an overnight stay in Villingen-Schwenningen.
Directly from the source of the Neckar on the watershed between the Rhine and the Danube, you cycle through a dreamy and romantic landscape to the free imperial city of Rottweil, known for its wonderful urban ensemble. Stroll between town houses decorated with bay windows, fountains and old facades. In the beautiful Neckar Valley, marvel at stately castle ruins on the young river. Overnight in Sulz or Glatt.
Look forward to the fun-loving Swabian university town of Tübingen with its considerable "student density". There is a lot to explore: Bebenhausen Castle, Hohentübingen Castle, the Hölderlin Tower, cozy half-timbered houses in narrow streets and rustic student bars. Overnight in Tübingen.
Today you will experience a charming landscape, because the Neckar leads you on beautiful bike paths through gardens and small towns. Numerous swimming lakes, the picturesque town of Nürtingen and the Hundertwasser rain tower in Plochingen will inspire you. Overnight in Esslingen.
The day has many highlights in store. A visit to the famous Mercedes-Benz Museum, the beautiful state capital Stuttgart with a first-class bicycle network, the beautiful residential palace in the baroque city of Ludwigsburg and, last but not least, the picturesque Marbach with the Schiller National Museum (including admission). Overnight in Marbach or Freiberg.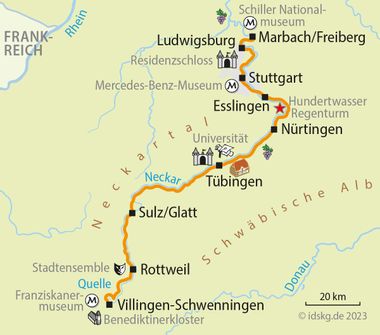 Category B: good to very good inns and comfort hotels at 3 *** / 4 **** level
Category A: comfortable, very good 4 **** hotels
Accommodation incl. breakfast
Room with shower/bath/WC
Luggage transport
Entry into Schiller's birthplace house in Marbach
Detailed route description
Map of bike trails with marked route
Tips for tour preparation
Touristic information
7 days hotline service
Please find more information about your bike trip below. If you have any further questions feel free to contact us by phone: 0049 - (0) 6421 - 886890.
Arrival by train
Villingen is easily accessible from all major cities in Germany by train. We recommend to take a taxi from the station to get to our partner hotels in Villingen. Current schedule information and price information can be found at:
Parking facilities at the hotel
Some of the hotels have parking facilities directly at the building, these are subject to payment. There is a public parking garage (paying) and a public parking lot in the vicinity.
Condition of cycle paths
The route does not always run along the river, easier climbs are unavoidable, very few steep climbs. The steeper climbs are short. You cycle on well-signposted quiet cycle paths and farm roads with not always paved surfaces and in parts on relatively quiet country roads. Short sections on roads with more traffic, especially when driving through town.
Available rental bikes
If you would like a rental bike for the tour, we will bring it to your starting hotel and pick it up at your destination. You can choose from 24-speed unisex bicycles with free-wheeling and 8-speed unisex electric bicycles with hub gears and free-wheeling. The rental bikes are equipped with a waterproof, spacious saddlebag as well as a tool set, an air pump, an odometer and a lock. You will also receive a handlebar bag per room. On request, we will be happy to provide a second saddle bag for you. Simply state your bike requirements when booking.
Extra costs that are not included in the tour price
A certain applicable tourism tax is not included in the travel price and has to be paid at the hotel on site.
7 day hotline service
Just in case the bike chain breaks, flooding makes it impossible to continue your tour or any
other nasty surprise: You can reach us seven days a week and we will do anything to help
you as fast as possible.
Passport and visa requirements
For EU citizens, there are no special passport or visa requirements and no health formalities to be considered for this trip.
Travel insurance
The tour price already includes the statutory insolvency insurance. In addition, we recommend that you take out travel cancellation insurance upon receipt of your travel confirmation in order to protect yourself against financial disadvantages in the event of travel cancellation, interruption of travel, illness or accident.
You might also be interested in