Arrive early in the idyllic Ruwertal at the gates of Trier. You will stay in the middle of the vineyards in a beautiful hotel with its own vineyards. Arrival is possible by train or car (parking at the hotel). The rental bikes wait for you at your first hotel.
Accompanied by vineyards, you roll through the Ruwer valley along the Moselle, where the old ferry tower of Schweich is located. Stroll through Mehring's lovingly crafted so-called Moselle streets and don't be afraid to open the doors of vine-ranked wineries. In the afternoon you reach Neumagen-Dhron, the oldest wine village in Germany or Piesport, a nice little wine village with nice cafes, wineries and wine taverns. Convince yourself of the good quality of Piesporter gold pottery.
Today discover Bernkastel-Kues, stroll through the beautiful market square, past the proud half-timbered houses and educate yourself in the famous wine museum. After this worthwhile break you continue to cycle right on the banks of the Moselle to Zeltingen along the world-renowned vineyards Zeltinger Himmelreich, Schlossberg, Sonnenuhr and Deutschherrenberg. You will then cycle through the vineyards Kröver Nacktarsch to your winery in Burg or Reil close to Traben-Trarbach.
In the morning, you roll through the vineyards to Zeller Schwarze Katz. Marvel at the unique bridge that connects Bullay with Alf. It crosses as steel structure the Mosel at double-level, above is the rail and down is the road. Discover the romantic village of Beilstein with its nickname "Rothenburg an der Mosel", stroll through the picturesque center of Cochem, visit the old imperial castle from the 11th Century or visit the 'Rieslingstub'n'. Seat yourself between historic winery equipment or sit outside when the weather allows in vineyards courtyard with its shady roof of vine leaves. The delicately fruity Riesling from the famous Schiefer-Steillagen around Cochem transformed here into a fruity, mineral wine and offers delicious easy-drinking pleasure. With these impressions, you can quickly reach the charming wine village of Pommern and your family-run guesthouse where you stay the night. The wine tasting takes place at a nearby winery.
Today an excursion lures (4 kilometers) to the medieval Burg Eltz, one of the most beautiful and best preserved castles in Germany. Wonderfully romantic and nestled in unspoiled nature, it looks like a true fairytale castle, inviting and majestic at the same time. Take part in an informative tour of the castle. Then you will cycle back to the Moselle bike path and roll down to the historic wine town Kobern Gondorf. Visit a terraced vineyard, because they have almost exclusively steep slopes. These are usually very rocky and therefore for the most part only buildable on more or less small terraces. On these steep slopes mainly Riesling and Pinot Noir grapes grow. Get first hand information from the winery on its work and its products. Afterwards, enjoy the last few kilometers cycling along the river. Take a short trip through the wine village Winningen, which is one of the most beautiful villages in Germany and look forward to a great end to the day in the city of Koblenz on the German Corner.
After breakfast your varied cycling holiday ends. From Koblenz you have very good train connections in all directions. For those who want to return to Trier, we recommend our quick return transfer service that will bring you back to the start hotel in Koblenz with your luggage and private bikes.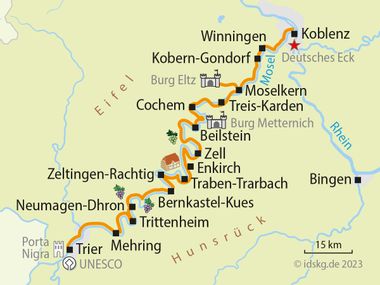 5 nights accommodation with breakfast (1 x Wine Hotel in Mertesdorf, 3 x Wineries or guest houses, 1 x City Hotel in Koblenz)
Rooms always with shower and WC
Luggage transport from Trier-Ruwertal to Koblenz
Wine tasting partly including a cellar tour in Neumagen-Dhron, Reil/Burg and Pommern
Map of bike trails with marked route
Digital route guidance via smartphone app
Tips for tour preparation
Touristic information
7 days hotline service
Worth knowing about your Moselle Winery Tour
Below please find more information about your bike trip. If you have any further questions please feel free to contact us by phone: 0049 - (0)6421-886890.
Arrival by train
From Koblenz Trier is easily accessible by train. We recommend to take a taxi from the station to get to our partner hotels in Koblenz. Current schedule information and price information can be found at: www.bahn.de.
Parking facilities at the start hotel
Our partner hotel in Trier Ruwertal provides a free parking space for the whole tour. You will receive detailed information on the parking spaces with your travel documents 2 weeks before arrival.
Condition of the bike paths
The quality of the bike tail is very good. There are practical no unpaved or poorly developed path. The route runs almost exclusively on paved roads and is very well signposted. The volume of traffic varies, but between Trier and Cochem there is almost always a separate bike trail on the right or left shore side, off the main road. Only during your last day you have to cycle a section on a wide bicycle lane next to the main road. More information about which shore side is best to cycle on, you will receive together with the detailed travel documents two weeks prior to departure.
Available rental bikes
If you choose to rent a Velociped-rental bike for the tour, we take it to your first hotel and bring pick it up at your destination. You can choose between ladie´s and men's bicycles either with 7-speed gear shift and coaster brake or 27-speed gear shift and freewheel or electric bikes. All ladies' bikes have a low opening that makes mounting and dismounting much easier. The bikes are suitable for all ladies from 150 cm in height and for all gentlemen from 165 cm in height. You simply specify your wishes at time of booking.
Transfer back to the origin of the journey
Daily at 9:00am there is the possibility to transfer back to Trier with a small bus (with bike trailer). Arrival at 11.00am. The driver comes to pick you up at your hotel and has much space for you, your luggage and where required your own bicycle. The bus takes you back to your first hotel, thus ensuring a perfect return service.
Accomodation
We will book 1 wine hotel, 1 city hotel and 3 guest houses of wineries.
The accomodation in Mertesdorf and Koblenz are equivalent to national 3***-4**** standard, in the other town they are equivalent to a 2**-3*** standard.
Train and bus in the Moselle Valley
In the Moselle Valley runs not always a train. After Trier the train is leaving the Moselle Valley and the nearest station is not before Bullay. After only a few kilometres, the railway disappears in the Kaiser-Wilhelm-Tunnel and only reappears in Cochem. From Cochem the train runs completely in the Moselle Valley to Koblenz.
In the period from 1.5. - 31.10. a bus operates daily between Trier and Bullay with a max. capacity of 22 bicycles.
Boat trip on the Moselle River
From April to October there are many passenger ships on the Mosel. Boat docks are available in almost all places on both directions. Often tours are offered. Information about the exact departure times you find at the bulletin boards of the shipping companies.
A regular ferry traffic exists between Trier and Treis Karden.
Boat schedule information Moselle
Extra costs which are not included in the travel price
A possibly resulting tourist tax is not part of the travel price and therefore it has to be paid locally in the Hotel.
7 days hotline service
In case of chain breakdown, flooding or other bad surprises that makes a continuation of your tour impossible: no problem, we also work during weekends and you can reach us 7 days a week in case of emergency.
Passport and visa requirements
For EU citizens, there are no special passport or visa requirements and no health formalities to be considered for this trip.
Travel insurance
The tour price already includes the statutory insolvency insurance. In addition, we recommend that you take out travel cancellation insurance upon receipt of your travel confirmation in order to protect yourself against financial disadvantages in the event of travel cancellation, interruption of travel, illness or accident.
You might be also interested in