You should take your time for the visit of the historical centre, the Kaiserthermen (imperial thermal baths) and the Porta Nigra. Arrival is possible by German railway/parking site and rental bike at the hotel.
Today, Roman past and contemporary viniculture will meet. The Moselle bike trail leads you to Mehring, where the Villa Rustica waits for your visit. 'Villa Rustica' is the designation for a manor in the Roman Empire. Today, the reconstructed walls and foundations can be visited again. You will now cycle to Trittenheim, where a nature trail informs about the man-year of the vine-grower, the local variety of grape and the process of vine-growing. Just before reaching today's destination, you will pass Neumagen-Dhron, Germany's oldest wine-growing place! You should stop here to taste some of that wine!
The two famous Moselle towns Bernkastel-Kues and Traben-Trarbach and the well-known wine growing resort "Kröver Nacktarsch" are today's highlight! Marvel at the colorful and manifold half-timbered constructions seaming the market place of Bernkastel-Kues. In Traben-Trarbach, you should take a boat trip and visit the bridge gate, the landmark of the old city. Built as a decorative bridge in 1899, it has housed a café-restaurant since its construction.
You will discover Enkirch today, a jewel of the Moselle region's traditional half-timbered architecture. Later on, you will reach Zell, the wine-growing resort with the 'Zeller Schwarzen Katz' ('The Black cat of Zell'). Take a relaxing break in the small town of Beilstein, proud of its surname "Rothenburg an der Mosel". Then, you will reach Cochem with its picturesque centre and the ancient realm dating from the 11th century.
Before the Moselle bike trail takes you to the neat wine-growing villages like Koben Gondorf or Winningen and to the Deutsche Eck, you will have the chance to visit the medieval castle of Burg Eltz. Enjoy the wide view over the magnificent valley of the Rhine and be looking forward to a wonderful evening in Koblenz.
Your bike trip ends in Koblenz today. Saying good-bye is never easy, especially not to the winding Moselle bike trail. Anyone who wishes to travel back to Trier should book our shuttle transfer. It will transport any luggage and the bikes as well. Departure will be at 9.00am, arrival in Trier around 11.00 am. If you wish to cycle even longer along the Rhine, you can prolong your trip to Cologne or Mainz.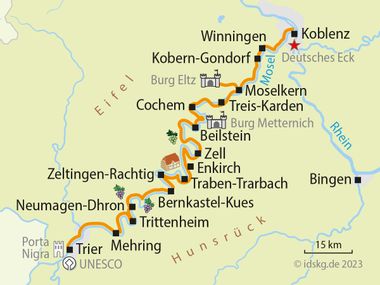 - Overnight stay with breakfast
- room with D/bath/WC
- luggage transport
- Cycling map with marked route
- Digital route guidance via smartphone app
- Tips for trip preparation
- Tourist information
- 7-day hotline service
Hotels category B: in Trier 5km outside city centre, otherwise centrally located
Hotels category A: centrally located
Below you will find specific information about the Rhine Winery tour. If you have further questions about this trip, you simply call us: Phone: 06421 – 886890.
Arrival by train
Rüdesheim is easily accessible from all major cities in Germany by train. Current schedule information and price information can be found at: www.bahn.de.
Parking facilities at the hotel in Rüdesheim
You may leave your car near the hotel on a public carpark for 10 euros per day (price from 2023). As an alternative you have the possibility to leave the car without costs in a residencial area of Rüdesheim. You will find detailled information on the parking possibilities in your travel information we will provide 2 weeks prior to your arrival.
Condition of cycle paths
On this altogether hilly tour you cycle on the one hand on the Rhine cycle path and the Nahe cycle path, otherwise often in the middle of the vineyards partly on separate cycle paths, partly also on the typical small asphalt roads and farm roads, which are only for the Winzerfahrzeuge (and cyclists) released are. In the vineyards are two short bumpy sliding distances as well as individual non-asphalted passages. It is not always the comfort of a flat, paved bike path given, but then you are really in the middle of the vine on the way, usually paired with beautiful views!
Available rental bikes
If you choose to rent a velocipede-rental bike for the tour, we take it to your first hotel and bring pick it up at your destination. You can choose between woman's and men's bicycles either with 7-speed gear shift and coaster brake or 27-speed gear shift and freewheel or electric bikes. All ladies' bikes have a low opening that makes mounting and dismounting much easier. The bikes are suitable for all ladies from 150 cm in height and for all gentlemen from 165 cm in height. On our Velociped tours we use high-quality e-bikes of the Velo de Ville brand. They are technically mature and very robust. You simply specify your wishes at time of booking.
Extra costs which are not included in the price
A possibly applicable city tax is not part of the travel price and therefore has to be paid at the hotel locally.
The ferry boat from Ruedesheim to Bingen (2 x) is not included in the tour price, the costs are approx. 5 € per person and boat trip.
7 day hotline service
Just in case the bike chain breaks, flooding makes it impossible to continue your tour or any other nasty surprise: You can reach us seven days a week and we will do anything to help you as fast as possible.
Passport and visa requirements
For EU citizens, there are no special passport or visa requirements and no health formalities to be considered for this trip.
Travel insurance
The tour price already includes the statutory insolvency insurance. In addition, we recommend that you take out travel cancellation insurance upon receipt of your travel confirmation in order to protect yourself against financial disadvantages in the event of travel cancellation, interruption of travel, illness or accident.
You might also be interested in