Today you should arrive early! The city centre of Osnabrück attracts with lordly patrician houses, a castle, the cathedral's treasure and many romantic half-timbered houses. Marvel at the city's landmark: Osnabrück City Hall. Osnabrück has a train station and is easy accessable by train.
Now it's time to get on the bike! The blue-shimmering Hase, your faithful attender, meanders through the Hase lowlands nature preserve with rare bird and plant species. In Bramsche we recommend you to visit the clothier museum, in which the cloth production around the change of the century is demonstrated with running machines. You can buy this manufactured goods at the Museum shop.
You roll through a parklike landscape to Quakenbrück. Essen impresses with its still well-preserved former village structure. In Löningen you comfortably end your day, but you should still visit Germany's biggest pillarless hall church.
Today you meander along the Hase through wide grasslands, imbedded in silent pine and fir forests. The ethic moor landscape of the Hahnenmoor nature preserve and Haselünne, the oldest town in the Emsland are among today's discoveries. You will find the biggest cohesive juniper population of Germany, some corn distilleries and the distillery museum which is absolutely worth seeing. Follow the idyllic course of the river to Meppen.
Now you cycle along the Ems to the moor museum with an impressive nature trail in the 20 ha large high moor with typical flora. Lingen finally awaits you with many historical buildings in the pedestrians zone of the city centre.
Between Dortmund-Ems channel and Ems you cycle into the direction of Emsbüren, where the open air museum offers an insight into the work- and living culture of the region. You cycle through wide grasslands and small forests, still have enough time to visit monastery Bentlage and the Rheiner Saline.
Your will cycle back to Osnabrück through the Tecklenburger Land with its famous alpine slide (120 meter).
After the breakfast your round trip ends at Hase and Ems. From Osnabrück there are good rail connections in all directions.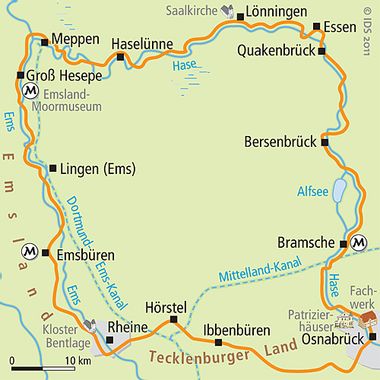 - Overnight stays with breakfast
- Room with bath/WC
- Luggage transport
- cycling map with marked route
- Tips for trip preparation
- Tourist information
- 7-day hotline service
Below please find more information about your bike trip. If you have any further questions please feel free to contact us by phone: 0049 - (0)6421-886890.
Arrival by train
Osnabrück is easily accessible from all major cities in Germany by train. The hotels are located about 100m to 2.4km from the main train station and are easily accessible by a short taxi ride or public transport. Current schedule information and price information can be found at: www.bahn.de.
Parking facilities
Possibility of using a secure parking area with limited space. Public parking garage available. Reservation is not possible. Use of public parking meters approx. 9.00 - 15.00 EUR per day. You will receive detailed information on the parking spaces with your travel documents 2 weeks before arrival.
Condition of cycle paths
You cycle mostly on bike paths with overwhelming good surface and only short sections on hiking path and field paths. As far as possible you cycle away from roads with heavy traffic. Field, forest and farm tracks.
Available rental bikes
You can choose between unisex bike with 7-speed hub gear and coaster brake as well as electric bikes with 7-speed gear shift and coaster brake. The touring bikes have a gel saddle and are sprung at the front. Men's bikes available on request. On request and availability, the rental bikes can be equipped with a pannier, repair kit and map holder.
Pillow-bar
You have the option to choose between five different pillows (neck support pillows, neck roller, 80/80 pillows, 40/80 pillows or 40/40 pillows) your personal favorite. All cushions are allergy friendly and satisfy the highest quality requirements.
Good weather guarantee
With continuous rain you and your bike will be taken to the next destination for free!
Costs which are not included in the travel price
A possibly resulting tourist tax is not part of the travel price and therefore it has to be paid locally in the Hotel. The cost is between EUR 1.50 and EUR 2.00 per day.
7 day hotline service
Just in case the bike chain breaks, flooding makes it impossible to continue your tour or any other nasty surprise: You can reach us seven days a week and we will do anythig to help you as fast as possible.
Passport and visa requirements
For EU citizens, there are no special passport or visa requirements and no health formalities to be considered for this trip.
Travel insurance
The tour price already includes the statutory insolvency insurance. In addition, we recommend that you take out travel cancellation insurance upon receipt of your travel confirmation in order to protect yourself against financial disadvantages in the event of travel cancellation, interruption of travel, illness or accident.
You might also be interested in