Look forward to Augsburg, one of Germany's oldest cities. Lovingly it is also called Renaissance city, Fugger city, water city, Brecht city or episcopal city. Stroll through the old town with its medieval guild houses and marvel at the cathedral, the worth seeing town hall and the Fugger houses, once residences of wealthy merchant families.
Today you cycle through lush meadows and prehistoric, Bavarian villages to Ammersee, the third largest Bavarian lake. The beautiful lakeside invites you with cozy inns, sunny terraces and shady beer gardens for well-deserved rest. Then you cycle to the small Wörthsee, which heats up quickly due to the shallow depth of about 14 meters. It offers the best swimming in spring.
Get excited, today your cycling route leads directly along Lake Wörth and Lake Pilsen to Andechs Monastery. Visible from afar on the Holy Mountain above the eastern shore of the Ammersee, it is the oldest place of pilgrimage in Bavaria. The rustic monastery brewery is well known far beyond the borders of Bavaria. Cycle through the Pfaffenwinkel, a Bavarian picture book landscape, which owes its name to the many surrounding monasteries. Look forward to Murnau in the evening. Stroll through the colorful pedestrian zone, visit small galleries and studios, coffee houses or a quaint brewery inn.
Enjoy your bike ride through the Pfaffenwinkel with beautiful pastures and pure alpine romance. Take a rewarding break at the Wieskirche. The Rococo Pilgrimage Church "The Scourged Savior on the Meadow" was added to the list of UNESCO World Heritage Sites in 1984! After a worthwhile visit you finally cycle to Füssen, the romantic soul of Bavaria.
Let yourself be fascinated by King Ludwig's fairytale castles in Königswinkel. Marvel at the Hohenschwangau mountain castle, which presents sumptuous rooms, and at Neuschwanstein Castle, a 19th century fairytale castle. Enchanted by all the impressions you will cycle along the Via Claudia Augusta to Schongau. Enjoy the well-preserved old town with almost completely preserved city walls and enjoy the originality and charm of the small town.
From the walkways of the city wall you have a magnificent view over the Lech Valley and the upcoming bike stage. Take some worthwhile breaks on the way. In Altenstadt visit the Romanesque St.Michael's basilica (12th century) and in Epfach the Roman museum. It clearly conveys the work of the Romans in Epfach, once a very important Roman settlement at the crossroads of two Roman roads. Enjoy the evening in Landsberg, which proudly presents its medieval town center and well preserved towers.
Through romantic landscape you cycle along the Lech and enjoy the broad Lech Valley. Here the the route leads along the original former Roman road Via Claudia Augusta. Beautiful little villages with monasteries and castles are located on the bike path. Soon you reach the Fugger city of Augsburg with the famous Fuggerei from 1516. Enjoy the last evening of your bike tour in Augsburg and discover the numerous architectural monuments of the city.
Today your varied bike tour ends after breakfast at the hotel in Augsburg.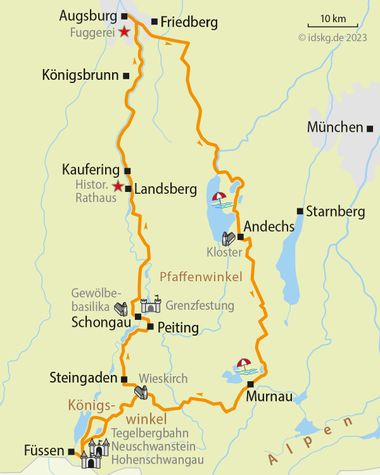 Accommodation incl. breakfast
Room with shower/bath/WC
Luggage transport
Map of bike trails with marked route
Digital route guidance via smartphone app
Tips for tour preparation
Touristic information
7 days hotline service
personal welcome and briefing
Below you will find detailed information about the Bavarian lakes and romatic road. If you have any further questions about this trip, please call us: Tel .: 06421 - 886890.
Arrival by train
Augsburg is easily accessible from all major cities in Germany by train. Our partner hotel can be reached from the station by taxi or by public transportation. Current schedule information and price information can be found at:
Parking facilities at the hotel
Parking in a parking garage possible, approx. 15.00 EUR per day, payable on site, no reservation possible.
Condition of cycle paths
Moderate tour. On the first 3 days a few short climbs can also be conquered by pushing. You cycle on beautiful bike trails and small roads, on main roads only for short distances. Mostly you bike on paved path some sections are on dirt roads.
Available rental bikes
You can choose between woman's and men's bicycles with 21-speed gear shift and freewheel or unisex-bikes with 7-speed gear shift and coaster brake or electric bikes (unisex).
Extra costs which are not inculded
A possibly applicable city tax is not included and has to be paid at the hotel locally.
7 days hotline service
Just in case the bike chain breaks, flooding makes it impossible to continue your tour or any other nasty surprise: You can reach us seven days a week and we will do anything to help you as fast as possible.
Passport and visa requirements
For EU citizens, there are no special passport or visa requirements and no health formalities to be considered for this trip.
Travel insurance
The tour price already includes the statutory insolvency insurance. In addition, we recommend that you take out travel cancellation insurance upon receipt of your travel confirmation in order to protect yourself against financial disadvantages in the event of travel cancellation, interruption of travel, illness or accident.
You might also be interested in