Arrive early, a worthwhile harbor cruise awaits you today. Experience the vibrant city of Hamburg, marvel at the largest model railway in the world in the Speicherstadt and smell exotic spices in the Spice Museum. How to get there: There are cheaper parking options in Lübeck (DB direct train 45 min.).
You cycle in a good mood through the Hamburg suburbs of Blankenese and Wedel. "Welcome to Hamburg, we look forward to welcoming you to the Port of Hamburg." This is how it echoes several times a day over the Elbe when a larger ship passes the Willkomm Höft, Wedel's most famous attraction. Here at the Schulauer Fährhaus all incoming and outgoing ships with a measurement of over 1000 Grosstons are greeted with their national anthem and in their national language. After an interesting break you cycle on the North Sea Coast Cycle Path through the Elbe marshland, which is protected by dykes, to Elmshorn.
On the way to your first destination in the North Sea, you will take a break in the picturesque town of Glückstadt - the king's dream on the Elbe. Stroll through the old town and try the original Glückstädter Matjes. Then you roll comfortably to Brunsbüttel, the city at the mouth of the Kiel Canal. Majestic, close enough to touch and yet unstoppable, the snow-white luxury yachts glide through the Brunsbüttel locks, where there are ideal vantage points as well as beautiful restaurants and cafés (accommodation in Brunsbüttel only cat. B).
Today you cycle along the Kiel Canal, the most used artificial waterway in the world. Via Hochdonn with its worth seeing double-railed railway bridge (a 2218 m long lattice construction) to the lovable town of Rendsburg, which is over 800 years old. Stroll through the historic old town, marvel at the railway bridge and take a seat on the promenade on Europe's longest bank (571.53 m), a box seat directly on the Kiel Canal.
Cycle one last time with the passing ships on the Kiel Canal-Radweg before you reach Kiel. Go on a discovery tour: modern architecture, centuries-old buildings, maritime museum, the old town of Kiel, the Holstenstraße with its shops, boutiques and general stores, the brewery, a boat trip on the Kiel Fjord, Kiel has so much to offer! After a rewarding break you cycle on the Baltic Coast Cycle Route to the Baltic Sea resort of Schöneberg with its beautiful white gently sloping sandy beach. Take a look at Omas Kaffeestuuv, a rustic, thatched-roof café directly behind the dike.
Look forward to an exciting bike route through the Hohwacht Bay, which offers miles of sandy beaches and a 20 meter high cliff. Discover grand estates in the hinterland and pretty seaside resorts. You cycle via Weißenhäuser Strand to Heiligenhafen with the old fishing port and the adventure pier.
Today you cycle to Lübeck Bay and past the Baltic seaside resorts of Dahme and Kellenhusen to Grömitz. Look forward to one of the oldest and largest baths at the Baltic Sea. Plan time for the 4 km long promenade in a class of its own, past the new Baltic Sea lounge, shops and restaurants, before cycling on to Neustadt, a small town in Holstein. Overnight in Neustadt / surroundings.
The best bathing opportunities, cafes, restaurants, boutiques and shops are now lined up in a colorful row. Mostly along white sandy beaches and tempting beach promenades you cycle via Haffkrug, Scharbeutz and Timmendorf to Travemünde. You can comfortably shorten the last leg to Lübeck with the S-Bahn before your eventful bike tour ends in Lübeck in the afternoon.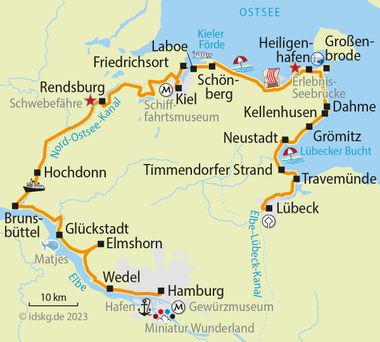 - Overnight stays with breakfast
- Room with bath/WC
- Luggage transport
- cycling map with marked route
- Digital route guidance via app
- Tips for trip preparation
- Tourist information
- 7-day hotline service
Below you will find specific information about theHamburg - Lübeck bike trail and surroundings. If you have further questions about this trip, you simply call us: Phone: 06421 – 886890.
Arrival by train
Hamburg is easily accessible by train. We recommend to take a taxi from the station to get to our partner hotels in Hamburg Current schedule information and price information can be found at: www.bahn.de.
Parking facilities at the hotel
parking house Hamburg/ Altona charging fee 12,- euro/day
detailed information on parking at your hotel, you will receive together with the detailed travel documents two weeks prior to departure.
Condition of cycle paths
You cycle mostly on cycle paths and rarely travelled side roads, seldom you bike on hiking and country trails.
Available rental bikes
There are 8-speed gear shift bikes (ladies and gentlemen) with gearhub, 24-speed gear shift freewheel bikes (ladies and gentlemen) and 8-speed elctronic bikes available. Wheels with low access and children's bikes are available on request.
Extra costs that are not included in the tour price
Any tourism tax that may arise is not part of the tour price and must therefore be paid on site at the hotel. The use of the rental bikes during additional nights is possible for a surcharge. Please state this request when booking.
7 days hotline service
Just in case the bike chain breaks, flooding makes it impossible to continue your tour or any other nasty surprise: You can reach us seven days a week and we will do anything to help you as fast as possible.
Passport and visa requirements
For EU citizens, there are no special passport or visa requirements and no health formalities to be considered for this trip.
Travel insurance
The tour price already includes the statutory insolvency insurance. In addition, we recommend that you take out travel cancellation insurance upon receipt of your travel confirmation in order to protect yourself against financial disadvantages in the event of travel cancellation, interruption of travel, illness or accident.
You might also be interested in