Arrive early because it's worth it. Constance awaits you with its old town worth seeing, the direct location on Lake Constance and the Sea Life Center. Stroll through the streets and enjoy the Mediterranean flair.
Today you cycle from Constance to Stein am Rhein, where it is worth taking a break because there are still many frescoed medieval houses here, waiting for your visit. Finally you reach the town of Schaffhausen, today's stage location, where the beautiful Munot Fortress is worth a visit.
After a short bike tour to the Rhine Falls, you change the means of transport, because you go by boat to the Rhine Falls rock. The imposing Rhine Falls is one of the largest waterfalls in Europe. Then you cycle through the valley of the Glatt to Zurich. This Swiss cosmopolitan city combines tradition with modernity and offers a lot of cafés and restaurants in the well-preserved old town where you can end the evening.
In the morning you always cycle along the north coast of Lake Zurich to Rapperswil. A visit to the castle is worthwhile because from here you have a wonderful view over the lake and the region. The bike tour then takes you further over a dam to the other side of the lake to the town of Lachen.
Today's stage is short and you will quickly reach Weesen. Here you change to a ship that takes you to Walenstadt on the eastern shore of Lake Walen. Enjoy the mesmerizing mountain panorama and views of the quaint lakeside villages. In Walenstadt you can visit the lido in the afternoon and marvel at the Churfirsten from there.
Today's stage is a three-country stage, because you first cycle from Switzerland to the Principality of Liechtenstein. After 25 km you have cycled almost completely through the small principality and you have reached the border with Austria. In Feldkirch, where you will stay overnight today, stroll through the old town with a few churches, monasteries and the Katzenturm.
After a short ride along the Rhine, a cog railway takes you up to Gais in the Appenzell region. A landscape straight out of a picture book with lush meadows and the ringing of cowbells accompanies you to St. Gallen. In St. Gallen it is worth visiting the library in the collegiate church. It is one of the most important historical libraries in the world.
Today you roll mostly downhill back to Lake Constance. From Arbon you usually cycle along the lake via Romanshorn back to Constance. Since the route today is not too long and mostly flat, there is enough time to refresh yourself at the bathing spots - don't forget your bathing suit!
Your varied round trip through Switzerland ends today after breakfast. We would be happy to book additional nights for you. Or maybe you would like to continue along the Rhine to Freiburg im Breisgau?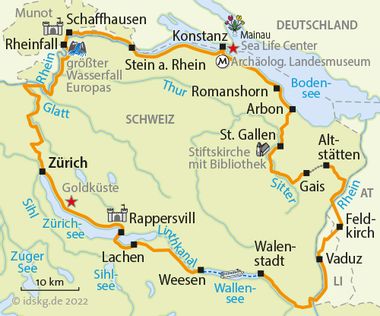 Accommodation incl. breakfast
Room with shower/bath/WC
Luggage transport
Map of bike trails with marked route
Digital route guidance via smartphone app
Tips for tour preparation
Touristic information
7 days hotline service
Admission to the Rosgartenmuseum Konstanz incl. 1 coffee
Boat trip to the Rhine Falls Rock
Boat trip Weesen - Walenstadt incl. bike
Train ride Altstätten - Gais incl. bike
Below you will find specific information about the Swiss Lakes Route cycle tour. If you have any further questions about the tour, simply give us a call: Tel.: +49 (0)6421 - 886890.
Arrival by train
Constance can be reached by train from all major cities in Germany. The best way to get to our partner hotels in Konstanz from the train station is by taking a short taxi ride.
Current timetable information and price information can be found very conveniently at:
Parking facilities
Depending on the hotel, there are a few parking spaces available at the start hotel (for a fee, details in the travel documents).
It is also possible to use free parking spaces on public roads or public parking lots/car parks. Multi-storey car parks (Fischmarkt, Dammgasse, Altstadt, Benediktinerplatz), costs approx. EUR 10-20 per day/car.
There is also the option of parking your car in a fenced parking lot for the duration of the bike tour (costs: EUR 45 per trip/per car). Reservation and pre-payment via Velociped is required. The capacities in the parking lot are limited, so please let us know when booking.
condition of the bike lanes
You cycle on largely flat and paved cycle paths, as well as on side roads with little traffic. The paths are a bit hilly on several stages. Due to the sometimes demanding stages, we only recommend this trip for young people with good stamina.
Available rental bikes
27-speed bikes (unisex) with derailleur gears and freewheel are available. 27-speed men's bikes with derailleur gears and freewheel can be booked from a height of 1.75 m. Furthermore, electric bikes with freewheel are available. Simply indicate your wish when booking.
All bikes are equipped with speedometers and handlebar bags.
Means of payment in Switzerland
For Switzerland, we recommend exchanging in francs, although you can pay in euros. Swiss francs can be conveniently withdrawn from ATMs using an EC or credit card. Alternatively, you can pay directly with a debit or credit card in most restaurants and establishments
Extra costs that are not included in the tour price
Any city tax that may be incurred is not part of the tour price and is therefore payable locally at the hotel.
Passport and visa requirements
For EU citizens, there are no special passport or visa requirements and no health formalities to be considered for this trip.
Travel insurance
The tour price already includes the statutory insolvency insurance. In addition, we recommend that you take out travel cancellation insurance upon receipt of your travel confirmation in order to protect yourself against financial disadvantages in the event of travel cancellation, interruption of travel, illness or accident.
You might also be interested in