Your hotel in Campanet:
Hotel Rural Nonnaber Nou
The building, located about 2km from Campanet, was built in the 13th Century when the Moors ruled Majorca. Since the 16th Century, this estate was used as a mansion and has therefore been kept in outstanding condition over the years and has preserved the old stone walls. On this wonderful premises you will find an old olive press and a windmill from the year 1680.
Along with the comfortable rooms, there is an outdoor pool, an indoor pool and the spa and wellness centre with whirlpool, sauna and steam room for sheer relaxation. Enjoy the excellent gastronomy and a wide range of wines in the Mirador Monnaber Nou restaurant.
Your hotel in Porreres:
Finca son Roig
This historical country house, which is located about 5km outside of Porreres, was first restored scrupulously and properly several years ago. A haven of peace and relaxation was created with an astonishing attention to detail. The excellent restaurant was housed in the former wine cellar and it is here that the Majorcan cuisine is being newly interpreted.
The rooms provide a pleasant stay and are decorated in a classic style. After each day on the bike, you can spend time by the luxurious pool in the shade of the lemon trees.
Look forward to Campanet and your first hotel on this special star bike tour. During a walk through the village, let yourself be impressed by the stately but at the same time traditional architecture. Marvel at the Massana houses on Plaça Major, 7 with its two Renaissance windows and the Biniatró estate on Calle Sant Miquel, 27. Or enjoy the beautifully landscaped pool and the wide view from the terrace of your hotel. In the evening, your supervisor welcomes you and gives you the rental bikes.
Pack your bathing suit quickly, because the first bike tour takes you to the beautiful sandy beach of Playa del Muro. After a worthwhile break, you cycle through the vast S'Albufera nature reserve. This is where it gets really interesting. Nature lovers can observe numerous species of birds. You cycle on beautiful paths along the Tramuntana mountains, which are considered a World Heritage Site. The impressive mountains form the picturesque background of the valley lined with olive trees. Look forward to a visit to the Campanet stalactite caves (included), which are certainly a highlight of the day.
Look forward to today's round tour around the approx. 300 m high Puig de Inca. You cycle through orange plantations and olive groves to numerous Mallorcan towns that invite you to linger with their typical stone walls and village squares. Make sure you take a break in the famous wine-growing town of Binissalem, because Mallorca's most famous wines are made here. Visit one of the beautiful bodegas and see the quality of the wines for yourself. But you should also visit the worth seeing church Nostra Senyora de Robines, which impressively dominates the church square and town and whose bell tower is considered a landmark of Binissalem.
You cycle over gentle hills covered with olive and almond trees. Marvel at the attractive island villages of Buger, Muro and Montuiri. Look forward to Sineu, because the small town is known for the only real farmer's market in Mallorca (only on Wednesdays). Almost everything can be bought here, from local products to clothing. The cattle market is still one of the biggest attractions of the market today. With lots of impressions, you will then cycle along beautiful paths to Porreres to the Finca Son Roig, your second accomodation.
Today you will pass a large number of particularly beautiful windmills. Nowhere else in the world are there as many windmills in a small area as on Mallorca. In the past they were an important part of agriculture. They were used either to grind grain or to pump water into the fields. If you want to enjoy the last day of cycling to the full, you can make a worthwhile detour by bike to the famous sandy beach of "Es Trenc" (+ 10 km). The natural beach is one of the highlights of Mallorca. Look forward to a 3500 m long white dream beach. The sand is fine and the water, especially when the sea is calm, clear and blue like a piece of the Caribbean.
You cycle leisurely on lonely paths across meadows and fields to Manacor, where the famous Majoricas artificial pearls are produced in factories. Numerous shops sell souvenirs and everyday objects made from handmade ceramics. After a short visit, you will continue cycling in the direction of the sea. Look forward to the Bay of Porto Cristo, where you can take a wonderful swim or visit the famous Drach Caves. They are one of the main tourist attractions and without a doubt the most remarkable caves on the island. Discover an infinite number of stalagnites and stalactites over a length of almost 1,200 meters and at a maximum depth of 25 meters as well as the lake, Lago Martel, which is considered one of the largest underground lakes in the world. In the late afternoon transfer back to Porreres.
Today you trip ends after breakfast. We hope you had a nice trip and wish you a save journey home.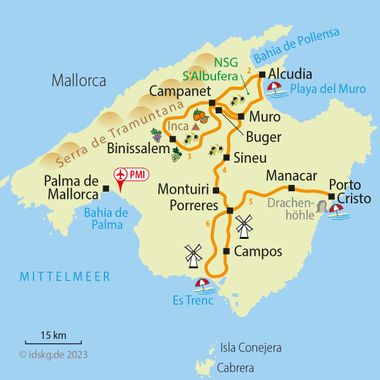 6 nights with breakfast buffet
Personal tour information
Luggage transfer from Campanet to Porreres
Transfer Porto Cristo – Porreres/Hotel incl. bike
Admission and guided tour of the Campanet caves
Map of bike trails with marked route
Digital route guidance via smartphone app
Tips for tour preparation
Touristic information
7 days hotline service
Below you will find specific information about the radial charme tour on Majorca. If you have further questions about this trip, you simply call us: Phone: 0049 - (0)6421 – 886890.
Arrival and departure
A taxi from Palma de Mallorca Airport (PMI) to the hotel in Campanet costs around 75 euros per trip. The trip from Porreres to the airport in Palma costs around 55 euros per trip.
Characteristics of the route
Overall, slightly hilly route profile without long climbs. You cycle on side roads, service roads and also on cycle paths, always with as little traffic as possible. The entire route is almost entirely paved.
Available rental bikes
If you would like a rental bike for your trip, you will receive this during the personal tour briefing.
You can choose between unisex bikes or men's bikes with 21 gears and freewheel and unisex electric bikes with 8 gears and back pedal. Simply let us know what bike you want when you make your booking.
Extra costs which are not included in the tour price
Any city tax that may be incurred is not part of the tour price and is therefore payable locally at the hotel.
7 day hotline service
Just in case the bike chain breaks, flooding makes it impossible to continue your tour or any other nasty surprise: You can reach us seven days a week and we will do anything to help you as fast as possible.
Passport and visa requirements
For EU citizens, there are no special passport or visa requirements and no health formalities to be considered for this trip.
Travel insurance
The tour price already includes the statutory insolvency insurance. In addition, we recommend that you take out travel cancellation insurance upon receipt of your travel confirmation in order to protect yourself against financial disadvantages in the event of travel cancellation, interruption of travel, illness or accident.
You might also be interested in