The Panagiota, a lovingly restored wooden motor sailer, is a cozy ship with fine teak on board and a colorfully decorated saloon with comfortable seating. The two sundecks are designed with padded mattresses.
Of the 10 guest cabins, 6 of which are below deck and 4 above deck, are functionally and comfortably furnished. A bathing ladder makes it easier to get into the sea.
The journey takes place individually to Corfu. After checking in from 2:00 p.m. you have the opportunity to explore the area. Overnight in Corfu.
Today your ship starts before breakfast for a two-hour crossing to the mainland. Once there, adjust your wheels and start your first bike ride. You cycle from Sivota to Parga, which lies beautifully under a Venetian castle. Here you will meet the Panagiota again, which will take you to Nidri on the island of Lefkas. During this longer crossing you will pass a swing bridge that allows you to cross the narrow channel between Lefkas and the mainland. Enjoy the evening in the lively port of Nidri.
In the morning you cycle a short distance to a waterfall near Nidri. Don't forget your bathing suit because if there is enough water, you can take a morning dip here. Afterwards you drive on partly lonely roads through the mountains over Sivros and on to the picturesque port of Sivota. From here the Panagiota takes you to Fiskardo on the island of Kefalonia. Let yourself be enchanted by the colorful houses and the numerous cafés and bars on the harbor promenade in this pretty harbor town.
You leave the bay of Fiskardo behind and cycle along an impressive mountain road, from which you have unforgettable views of the Assos peninsula and the famous Myrtos beach. Later you will cross the island and shortly before the end of the bike tour you will visit the stalactite cave of Melissani, which you can only visit by rowing boat. The crystal clear water shimmers in a multitude of shades of blue. Your ship awaits you in Sami and takes you to Vathy on the island of Ithaca.
In the morning you will get to know the homeland of the hero Odysseus by bike. Ithaca is a mountainous but scenic island. Enjoy the typical character of the Ionian Islands with gnarled olive trees, deep blue sea and easygoing islanders. Today you have the choice whether you want to ride a real mountain stage or follow the panoramic road halfway up. Whichever tour you choose - the Panagiota is waiting in Frikes and takes you to the small island of Meganisi.
Today's short panoramic tour of the island of Meganisi takes you through the three villages where you will get a good insight into the traditional life of the Greeks. Enjoy a coffee and swimming break at Spartochori beach. After the bike tour, relax on board your ship during the long crossing to Paxos. End the evening in one of the cozy taverns in the unique natural harbor of Gaios.
Today you circle the island of Paxos and have the opportunity to take a bath break at one of the many beaches. The smallest of the Ionian Islands is known for the many olive trees that give the island a beautiful silvery green shimmer. After lunch, the Panagiota will take you back to Corfu, where you will end the trip with dinner and a cozy get-together.
Today your wonderful bike tour ends after breakfast with disembarkation.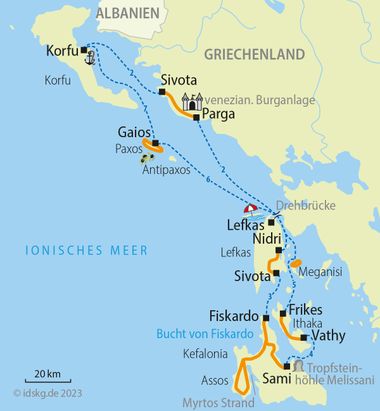 8-day cruise on MS Panagiota with crew
7 nights
2 x full board and 5 x half board on board
Guided bike tours and visits according to the program
Overview maps for the individual cycling stages on board
Entrance fees for museums and archaeological sites visited together
Bed linen and towels
Bottled drinking water on board and during all activities on land
German and English speaking tour guide
Below you will find specific information about the bike trip Ionian Islands by bike & ship. If you have any further questions about this trip, just give us a call: Tel: 06421 - 886890.
Arrival to Corfu
Flights to Corfu Airport (CFU), which is about 5 km from the embarkation port. From many airports in Germany, Austria and Switzerland there are flights to Corfu. It may be necessary to change planes in Athens or Thessaloniki.
To ensure a pleasant journey, we recommend you to book our transfers between the airport and the ship.
Flight search fluege.de
Requirements
The cycling stages require you to have a certain basic level of fitness, which is usually acquired through regular cycling. The routes go up to an altitude between 300 and 600 m. The daily stages of 20 - 40 km lead through hilly and mountainous terrain and are cycled without time pressure. Steeper or longer climbs are also to be mastered, but pushing is allowed.
This tour is primarily designed as a guided group tour. After prior consultation with our tour guides and selection of a suitable route, there is in principle nothing to prevent individual cycling. Instead of a cycling tour, a half or full bathing day can also be included on the ship.
Group pace
This bike & ship trip is designed as a trekking bike trip, so the guided group pace is geared towards trekking cyclists. Those who rent an e-bike on a trekking bike tour are asked to be considerate of those riding without electronic assistance. We thank you for your understanding.
Available rental bikes
There are 11-speed ladies e-bikes with low entry, as well as 24-speed ladies and men's touring bikes available.
The bikes are each equipped with an Ortlieb pannier bag.
Helmet obligation
Helmets are compulsory on the bike tours. Please bring your own well-fitting helmet. A limited number of rental helmets are available on board (reservation required).
Catering
The accompanying cook prepares the extensive breakfast and one or two hot meals daily. Meals begin with dinner on the day of arrival and end with breakfast on the day of disembarkation.
Changes
Due to varying wind and weather conditions as well as organizational necessities, we reserve the right to make changes to the itinerary.
The travel seasons
From April, the daytime temperatures on the Inonian Islands are good for leisurely cycling and you can already expect balmy evenings. In May the sea temperature is pleasant for a longer swim and in June the shady places are in demand. Real high season with hot temperatures is in July and August, then also the locals are in large numbers at the water. From September onwards, the hustle and bustle subsides and pleasant temperatures again prevail for cyclists. October is also a good month for cycling and the crystal clear water still retains its warmth.
Children
Basically, we believe that only children with a good stamina and a minimum age of 10 years can manage the bike tours under their own power. Please note that we can only provide rental bikes for children over 1.00 m tall.
Extra costs, which are not included in the tour price
Meals and drinks ashore; drinks on board (tally list with the captain); flat rate for drinking water: 25 Euro per person/week, children up to and including 16 years: 15 Euro per person/week; tips for crew and tour guide; please bring your own beach towel (if needed).
7 days hotline service
If the bicycle chain is broken or other bad surprises are waiting for you: We are available 7 days a week and will organize help as soon as possible.
Travel insurance
The tour price already includes the statutory insolvency insurance. In addition, we recommend that you take out travel cancellation insurance upon receipt of your travel confirmation in order to protect yourself against financial disadvantages in the event of travel cancellation, interruption of travel, illness or accident.
You might also be interested in