Look forward to Orange, a city with famous architectural monuments from Roman times. Marvel at the grandiose theater and the triumphal arch and let yourself be enchanted by the Provençal charm of the old town. What a wonderful start to this tour!
On small paths you cycle past country estates, castles and an infinite number of vines to the world-famous wine village of Châteauneuf-du-Pape. Take the opportunity and try a world-famous wine. You cycle through this wonderful wine-growing region of the same name to Avignon. Marvel at and visit the Papal Palace (UNESCO World Heritage Site) and stroll through the pretty old town streets, which are still surrounded by a massive medieval city wall.
Today you cycle first to St. Rémy, perhaps the most beautiful and typical town in Provence. Stroll through the historic streets of the old town under the shade of plane trees and watch the hustle and bustle at a delicious cafe. The blaze of color and the abundance of herbal fragrances have already inspired Vincent van Gogh here. If you want, you can take a detour up to the medieval ruines of Les Baux, which sits enthroned in a fantastic location on a high rock. Then you roll on small paths and lanes to Arles. Roman culture and Romanesque heritage still shape the cityscape today, as Arles was once the provincial capital of the Roman Empire. Enjoy the special atmosphere and marvel at the large amphitheater in the middle of the city.
Look forward to your bike excursion in the Camargue. Half water, half land, the Camargue is a unique natural area with brackish water lakes, wide salt steppes, wild horses and the famous pink flamingos. In Méjanes you can take a small train into the middle of untouched nature and, with a bit of luck, watch flamingos and wild bulls. You then cycle back to Arles on almost car-free streets.
Today you cycle easily through the wide delta of the Rhône to Tarascon and Beaucaire. These two medieval towns are only separated by the Rhône. Marvel at the imposing castles from the 12th century and the many city palaces from the 17th / 18th centuries before you continue your bike tour to Nîmes. Stroll through the historic city that was once a very important outpost of the Roman Empire. Well-preserved monuments still bear witness to this today. Marvel at the white Roman limestone temple Maison Carrée with its striking columns and the two-story amphitheater, which is still used today for concerts and bullfights.
You cycle easily along the railway line towards Remoulins, where you meet the river Gardon. Only a few kilometers later you will be amazed because the Pont du Gard (UNESCO World Heritage Site) spans the Gardon in front of you. Marvel at the 49 m high bridge with its 3 floors, which was part of an approximately 50 km long aqueduct that was used to transport water from the springs near Uzès to the Roman city of Nîmes during the Roman Empire. Explore the lower floor on foot, a unique experience! Today the Pont du Gard is one of the most important sights in southern France. Lavender, thyme and rosemary are still your companions to the pretty town of Uzès with its magical, medieval charm. Take a leisurely stroll through the arcade-lined market square, stop in one of the nice restaurants on Place aux Herbes (herb square) and marvel at the somewhat clumsy-looking ducal palace.
Look forward to a very diverse bike tour, because the landscape changes several times today. First you cycle through the hilly landscape of the Garrigue, overgrown with Kermes oaks and Mediterranean herbs, later the vineyards and the lovely orchards of Provence dominate again. You cross the Rhône and cycle the last few kilometers to Orange in a good mood. Take another stroll along the Roman Theater from the 1st century A.D., which is considered to be one of the best preserved in the world and let the last day of cycling relax in the historic old town.
Unfortunately, it's over! We would be happy to book additional nights for you. We wish you a safe journey home, train travelers can take the TGV to any train station in Germany by evening.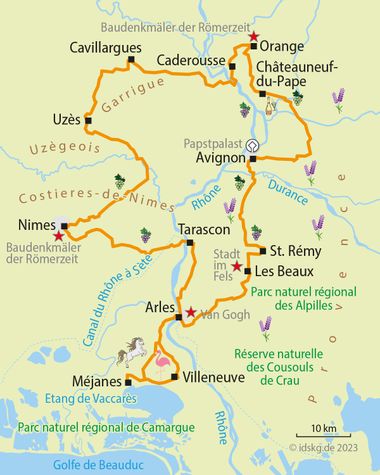 Overnight stay with breakfast
room with D/bath/WC
luggage transport
Cycling map with marked route
Digital route guidance via smartphone app
Tips for trip preparation
Tourist information
7-day hotline service
Below you will find specific information about the round trip in Provence. If you have any further questions about this trip, just give us a call: Tel.: +49 6421 - 886890.
Arrival by train
Orange is easy to get to by train. You can find detailed information about rail connections on the Deutsche Bahn website. The start hotels are approx. 1.5 - 3 km from the train station.
Parking facilities at the hotel
Cat. A: Depending on the booked hotel either underground parking near the hotel (costs approx. 10,00 € per day) or parking at the hotel, partly with costs. No reservation possible, payable on site.
Cat. B: The hotel has a few outside parking spaces. Reservation not possible. The price is 9,00 €, payable on site. Alternatively, parking spaces are available in the "parking du théâtre antique". The price is around 10,00 €/ day. It is not possible to make a reservation in advance. Payment is made on site (as of 2023).
Cat. Deluxe: Paid parking close to the hotel, cost approx. € 10.00 per day, no reservation possible.
Condition of the bike paths
The daily bike tours are between 45 and 55 km long and lead through the different landscapes of Provence. Except for small climbs in the hilly garrigue and in the Alpilles, an easy and diverse tour awaits you, even for inexperienced cyclists. This trip runs mainly on small, low-traffic streets and asphalt farm roads. With an electric bike, this tour will be very relaxed and fun!
Available rental bikes
If you prefer a rental bike for the tour, we will bring it to your starting hotel and of course pick it up at your destination. You can choose between 7-speed bikes with coaster brake or 21-speed gear bikes with shift and freewheel (both unisex and men's bikes). Furthermore, 8-speed e-bikes with coaster brake (all unisex) are available on request. You simply indicate your bike wish when booking.
Cycling in France
A striking dress code is prescribed for cyclists in France. Since 2008, you have to wear a reflective safety vest during nighttime or on days with bad weather conditions if you cycle outside of towns. Otherwise, you face a very steep fine.
Extra costs which are not included in the price
A possibly applicable city tax is not part of the travel price and therefore has to be paid at the hotel locally.
7 day hotline service
Just in case the bike chain breaks, flooding makes it impossible to continue your tour or any other nasty surprise: You can reach us seven days a week and we will do anything to help you as fast as possible.
Passport and visa requirements
For EU citizens, there are no special passport or visa requirements and no health formalities to be considered for this trip.
Travel insurance
The tour price already includes the statutory insolvency insurance. In addition, we recommend that you take out travel cancellation insurance upon receipt of your travel confirmation in order to protect yourself against financial disadvantages in the event of travel cancellation, interruption of travel, illness or accident.
You might also be interested in