The journey takes you to Sønderborg on the Flensburg Fjord. Use the first day to visit the castle of the same name, which was built directly on the water and is one of the oldest royal castles in Jutland.
On the first day of cycling you will ride through forests and wide fields over the Sundewitt peninsula. Take a break at Sandbjerg Castle for a worthwhile tour. After visiting what is probably the most elegant palace in southern Jutland, you will cycle to your destination for today, Åbenrå, with its burghers' and craftsmen's houses that are well worth seeing.
In the morning you will first cycle to Haderslev. Take a walk through the medieval town at Hadersleven Dam and visit one of the cozy cafes. Through a quiet area where you can relax wonderfully, the bike path continues to Christiansfeld, the charming place in southern Jutland, which was included in the list of UNESCO World Heritage Sites in 2015.
You leave Christiansfeld through forested regions and reach Kolding. Visible from afar is the massive tower of the old royal castle Koldinghus. You cycle past Kolding Fjord and pass Skærbæk before crossing the Little Belt. A short time later you reach the cozy provincial town of Middelfart - your destination for today.
Before you leave Middelfahrt, you should definitely visit the Henner Friisers Hus, which is considered one of the most beautiful half-timbered houses in Denmark. Afterwards you cycle along the coast to Strib with its small lighthouse. Here you can take a break on the beach and with a little luck watch porpoises. Through idyllic landscapes you continue to Odense, the third largest city in the country. You can shorten the stage by 7 km by following route 6 from Middelfart to Odense.
To cycle out of the city, follow the river Odense Å. Plan a break in Brobyværk, because here you can eat well. After the refreshment you will reach the "Funen Alps". From here, the path leads you hilly through the ice-age moraine landscape to Fåborg, one of the most idyllic small towns in Denmark with its cobblestone streets and old well-kept merchants' yards.
After breakfast you leave Fåborg and cycle towards Bøjden. Here you will board the ferry that will take you to the island of Als. The last leg takes you via the harbor town of Høruphav back to Sønderborg, where you will end your trip in comfort.
Your bike tour ends after breakfast at the hotel. We are happy to reserve additional nights in Sønderborg for you.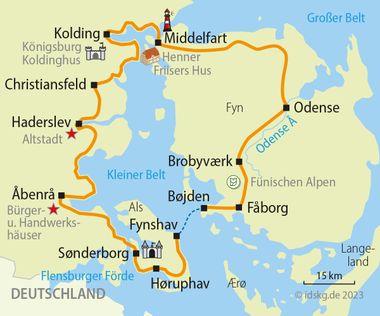 Accommodation incl. breakfast in hotels of the local 3 star category
Room with shower/bath/WC
Luggage transport
Ferry trip Bøjden - Fynshav incl. bike
Detailed route description
Map of bike trails with marked route
Tips for tour preparation
Touristic information
7 days hotline service
Below you will find specific information about the round trip around the Little Belt in Denmark. If you have any further questions about this trip, simply give us a call: Tel: 06421 - 886890.
Travel options to Sønderborg
Arrival by train:
Sønderborg is easy to reach by train from the south via Hamburg or Flensburg and Tinglev. There are direct trains from Copenhagen to Sønderborg.
Arrival by flight:
Sønderborg itself does not have an airport, but there are several airports nearby from which you can easily continue by train: Hamburg (HAM), Copenhagen (CPH) and Billund (BLL).
Arrival by car:
You can reach Sønderborg by car.
Parking facilities
There are several small parking lots around the center of Sønderborg where you can park free of charge, for example at the train station, the castle or the marina. There are a small number of parking spaces at the hotels, depending on the hotel booked, for a fee, no reservation possible, payable on site.
You will receive further information on parking facilities with your travel documents approx. 2 weeks before arrival.
Condition of the cycle paths
The routes are quite varied. Mostly on cycle paths, if there is no cycle path, then economic paths. The routes are mostly on flat to slightly hilly terrain, with some sections being a little hillier.
Available rental bikes
You can choose from 27-speed unisex bikes with freewheel and derailleur gears (men's bikes are also available from 1.75 m tall) and 8-speed electric bikes (all with unisex frames) with freewheel and without coaster brakes. Simply let us know your bike rental requirements when booking.
Extra costs that are not included in the tour price
Any tourist tax is not included in the tour price and must therefore be paid at the hotel.
7-day hotline service
If your bike chain breaks, floods make it impossible to continue your journey or other nasty surprises await you: We are available for you 7 days a week and will organize help as quickly as possible.
Passport and visa requirements
For EU citizens, there are no special passport or visa requirements or health formalities to be observed for this trip.
You might also be interested in