On joining this vessel you are immediately aware of the cosy and informal ambience on board. On the upper deck you will find the comfy panorama salon with its bar and the small sauna (advance booking at the reception only) on the main deck the comfortable restaurant (no direct access from the cabin-zone). On deck there are both deck chairs and ordinary chairs and tables, which encourage conversation and communal activity in fresh air. MS Normandie possesses altogether
two 1-bed-cabins and forty-nine 2-bed-cabins. They are all outside cabins, giving some 10-11 square metres of space (2-bed) and about 7 qm (1-bed). All 2-bed-cabins on main and upper deck are equipped with two lower beds, shower and WC, hairdryer, TV, safe (deposit), central air-conditioning and a picture window. Only on the upper deck the windows may be opened. 1-bed cabins have one lower bed and are otherwise equipped with same features.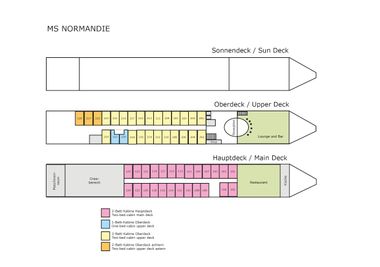 We recommend that you arrive early so that you can still take a stroll through the city of Rotterdam. The city is one of the most interesting cities in Europe with its architecture, its port and its nightlife and shopping opportunities. Discover exciting buildings or take a harbor tour. Embarkation on board can take place from 4:00 p.m.
Today's bike tour first takes you along the water via Krimpen aan den IJssel to Kinderdijk. Here are the 19 well-preserved windmills from the 18th century. One of these windmills, which are part of the UNESCO World Heritage, can be visited. After the stopover you cycle through the polder area of ​​the Albwasserwaard to Dordrecht. Dordrecht is considered the oldest city in Holland and inspires with its 1000 monuments and the historic port area.
After a short ferry crossing you come to the beautiful nature reserve De Biesbosch. The various rivers that meet here form a freshwater delta covering an area of ​​approximately 8000 hectares. Take a boat trip through this area before cycling further through the Rhine delta and taking the water taxi to Gorinchem. The pretty historic old town of Gorinchem awaits your visit.
Today's tour is very varied and interesting. From Gorinchem you first cycle to Leerdam - known for the Leerdam cheese - and then on to the fortified town of Vianen. You cross the Lek by ferry and continue to Vreeswijk with its narrow streets. Visit Fort Jutphaas in the small town of Nieuwegein before reaching Utrecht. Utrecht is considered the heart of Holland. The city was built around the cathedral and is well worth seeing with its traffic-calmed city center and idyllic canals.
This morning you have the opportunity to look around Utrecht a little before you cycle through the beautiful Polderland to Oudewater with its witches' weighing house. So-called witches have been weighed here in the past, but have never been found wanting and sentenced. Afterwards you cycle to the silver town of Schoonhoven with its typical Dutch old town.
Today's stage first takes you to the cheese city of Gouda. When the weather is nice, it's worth taking a detour to the Reeuwijke Plassen lakes for a refreshing swim. We continue quickly to Rotterdam. Visit the port of Rotterdam, which is one of the largest in the world, and the city center, which is well worth seeing.
There are two bike tours to choose from: the shorter version leads to Delft, where you have the opportunity to visit the porcelain factory. The longer one takes you directly to the seat of government in The Hague and then on to the North Sea spa and bathing resort of Scheveningen and back. Alternatively, you can return to Rotterdam by train (Rail & Bike, not included, approx. €16.00 per person, not during rush hour between 4:30 p.m. and 6:00 p.m.). Whatever you decide: if you haven't had the opportunity yet. It is worth taking a harbor tour of Europe's largest deep-water port in the late afternoon.
Debarkation after breakfast until 9:00 a.m in Rotterdam.
Depending on the official allocation of berths, Vianen can also be called at on the 5th day as an alternative to Schoonhoven. The stages are then as follows:
Day 5: Utrecht - Vianen, bike ride approx. 45-55 km
Day 6: Vianen - Gouda - Rotterdam, bike tour approx. 59 km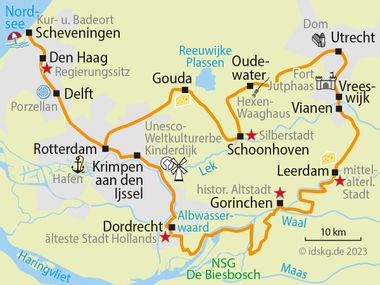 7 x overnight stay id cabins with shower and toilet
Full board
Welcome drink
Coffee and tea in the afternoon
Daily cabin cleaning
Linen and towels
Tourguide on bord
Daily tour discussion
Maps and detailed tour description
Harbour fees
7 days hotline service
GPS tracks on request
Below you will find specific information about the bike and boat tour in Holland. If you have further questions about this trip, you simply call us: Phone: 06421 – 886890.
Arrival by car
Arriving by train: Rotterdam is easily accessible from Germany by train. Current timetable information and price information can be found at www.bahn.de. You will receive the exact pier for your travel date with the travel documents about two weeks before arrival.
railway information
Arriving by car: If you are arriving by car, we recommend driving to the jetty first and handing in your luggage and bicycles there. We then recommend using public parking. You will receive final information on the location of the ship and practical information with the detailed travel documents two weeks before the start of the trip.
Luggage
For reasons of space, we would like to ask you to refrain from luggage with a hard shell, the storage space in the cabin is very limited!
Available rental bikes
So-called unisex bikes are available (suitable for men and women). They have a 7-speed gear shift with coaster brake and are available in different frame sizes. Please enter therefore your weight when booking the tour. On request and extra charge some electric bikes can be made available.
Bring your own bikes
You can take your own bike with you to a limited extent. There is little space available on the ship for a surcharge: € 10.00 per regular bike or € 25.00 per electric bike. Advance registration is required to bring your own bike.
Important note
The captain reserves the rights to make any necessary changes to the itinerary due to wind, weather and navigational features.
Extra costs which are not included in the tour price
Arrival and departure, parking fees, transfers to the pier, drinks and coffee and tea after 4 p.m., rental bikes, entrance fees and excursion fees, ferry fees and fees for the Waterbus, personal insurance, tips and personal expenses are not included in the tour price.
A fuel surcharge, which is due to the sharp rise in fuel prices, is not included in the cruise price and must be paid in cash on arrival on board the ship. We will inform you of the amount of the surcharge, if any, in the travel documents approx. 3-4 weeks before arrival.
7-days hotline service
In case of chain breakdown, flooding or other bad surprises that makes a continuation of your tour impossible: no problem, we also work during weekends and you can reach us 7 days a week from 8 a.m. to 8 p.m..
Passport and visa requirements
For EU citizens, there are no special passport or visa requirements and no health formalities to be considered for this trip.
Travel insurance
The tour price already includes the statutory insolvency insurance. In addition, we recommend that you take out travel cancellation insurance upon receipt of your travel confirmation in order to protect yourself against financial disadvantages in the event of travel cancellation, interruption of travel, illness or accident.
Velociped can withdraw from the tour twenty-one days before the starting date of the tour, at the latest, in case the minimum number of participants stated under the tour description is not attained. You will duly be informed without any delay in case of a withdrawal. Velociped will of course refund the paid tour price immediately. Please note our General Terms and Conditions.
You might also be interested in