The comfortable ship was completely renovated and converted in 2017/2018. There are two tour leaders on board during the tours with this ship. The ship was used for cycling cruises for several years on the Danube river under its previous name Arlene II. Look forward to meeting nice people, riding beautiful bike tours and spending pleasant hours on board. All cabins are 'outside cabins' that are equipped with two single beds, TV, mini safe and individually controlled air conditioning. Each cabin has a bathroom with shower, toilet and hairdryer. There are 8 suites (approx. 15 m² / 161 sq.ft) with a French balcony and opening floor-to-ceiling sliding glass door, two single beds, set together as a queen size bed and a small seating area. On the upper deck there are also
16 twin cabins (approx. 10 m² / 108 sq.ft) with two separate single beds. The twin cabins on the upper deck have a panoramic window that can be opened. There are 24 twin cabins with two separate single beds and a large window with an upper hinged window that can be opened for ventilation. In the salon / bar with large panoramic windows on the upper deck, you can review the day's experiences in a pleasant way while enjoying a beer or a glass of wine. Your physical well-being is taken care of in the tastefully furnished and air-conditioned restaurant on the lower deck. The spacious and partly covered sundeck offers space to let the landscape pass comfortably in a deck chair. The bicycles are stored on the rear part of the sun deck.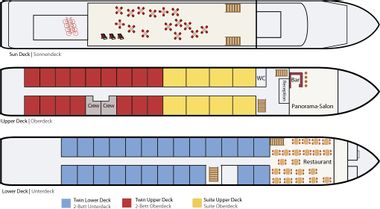 Embarkation and check-in between 2 p.m. and 4.30 p.m. in Amsterdam. Take the opportunity to go shopping, to explore downtown Amsterdam, to make a canal cruise or to visit a museum. At 5 p.m. welcome drink and safety instructions, dinner and first briefing on board. During dinner short cruise to Zaandam.
The first cycling trip of this tour takes you via small villages through the beautiful flat and green polder landscape. The first stop is at the Zaanse Schans open air museum (free entry) with its traditional Old Dutch wooden houses, windmills and the cheese- and clog factory. After this visit you will cycle through the "Land of Leeghwater", a green polder area between Amsterdam, Alkmaar and Hoorn. Stroll through the former whaler's village De Rijp and pass by the windmills of Schermerhorn. Your ship will be waiting for you near the historical city center of Alkmaar.
Today you can discover the beautiful North-Holland Dune reserve. This is a 5.300 hectare large forest- and dune area with its unique landscapes. In these dunes the drinking water for almost the whole province of North-Holland is gained. After a visit to the beach and artists village Bergen you will return to Alkmaar where you can visit the wonderful city center. In the afternoon the ship will sail over the North-Holland Canal to the navy harbor of Den Helder.
After breakfast you'll take a 20-minute ferry ride (ticket included) from Den Helder to the isle of Texel, where you can make beautiful cycling tours on the largest of the Dutch North Sea Isles. Ride through meadows, nature parks and dunes to small villages and have the opportunity for a stop and some bathing at the sandy North Sea beach, or visit the "Ecomare" seal sanctuary. In the late afternoon you will return by ferry to Den Helder. During dinner your ship will sail to Den Oever.
The vessel will cross the large inland lake IJsselmeer to sail to Stavoren in the Province of Friesland. You can opt for a shorter or longer cycling tour: discover the nature area of Gaasterland or explore a part of the wide lake district, that Friesland is well-known for. You can also combine both options. Night in the small harbor of Stavoren, one of the famous traditional 11 cities of Friesland.
The ship will cross the IJsselmeer again during breakfast. Take the short cycling trip from Medemblik along the IJsselmeer coast directly to Enkhuizen, where you can spend the afternoon. Enkhuizen is an old city with many centuries of maritime tradition. The "herring city" boasts a beautiful old harbor, a historical old town centre and the very interesting Zuiderzeemuseum. If you prefer a longer cycling tour, ride from Medemblik to the former Dutch East India Company town of Hoorn, in the 17th century one of the world's leading harbors. Enjoy your lunch break and make a short stroll in the old city centre. Continue by bicycle to Enkhuizen via some picturesque rural villages. In the evening you can join a short city walk.
During breakfast the ship will sail to Volendam. Your final day of cycling will lead you through the beautiful area of Waterland, with its hundreds of small lakes and tiny canals. Near Volendam you will have the opportunity to visit a cheese farm. Recommended (extra cycling miles) is a tour to the former island of Marken, to continue through the water shaped region of Waterland back to the Dutch capital city of Amsterdam. The afternoon and evening are yours to enjoy everything Amsterdam has to offer. If you didn't go for a canal cruise on the first day, you can do so today.
You holiday ends leaving the ship after breakfast abaout 09.30 a.m.
The planned route is always subject to possible changes due to nautical, meteorological or organizational reasons. In the event of high or low water, for example, the captain may decide that the route must be changed for your safety. This is not a valid reason for canceling the trip free of charge.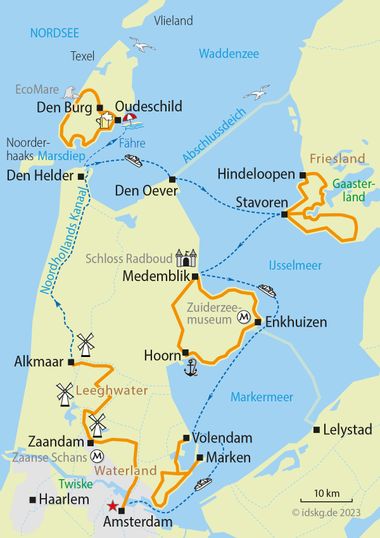 7 x accomodation in outside cabins with shower/WC and air conditioning in the booked category
Full board (7x breakfast, packed lunch, 7x 3-course dinner)
Coffee + tea on board until 4 p.m.
Welcome drink and tour briefing
Music evening on board
Daily cabin cleaning
Bed linen and towels
Daily programme and tour briefing
Some short tours
Ticket for the ferry to Texel
Map material and information package, 1x per cabin
All port, lock and bridge taxes
7-day hotline service
Below you will find specific information about the bike and boat tour in Holland. If you have further questions about this trip, you simply call us: Phone: 06421 – 886890.
Arrival by train
Amsterdam is easily accessible from all major cities in Germany by train. You will receive detailed information about where to find the ship together with your tour documents approx. 2 weeks prior to your arrival. Current schedule information and price information can be found at: www.bahn.de.
Parking possibilities in Amsterdam
If you come to Amsterdam by car, we recommend that you use Amsterpark.nl's valet service, which we offer with a pick-up and return service ("Valet Parking"). You will receive a registration form with the travel documents.
Valet Parking:
With valet parking, you drive your own car to the ship, from where your car is driven by a driver to a monitored parking area. A driver will be waiting for you in front of the ship, who will help you with your luggage. The driver, who is familiar with the area and the vehicle, will bring your car to a parking lot where your car will be parked under constant camera surveillance; When you return from the trip, your car will be in front of the ship within about 30 minutes of your call, so you can board and drive straight away.
Benefits of the Amsterpark Valet Service
No waiting, no loss of time, no boarding/departing/changing bus journeys, no need to carry luggage.
Because you reserve in advance, you have the security that a parking space is available.
You are immediately at your destination without having to take a taxi or public transport.
Your car is parked safely and guarded.
Reliable and responsible drivers with the appropriate papers take care of your vehicle.
Amsterpark Valet Parking is cheaper than many public car parks in Amsterdam and is accessible 24/7.
How much does valet parking cost from Amsterpark?
Valet parking: For only around €175.00 you can park your vehicle (car) securely and guarded for a week, including 2 x transfer services for your car.
Best parking possibilities in Amsterdam
Luggage
Please notice that in the cabins is only a very little space for a suitcase!
Available rental bikes
So-called unisex bikes are available (suitable for men and women). They have a 7-speed gear shift with coaster brake and are available in different frame sizes. Please enter therefore your weight when booking the tour. On request and extra charge some electric bikes can be made available.
Bring your own bikes
You can take your own bike with you to a limited extent. There is little space available on the ship for a surcharge: € 10.00 per regular bike or € 25.00 per electric bike. Advance registration is required to bring your own bike.
Extra costs which are not included in the tour price
Arrival and departure, parking fees, drinks and coffee and tea after 4 p.m., rental bikes, entrance fees and excursion fees, personal insurance, tips and personal expenses.
A fuel surcharge due to the sharp rise in fuel prices, is not included in the cruise price and must be paid on board. The amount of the surcharge - if applicable - we will let you know approx. 3 to 4 weeks prior to your arrival.
7 days hotline service
In case of chain breakdown, flooding or other bad surprises that makes a continuation of your tour impossible: no problem, we also work during weekends and you can reach us 7 days a week in case of emergency.
Passport and visa requirements
For EU citizens, there are no special passport or visa requirements and no health formalities to be considered for this trip.
Travel insurance
The tour price already includes the statutory insolvency insurance. In addition, we recommend that you take out travel cancellation insurance upon receipt of your travel confirmation in order to protect yourself against financial disadvantages in the event of travel cancellation, interruption of travel, illness or accident.
You might also be interested in