On this South Dalmatia Bike & Boat Tour deluxe, accompanied by our first class ship, you will explore the uniquely beautiful South Dalmatian island and coastline. Highlights such as Diocletian's Palace in Split, the picturesque old town of Korčula and the lavender island of Hvar are
combined with a visit to very original islands to create an unforgettable trip. Culture is not neglected here. This deluxe bike & boat tour offers you various highlights: a comfortable motor yacht of the first class category, unlimited e-bike rental and small surprises along the way.
The journey takes place individually either by car to Trogir or by plane to Split Airport, which is about 5 km from Trogir embarkation port. After checking in on your motor yacht between 2 p.m. and 2:30 p.m., the first longer cruise begins at around 3 p.m., taking you from Trogir to the island of Hvar in the beautiful natural harbor of Stari Grad, where you spend the night.
After breakfast, take a bike ride from Stari Grad to the island's capital, Hvar. Here you still have enough time to visit the magnificent Renaissance Square and enjoy the view of the Spanish Fortress enthroned high above the city. Your ship will then take you to the next island on a 1.5-hour crossing. Overnight on Vis.
Vis is the Croatian island farthest from the mainland. Already more than 2,300 years ago it was known as a Greek colony called Issa. Due to its strategically favorable location, Vis was a restricted military area and was not accessible to foreign tourists until 1995. Today you have the opportunity to explore this lovely island from the saddle of your bike. After the bike ride, your ship will take you to the island of Korčula. Overnight in Vela Luka.
Today you will explore the island of Korčula by bike and enjoy your lunch break in one of the local restaurants. The tranquility and seclusion of lush gardens with large cypresses characterize what is perhaps the most beautiful Dalmatian island. Your bike tour takes you through the village of Blato, which like Rome was built on seven hills, over the pass road to the beautiful bay of Pupnat and finally to Korčula town, whose beautiful old town with its herringbone-like alleys invites you to roam.
You cross over to the island of Brač, which is famous for its brilliant white limestone, which was used for the White House in Washington and the Reichstag in Berlin, among other things. After a long swim stop, where you can enjoy jumping and swimming in the cristal clear water and a lunch break, you start your bike tour from Sumartin, which takes you to the pretty fishing village of Povlja and on to the picturesque Pučišća. The picturesque harbor is home to one of the most famous sculpture schools in Croatia, and the graduates' masterpieces decorate the whole place. Overnight in Pučišća.
During breakfast your ship will take you to Split. Today you have the choice between a bike tour or rafting on the Cetina. If you choose the bike tour, take a short but panoramic tour to the green heart of the city of Split - Marjan Hill. If you decide to do the rafting tour, a transfer bus will pick you up from the ship. The rafting tour (not included in the travel price) is a special nature experience and takes place with trained guides. After this adventure, the transfer will take you back to the ship. You will then have the opportunity to cool off with a swim at the beach. In the afternoon, explore Spilt on a guided tour of the picturesque old town, into which the famous palace of the Roman Emperor Diocletian was built.
After the short crossing to Rogač on the island of Šolta, you will set off on your last bike tour. Walled fields, numerous olive groves, carob and fig trees line the road. The spicy scent of lavender and rosemary accompanies you as you drive across this tranquil island. Your ship is waiting for you in Rogač for the last crossing back to Trogir, where there is still enough time to visit the old town, which is a World Heritage Site. Afterwards, let your eventful journey come to an end with a cozy dinner and final evening on board.
After breakfast disembarkation until 9 am and individual trip home or extended stay in Dalmatia/Croatia.
Due to different wind and weather conditions as well as organizational necessities, we reserve the right to change the course of the route.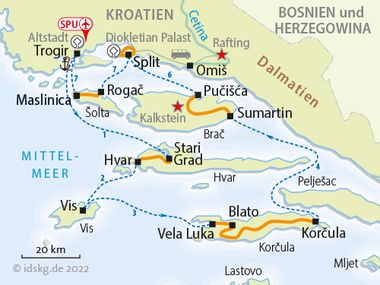 8-day crewed cruise on the motor yacht Magellan
7 nights in a double or single cabin with shower/toilet
2 x full board and 5 x half board
Guided bike tours & visits according to the program
Overview maps for the individual cycling stages on board
Bed linen and towels
German and English speaking tour guide
Flat rate for local taxes
Please find more information about the South Dalmatia bike cruise below. If you have any further questions feel free to contact us by phone: 0049 - (0)6421 - 886890.
Arrival by plane
Arriving by plane is the fastest, cheapest and most comfortable way to get to Trogir. The nearest airport is Split (SPU) - it is only about 6 km away from the port of Trogir. To get from Split airport to the port in Trogir, we recommend using a taxi. A taxi ride costs around 20 euros. You can also use the regular bus number 37, which leaves right in front of the airport building towards Trogir and takes about 15 minutes to Trogir port. A bus ticket costs about 2.50 euros per person.
You can research and book flight offers at www.opodo.com, www.skyscanner.de or www.swoodoo.com. If you cannot find a suitable flight to Split, you have the option of flying to Dubrovnik or Zadar as an alternative, from where we can offer you an individual transfer (on request).
Arrival by car
Munich - Salzburg (130 km), Salzburg - Villach (180 km), Villach - Ljubljana (100 km), Ljubljana - Rijeka (130 km): Motorway behind Ljubljana to the Kozina exit, then continue on the country road to Rijeka. From Rijeka to Trogir: along the main road to Senj, there turn towards the motorway to Split (300 km, approx. 5 hours).
Parking options in Trogir:
In Trogir, we will be happy to organize a secure parking space for you on a private property near the port upon prior notification. Parking costs 50 euros per week, payable locally upon arrival. Please reserve the parking space in good time before you start your journey. Please note: There is no insurance in Croatia that insures your vehicle against theft and burglary in the parking spaces provided by us. Damage of this kind is only covered by the local comprehensive insurance. If you have booked a parking space, ask one of the tour guides at the ships when you arrive. He will guide you to a guide who will drive ahead of your car, guiding you safely to the parking lot. After you have parked your car, the pilot will take you back to the ship in his car.
Requirements
The tours are equally suitable for trekking cyclists and e-bike riders. When using a rental bike, the decision for an e-bike or trekking bike must be made before the start of the journey. The cycling stages require participants to be in good basic condition, which regular cyclists should have acquired. The tours go up to an altitude of between 200 and 650 meters. The cycling stages of 20 - 60 km in length lead through hilly and mountainous terrain (approx. 400 - 700 m ascent per day) and are cycled without time pressure. Steeper or longer gradients can also be mastered. The roads are mostly paved and rarely used outside of the holiday season. Instead of a bike tour, you can also spend half or a whole day bathing on the ship. Decide for yourself every day whether you want to cycle individually according to information and maps or join your travel companions. Helmets are compulsory on our bike tours. Please bring your own well fitting helmet. A limited number of rental helmets are available on the ships (pre-registration required).
The guided group pace on this trip is based on the e-bike riders. If you ride a trekking bike on an e-bike trip, you shouldn't be surprised at the faster basic speed. Trekking cyclists should also have the necessary condition to ride at this speed.
Available rental bikes
There are 24-speed trekking bikes available as women's (medium step-up) and men's bikes, as well as unisex electric bikes with 11-speed derailleur gears and low step-through or somewhat sportier unisex 9-speed hybrid e-bikes with a slightly higher step-through. The bikes are each equipped with an Ortlieb pannier
Catering
The accompanying cook is a member of the crew and prepares an extensive breakfast and one or two warm meals every day. It starts with dinner on embarkation day and ends with breakfast on disembarkation day. Depending on the course of the tour, one or the other lunch meal can also consist of a packed lunch. One meal a day is taken ashore and is not included in the tour price.
Children
Basically, we are of the opinion that only children with good stamina and a minimum age of 10 years can complete the bike tours on their own. Please note that rental bikes can only be provided from a height of 1.20 m. For children under the age of 16 there is also a legal obligation to wear a helmet in Croatia. Children's helmets cannot be borrowed.
Bringing your own electric bike
It is not possible to bring your own e-bike on the ship as a safety measure and to protect the health of the guides. If you want to ride an e-bike, we can offer this for booking.
Local fees
Flat rate drinking water on board and on the bike tours: 25 euros per adult, 15 euros per child up to 16 years (payable on site to the captain).
7 days hotline service
Just in case the bike chain is broken, flooding makes it impossible to continue your tour or any other nasty surprise: you can reach us seven days a week and we will do anything to help you as fast as possible.
Passport and visa requirements
For EU citizens, there are no special passport or visa requirements and no health formalities to be considered for this trip.
Travel insurance
The tour price already includes the statutory insolvency insurance. In addition, we recommend that you take out travel cancellation insurance upon receipt of your travel confirmation in order to protect yourself against financial disadvantages in the event of travel cancellation, interruption of travel, illness or accident.
Velociped can withdraw from the tour twenty-one days before the starting date of the tour, at the latest, in case the minimum number of participants stated under the tour description is not attained. You will duly be informed without any delay in case of a withdrawal. Velociped will of course refund the paid tour price immediately. Please note our General Terms and Conditions.
You might also be interested in