The MS Ave Maria offers 10 double standard cabins (3 of these can become triple cabins, with a bunk bed) of approx. 11 m², 4 double superior cabins (each of these can become a triple cabin, with a bunk bed) of approx. 11 m² and 3 single cabins (each of these can be sold as double cabin with bunk beds) of approx. 7,5 m². Each cabin boasts large windows, comfortable low beds, en-suite facilities, air conditioning and a safe.
Each double bed can be changed into two single beds. The air conditioned living room (11 x 7,5 m) is divided into two areas: the restaurant with 33 seats and the lounge with up to 28 seats. The MS Ave Maria offers two sundecks serves as storage for the bikes over night, internet point with two computers, free wi-fi and a large 52" screen TV in the lounge.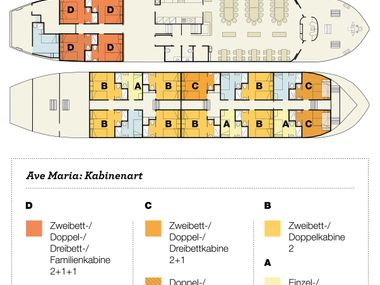 Embarkation is possible after individual arrival from 5 pm. The welcome by the captain and the team takes place before dinner at 6.30 pm.
After a walk with your tour guide, the day is free for you to explore and enjoy the city at your own pace. The Serenissima, as Venice is also known, exercised dominant rule over large parts of the Mediterranean and even beyond for many centuries. It was not only a military power, but also a shining cultural centre.
You start the day with a visit to a historic glassblowing workshop on the island of Murano. Here you will experience a demonstration that brings the centuries-old art of glass blowing to life. This day will undoubtedly be one of the most magical of the entire tour as you cycle through the two long islands that separate the lagoon from the Adriatic Sea. From the Lido, an impressive beach town on the Adriatic and famous for hosting the international film festival, you cycle south towards Malamocco. This small town once served as the first seat of the Doges of the Republic of Venice. A short boat trip takes you to the island of Pellestrina with its picturesque fishermen's cottages. Finally, you will reach the ship near Chioggia, a lively and colourful fishing port, which marks the end of this eventful day.
You will pass Pellestrina and then cycle south to Chioggia. From there you continue southwards along the Po-Brondolo and across the mouth of the Adige. After cycling through the rich flora and fauna of the Po Delta, you will finally reach the town of Adria, once an ancient Greek harbour.
In the morning, you will take a short boat trip, followed by a cycle tour through the countryside towards Ferrara. This city has earned the nickname "city of cyclists" due to its numerous cycle paths and the widespread use of bicycles. You will undoubtedly be impressed by the beautiful historic centre with its imposing city walls. In the afternoon, a short bus transfer will take you to Zelo, where your boat will be waiting for you.
After a short cycle tour, you will reach Bergantino, where you will visit the "Museum of the Carousel and Popular Theatre" and enjoy a tasting in a cheese dairy. Your cycle tour continues along the Po to Ostiglia, a small town with medieval castle ruins. From there you cycle on to Governolo. You then leave the river Po and finally reach Mantova, the last stop on your journey, on a wonderful boat trip.
Today you will discover the city's three picturesque "lakes" accompanied by a guide. You start in Piazza Sordello with its magnificent cathedral and Palazzo Ducale, and continue your exploration through the historic centre to Piazza delle Erbe. Here you will have the opportunity to admire the bell tower, the Rotonda di S. Lorenzo (the oldest church in the city) and the Cathedral of St Andrew, a masterpiece of Renaissance art and architecture.
Disembarkation and individual journey home after breakfast.
The skipper as captain of the ship reserves the right to make any necessary changes to the itinerary due to wind, weather and nautical conditions at any time!
>>>Please note: Unfortunately, it is not possible to bring your own bicycles on this trip.<<<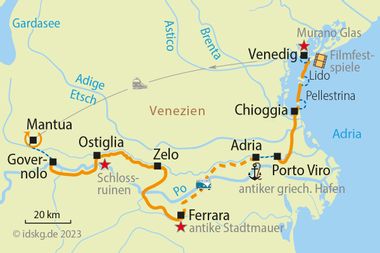 7 overnight stays with breakfast
Lunch packages
6 x dinner on board (drinks are not inclusive)
Coffee and tea on board
Bedding and towels, 1 x per week cabin cleaning
Tour guide
Tour information and detailed maps
Bus transfer Ferrara-Zelo or Ferrara-Adriatic
Guided city tours in Mantua
Some short city walks
Visit to the cheese dairy with tasting
Visit to a carrussel and theater museum
Visit to a historic glass factory on the island of Murano
Bicycle helmet (reservation necessary)
Port fees
Below please find more information about your bike trip. If you have any further questions please feel free to contact us by phone: 0049 - (0)6421-886890.
Arrival by train
Mantua can be reached by train from Germany via Milan. From Mantua train station you can easily reach the port with a short taxi ride.
Current timetable information and price information can be found very practically at www.bahn.de. or www.trenitalia.it
Train schedule information Deutsche Bahn
Train schedule information Trenitalia
Arrival by plane
Mantua and Venice are relatively well connected (90-120 minutes) with the following airports: Venice (VCE), Verona (VRN), Treviso (TSF), Milan-Malpensa. You can fly low-cost.
Parking facilities in Mantua and Venice
Arrival in Mantua: There is a large, unguarded and free car park in Piazza Anconetta, approx. 400 meters from the ship landing stage. There is also an underground car park in Via Mazzini. This is about 1 km from the ship landing stage. It is not possible to reserve in advance.
Arrival in Venice: We recommend parking your vehicle in Mestre at the guarded, paid car park at the train station. There are regular trains to Venice Santa Lucia from Mestre train station. From there, take a vaporetto to the pier.
You will receive detailed information about the parking facilities with the detailed travel documents two weeks before the start of your journey.
Guided or individual itinerary
On this tour you can decide spontaneously on board whether you want to cycle in a group or explore the region individually. The group (international audience) is led by a trained, English speaking tour guide. If you choose an individual cycling day, you will receive a very detailed route description on board.
Condition of cycle paths
The tour leads through flat land, daily distances between 30 and 55 km. Most of the bike route runs along canals and rivers on paved bike paths or roads with little traffic. In order to make the trips out of the cities more comfortable, sections are covered in the morning or in the evening by ship.
Available rental bikes
You can choose between 27-speed unisex bikes with derailleur and 9-speed electric bikes. The bikes are equipped with a speedometer, one-sided pannier, bike lock, water bottle and a bike helmet. You simply specify your wishes at time of booking.
Own Bikes
It is not possible to bring your own bikes to this tour.
Cycling in Italy
In Italy, warning vests are mandatory outside closed areas at night and at dusk.
Additional nights in Mantova and Venice
Prices for additional nights in a 4 **** hotel in Mantova are available on request. Additional nights in Venice can be booked from EUR 90.00 in a double room and from EUR 150.00 in a single room, subject to availability (season 2023).
Extra costs which are not included in the price
Drinks on board, tickets for public transport in Venice and the lagoon (ACTV 48-hour ticket 35.00 EUR p.p. and the ferry trip to Pellestrina (approx. 9.00 EUR per person) are not included in the tour price.
Entrance fee for Venice: From 1st January 2023 tourists in Venice will probably have to pay an entrance fee of approximately 18.00 to 30.00 euros per person. This fee is payable locally.
7 day hotline service
In case of chain breakdown, flooding or other bad surprises that makes a continuation of your tour impossible: no problem, we also work during weekends and you can reach us 7 days a week in case of emergency.
Passport and visa requirements
For EU citizens, there are no special passport or visa requirements and no health formalities to be considered for this trip.
Travel insurance
The tour price already includes the statutory insolvency insurance. In addition, we recommend that you take out travel cancellation insurance upon receipt of your travel confirmation in order to protect yourself against financial disadvantages in the event of travel cancellation, interruption of travel, illness or accident.
Velociped can withdraw from the tour twenty-one days before the starting date of the tour, at the latest, in case the minimum number of participants stated under the tour description is not attained. You will duly be informed without any delay in case of a withdrawal. Velociped will of course refund the paid tour price immediately. Please note our General Terms and Conditions.
This might be interesting for you too