Arrive early, because it's worth it. Merano - spoiled by the Mediterranean climate - awaits you with blossoming parks and promenades, picturesque arcades and numerous Art Nouveau buildings.
In the morning, you first board the Vinschgaubahn train, which takes you to Mals. Here you get into the saddle and cycle first to Glorenza/Glurns with its completely preserved medieval town wall. You then continue via the mining ruins through Silandro/Schlanders to Merano/Meran. Castles and palaces lie along the way or high above the path on the mountains. Along the way, there are always beautiful views of the impressive Ortler massif and the Stelvio Pass.
Today's stage takes you through numerous orchards and vineyards past many fortified castles, palaces and ruins before reaching Eppan. The Messner Mountain Museum Firmian is located in the well-renovated ruins of Sigmundskron and is certainly worth a visit. The circular route, designed in collaboration with Reinhold Messner, also includes the surroundings of Sigmundskron Castle. The fortress, which towers over Bolzano, offers a fantastic view of the Texel Group and the Ötztal Alps. After the tour, continue to Bolzano with its cathedral and arcades. Bring the day to a close in Piazza Walther.
Today you are spoiled for choice to get to Lake Kaltern: Do you follow the slightly hilly route on the new cycle path via Eppan or do you choose the flat cycle path along the Adige dam? Whatever you decide. Today's stage is quite short and you will quickly reach the wine village of Ora. Stroll through the small alleyways and enjoy a glass of local wine.
Today you follow the Adige dam to Salurn, the largest wine-growing region in South Tyrol. This is where the German-speaking part of South Tyrol ends and you finally enter the Italian part of your journey. You pass famous Trentino wine-growing areas and reach the old episcopal city of Trento, the capital of Trentino, at the end of the stage. Take some time to visit the old town, the cathedral and Buonconsiglio Castle.
On the last cycling day of your trip, you cycle to Rovereto in the morning. After a short break to enjoy a cappuccino in the piazza, you leave the Adige Valley. In Mori, you can sample the famous pistachio ice cream or a freshly squeezed fruit juice. Well fortified, you reach the only significant ascent (approx. 150 m) of the route - the San Giovanni Pass. A wonderful view of Lake Garda awaits you at the top. After a rapid descent, you quickly arrive at your overnight accommodation. Round off the trip with an aperitivo by the lake.
Your trip ends after breakfast at the hotel. We recommend our return transfer service (Saturday to Tuesday) for those who would like to return to Merano.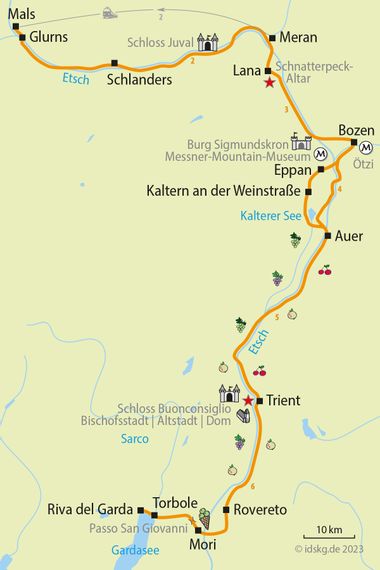 Accommodation incl. breakfast
Room with shower/bath/WC
Luggage transport
Map of bike trails with marked route
Digital route guidance via smartphone app
Tips for tour preparation
Touristic information
7 days hotline service
1 ride on the Vinschgaubahn to Mals incl. bike
1 pistachio ice cream or 1 freshly squeezed fruit juice on the way to Lake Garda
Below you will find specific information about the bike tour on the Adige Cycle Path from Lake Reschen to Lake Garda. If you have any further questions about this trip, just give us a call: Tel.: 0049 (0)6421 - 886890.
Arrival by car
Starting in Germany: Drive to Landeck (Austria) and leave the A12 onto the B180 in the direction of Prutz / Nauders / Reschenpass. After the Reschenpass you reach Reschen am See after about 3km. In Austria there is a motorway fee. The vignettes are available at kiosks and petrol stations just before the border with Austria. They are valid for 10 days, 2 months or the whole year. The vignette obligation also applies in the Landecker Tunnel (bypass possible).
Arrival by train
Your destination station is Landeck (North Tyrol). From there you can take a public bus or taxi to Reschen via Nauders. Current timetable information and price information can be found very conveniently at:
Parking at the hotel
You can park your vehicle in Resia, this costs around €40.00 (2024: €70.00) per week/vehicle. You will receive detailed information about the parking facilities at the hotel booked for you with the detailed travel documents two weeks before the start of the trip.
Condition of the bike paths
You cycle on wonderfully designed cycle paths, mostly along the Etsch, almost entirely on cycle paths or paved service roads. Only on very short stretches of road, especially near or in cities on busy roads. The route leads from the Reschenpass to Lake Garda almost 1,500 meters downhill, but there are still small inclines to be overcome
Available rental bikes
For this trip you can choose between 7-speed unisex touring bikes with back pedal and 21-speed unisex touring bikes with freewheel in different frame sizes as well as unisex electric bikes with back pedal. 21-speed men's touring bikes with freewheel can be made available for people taller than 1.85m. Simply let us know what bike you want when you make your booking.
Transfer back to the starting point
Every Saturday and Monday morning, and sometimes Tuesday afternoon (on request), there is the possibility to transfer back to Reschen with a minibus. The driver will come to your hotel and have space for you, your luggage and your private bike (if you have booked a rental bike, just leave it at the hotel). He drives you back to your starting hotel and thus ensures a perfect return journey service without the hassle of changing trains. Reservation and payment via Velociped is required in advance.
Extra costs that are not included in the tour price
Any visitor's tax that may be incurred is not part of the travel price and must therefore be paid on site.
7 days hotline service
If the bicycle chain has broken, floods make it impossible to continue your journey or other nasty surprises await you: We are available for you 7 days a week and will organize help as soon as possible.
Passport and visa requirements
For EU citizens, there are no special passport or visa requirements and no health formalities to be considered for this trip.
Travel insurance
The tour price already includes the statutory insolvency insurance. In addition, we recommend that you take out travel cancellation insurance upon receipt of your travel confirmation in order to protect yourself against financial disadvantages in the event of travel cancellation, interruption of travel, illness or accident.
You might also be interested in