We recommend bringing enough time to visit Vienna as it is a city of infinite possibilities! Visit for example the stately Schoenbrunn Palace with its extensive grounds and allow your eyes to wander across the city skyline, visit the colourful Hundertwasser House and the Museum Quarter, which is with 60,000 m² one of the largest cultural complexes in the world.
The Danube Bike Trail leads through riparian forests along the river, past the castle of Orth and Eckartsau to Hainburg. Enjoy the beautiful centre of the town with one of the most important preserved fortifications in Europe. Overnight stay in Hainburg / Bad Deutschen-Altenburg, where mineral springs invite to relax.
Idyllically situated between the Hainburger mountains and the small Carpathian meanders the blue ribbon of the Danube and with this a ideal road for cyclists. Look forward to the Slovak capital Bratislava. Let enchant you from the lively and yet sleepy town and marvel at the many magnificent buildings and the castle high above the Danube.
The island 'Sütterinsel' is a paradise for birds and fishes. In the middle of this pristine landscape of small islands you cycle to sleepy rural villages and through a maze of Danube side arms before you reach in the afternoon after a short ride Gyor with its beautiful baroque old town.
Look forward to the National Stud Babolna, which is world famous for its Arabian breed. Today you cycle through undulating agricultural area to the River Danube in the Slovak/Hungarian dual city Komárom/Komárno, the favourite city of King Matthias.
Along the Slovakian Danube bank you cycle through small villages, passing the Roman fort of Kelemantia to the episcopal and royal city of Esztergom. The basilica in Esztergom is the biggest church of Hungary and a highlight of this journey.
You cycle through the picturesque landscape of the Danube Bend - an impressive river loop, trapped in steep mountains of limestone and you pass Visegrád with the remarkable Royal Palace which perched high above the Danube Bend. After 20 km of beautiful bike trail you reach the bustling artists town of Szentendre whose historical part is best explored on foot. Enjoy a boat trip to Budapest where you will explore many attractions of this cosmopolitan city.
Today you have the option to go back to Vienna by bus (Journey time about 3 hours, departure every 2 hours).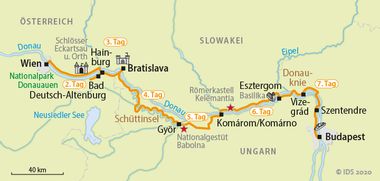 Accommodation incl. breakfast
Room with shower/bath/WC
Luggage transport
Map of bike trails with marked route
Digital route guidance via smartphone app
Tips for tour preparation
Touristic information
7 days hotline service
1 x train Mosonmagyarovar - Györ incl. bike
1 x boat ride (or train ride outside of the boating season) Szentendre - Budapest
Please find more information about the bike tour Vienna - Budapest. If you have any further questions feel free to contact us by phone: 0049 - (0)6421 - 886890.
Arrival by plane
Vienna and Budapest are easily accessible from most major cities by plane. From Vienna Airport you can take a train or a shuttle bus to the city or to your hotel. More detailed information you will find in the tour documents you receive at least two weeks before tour start. Information about flight connections you find under www.opodo.com oder www.swoodoo.com
Arrival by train
Vienna is easily accessible from all major cities by train. We recommend to go by public transportation (U1) or to take a taxi from the station to get to the partner hotels. Current schedule information and price information can be found at:
Train schedule information Deutsche Bahn
Train schedule information OÖB
Parking facilities at the hotel
The cat. A hotels in Vienna provide parking facilities for the entire duration of your bike trip. There are always plenty of parking spots available at the lockable, unguarded hotel garage, pre-reservation is not possible, 80,00 EUR per week. Alternatively there is public parking garage, park & ride, approx. 18,30 EUR per week, unguarded, close to the subway station "Leopoldau" and public parking spaces, unguarded, free of charge, in a side street next to your hotel. Detailed information on parking at your hotel, you will receive together with the travel documents two weeks prior to departure.
Condition of cycle paths
In Austria you cycle on the Danube cycle path, on the Hungarian you use cycle paths, side roads and farm tracks and in Slovakia your tour usually leads on separate bike paths along the Danube. The trails are mostly paved, gravel roads are only rarely.
Available rental bikes
You can choose between unisex bicycles either with 7-speed gear shift and coaster brake or 21-speed gear shift and freewheel. From a height of 186cm, men's bikes are also provided. Furthermore, 7-speed unisex electric bikes with coaster brake are available on request.
Cycling in Austria, Slovakia and Hungary
Children under the age of 13 years have to wear helmets in Austria.
Wearing a helmet is in Slovakia outside towns an obligation!
In the dark and in case of poor visibility you have to wear a reflective vest outside towns in Hungary.
Transfer back
There is a option to book a return transfer by public bus from Budapest to Vienna:
Departure every 2 hours, e.g.: 11:00 a.m., 1:00 p.m., 3:00 p.m., approx. 3 hours to Vienna Central Station or Vienna Erdberg, also stops at Vienna Airport (please specify desired time/stopping point when booking), other departure times on request, schedule change possible.
Return transport of own bikes is possible every Friday in season 1 and every Saturday in season 2+3, arrival in Vienna approx. 21.00, therefore booking an extra night is recommended.
Supplement for the following events
Please note that there is an extra charge on the following dates, due to various events (dates and prices subject to change)
Formula I Grand Prix Budapest:
Arrival 30.07.-01.08. or 06.08.-08.08. on request (date is not yet fixed) - with surcharge of € 44,00 per room per tour night in Budapest and surcharge of € 55,00 per room per additional night in Budapest.
Surcharge UEFA Dates in Budapest:
14.-15.06./18.-19.06./22.-23.06./26.-27.06. € 55,00 per room per night.
Extra costs which are not inculded in the price
A possibly applicable city tax is not part of the price and has to be paid at the hotel locally.
7 days hotline service
Just in case the bike chain is broken, flooding makes it impossible to continue your tour or any other nasty surprise: you can reach us seven days a week and we will do anything to help you as fast as possible.
Passport and visa requirements
For EU citizens, there are no special passport or visa requirements and no health formalities to be considered for this trip.
Travel insurance
The tour price already includes the statutory insolvency insurance. In addition, we recommend that you take out travel cancellation insurance upon receipt of your travel confirmation in order to protect yourself against financial disadvantages in the event of travel cancellation, interruption of travel, illness or accident.
you might also be interested in