During this star bike tour you will stay at the 4-star Landhotel Burg, whose 87 rooms are all equipped with shower or bath/WC, telephone, color TV, radio and some with balcony. To keep things varied in the evening, the hotel offers several restaurants with Spreewald specialties and international dishes. The fish restaurant "Aquario" offers you fish specialties, the Italian Ristorante "Il Fienile" directly at the Landhotel offers pizzas from the stone oven, pasta, meat and fish dishes, excellent wines from Italy and a great ambience on 2 levels with gallery and view into the kitchen.
Let us spoil you, whether for dinner or a glass of wine in the lounge area with fireplace or in the winter garden with spacious sun terrace. Relax during your stay free of charge in the spacious SPA area with various indoor and outdoor saunas and year-round heated outdoor pool. Wellness pure! Applications in the Hamam, Rasul or Private SPA as well as beauty and massage treatments can be booked for a fee. If you are traveling with your children or grandchildren, they will certainly enjoy the playroom and the animals in the petting zoo (horses, alpacas, goats, emus, guinea pigs, donkeys, etc.).
In the middle of the Spreewald, the comfortable family hotel at the Spreebogen in country house style offers relaxing and eventful vacations. The 24 double rooms are all comfortably furnished and, in addition to a terrace or small balcony, all have a shower and WC, hairdryer, windows with fly screens, TV, radio, telephone and minibar.
Enjoy regional delicacies in the hotel's own restaurant as well as a varied range of game, fish and steak dishes. In only 1.5 km you can easily reach the Spreewald Therme for a few hours of wellness with brine bath, sauna, massage and fitness offers.
Take enough time for your arrival. As soon as you arrive at the hotel, you will receive your rental bikes. If you arrive early, you can still relax in the Spreewaldtherme with its iodine-containing thermal brine. This is a comfortable way to start your vacation!
On your first bike tour you will get to know the distinctive scattered settlement of Burg with its traditional log houses between small meadows, orchards and vegetable fields. Make a stop right at the beginning in the barefoot park. Here your body and mind will find peace and relaxation. Behind the barge harbor at the Waldschlösschen, it's worth making a detour to the Polenzschänke, the oldest inn in the region. Past the maze you cycle to the legendary Schlossberg with Bismarck Tower and Willow Dome. The 27 m high observation tower on a prehistoric rampart was built in 1915 - 1917 and offers a wide view of the unique Spreewald landscape. Afterwards, visit one of the most beautiful narrow-gauge railway stations in Germany. The experience gastronomy in the historic station building of Burg takes you back to old times. Marvel at 100-year-old original vehicles and draisines. The Spreehafen and the Heimatstube are further highlights on your round trip.
Your destination for today is the Branitz Park of Prince Pückler in Cottbus. Look forward to this park, because it is the life, age and masterpiece of the eccentric garden designer Hermann Fürst von Pückler-Muskau (1785-1871). Today, it is hard to imagine that this ideal image of nature was created on the basis of what was once a flat, barren and partially cleared agricultural landscape. Finely curved earthworks created out of nothing, elegantly guided lakes and watercourses, and woody compositions designed to perfection bear witness to the art of horticulture. It rightly gives the park the reputation of a garden monument of international rank. After a worthwhile break in the old town of Cottbus with its many opportunities for refreshments, you cycle back the same way (45 km). For all cyclists who are not afraid of another 20 km we recommend the beautiful return trip through the Peitzer pond area. With about 1000 hectares, it is the largest contiguous pond area in Germany. The old fortress town of Peitz with its historic old town center and the 36 m high fortress tower, which presents up to 6 m thick outer walls, also entices you to take a break.
Today you cycle from the Bismarck Tower along the old Spreewald railroad line. You will pass 2 small Spreewald villages where time seems to stand still. Afterwards, marvel at Pintschen's spring. With about four liters of water per second, the spring is one of the most productive in the region. After only a few meters, the small watercourse drives a model waterwheel. Passing the almost 1000-year-old Florentine oak, you cycle to wonderful bathing lakes that invite you to take a refreshing dip on hot days. In Straupitz, visit the granary, the Schinkel church and the Holländer windmill. The triple mill can saw, grind and press linseed oil, which is shown during demonstrations. Afterwards, look forward to your cycling route through the high forest in front of Burg-Kauper. Here you will experience pure nature on a length of 4 km!
Today you cycle to Leipe via the Dubkow Mill or the Waldschlösschen. On a picturesque path along rivers you roll comfortably to the lagoon village Lehde, where the mail is still delivered by barge. Visit the worthwhile cucumber and open-air museum. After a worthwhile break, cycle to Lübbenau. Discover the small Spreewald village and be impressed by the colorful market hustle and bustle at the Great Harbor. Take a detour to the Spreewald restaurant Wotschofska, which offers good regional cuisine. On your way back to the hotel, we recommend a visit to the Rabe gherkin factory in Boblitz and Raddusch to stock up on delicious Spreewald delicacies.
After breakfast, your varied cycling tour comes to an end. We would be happy to book you a nice extension day.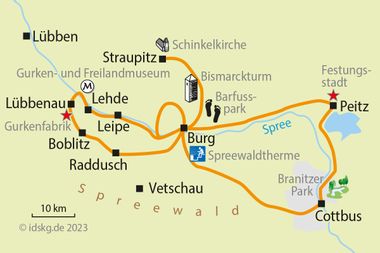 accomodation with breakfast in category A in the comfortable 4-star Landhotel Burg / or category B in the Hotel am Spreebogen in Burg
1 x boat trip (2 hours)
1 x admission to the open-air museum Lehde
1 x admission to Lehde Gherkin Museum with tasting
Detailed route description
Map of bike trails with marked route
Tips for tour preparation
Touristic information
GPS-data available on request
7 days hotline service
Below you will find specific information about the Spreewald Star Tour. If you have any further questions about this tour, just give us a call: Tel.: 06421 - 886890.
Parking facilities/ Travel information
The train station Vetschau is 7 km away from the hotel.
Arrival by car: A 13 freeway exit Vetschau, direction Burg is signposted, via Suschow leave main road in the direction of Fleissdorf, Nauendorf, Burg-Kolonie. Stay on the main road straight ahead over the bridge over the river Spree for another 2km. Hotel is on the left.
Parking is available directly at the hotel, approx. 2,00 € per day, subject to availability, no reservation possible, payable on site.
Available rental bikes
There are 8-speed bikes (men and women) with hub gears and 24-speed bikes (men and women) with derailleur gears available. The electric bikes (all with unisex frames) have either freewheel or coaster.
Condition of the cycle paths
The Spreeradweg is an ideal cycling area. Almost flat terrain, a well-developed network of bike paths and a unique forest, meadow and river landscape offer the best conditions for this. On your bike tour the cycling cucumber is your constant faithful companion. The well-signposted cycle paths run mainly on traffic-free paths and country roads with little traffic.
Extra costs that are not included in the tour price
A possible tourism tax is not part of the tour price and therefore has to be paid at the hotel on site. The use of rental bikes during extra nights is possible for an extra charge. Please indicate this request when booking.
7 days hotline service
If the bicycle chain is broken, floods make it impossible to continue your journey or other nasty surprises are waiting for you: We are available 7 days a week for you and organize help as soon as possible.
Passport and visa requirements
For EU citizens, there are no special passport or visa requirements and no health formalities to be considered for this trip.
Travel insurance
The tour price already includes the statutory insolvency insurance. In addition, we recommend that you take out travel cancellation insurance upon receipt of your travel confirmation in order to protect yourself against financial disadvantages in the event of travel cancellation, interruption of travel, illness or accident.
You might also be interested in