MS Olympia is a comfortable and cozy river ship with a family atmosphere. The ship was renovated in 2015/ 2016. The panorama salon with bar, furnished in English club style, and the bright and friendly restaurant invite you to spend relaxing hours on board. Look forward to the spacious, partially covered sun deck with seating, which also serves as a storage space for bicycles. In total, the MS Olympia offers 49 comfortable outside cabins for max. 96 guests. On the main deck there are 21 two-bed cabins with a size of approx. 11 sqm, on the upper deck 22 two-bed cabins,
which are also approx. 11 sqm in size, as well as 4 larger cabins in the aft part of the ship (12 sqm). 3 of them are equipped with a double bed. In these cabins increased noises are perceptible during the journey. Here are also the 2 single cabins, which are about 9 square meters. All cabins have shower/WC, hairdryer, telephone, TV, individually regulated air conditioning/heating, refrigerator, safe and a panoramic window. The windows on the upper deck can be opened, all other windows cannot.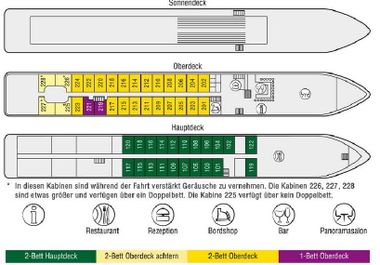 Individual arrival in Cologne. Embarkation from 4 pm.
Cycle to Bonn, a city that still has an international flair as the former capital. On the way there, if the weather is fine, you can take a detour to the "leisure island" of Groov, which is located in the extensive Rhine floodplains of the Cologne district of Porz-Zündorf.there is plenty to explore in Bonn. Museums such as the Haus der Geschichte and the Bundeskunsthalle vie for your attention, as do the Beethovenhaus, the Rheinaue leisure park and the Federal Quarter with the Path of Democracy.
You set off by bike in the direction of Andernach. On the way there, you can make a stop in Königswinter, where Drachenburg Castle is enthroned on the Drachenfels. Andernach is famous for the world's largest cold-water geyser. This offers an impressive spectacle, with water spraying up to 60 meters into the air. A spectacular natural phenomenon that is sure to remain in your memory.
During your cycle tour towards Koblenz, you will pass Neuwied, where the impressive Engers Castle is located. Here you will reach the famous Deutsches Eck, where the equestrian monument of Kaiser Wilhelm I watches over the point where the Moselle flows into the Rhine. Another remarkable sight is the Ehrenbreitstein Fortress. This fortress not only offers a fascinating history, but also a magnificent view of the surrounding area.
Your cycle tour takes you further downstream along the Rhine through the Upper Middle Rhine Valley. You will pass the picturesque Marksburg Castle, the only hilltop castle on the Middle Rhine that has never been destroyed. You will also pass the town of Boppard, where you can see the Electoral Castle. The imposing ruins of Rheinfels Castle, the largest castle ruin on the Rhine, await you in St. Goar. The Katz and Maus castles on the opposite side of the Rhine in St. Goarshausen are also worth a visit. The entire area is characterized by historic buildings that tell a rich history.
As you continue your cycle tour, you will once again pass beautiful Rhine castles. You cycle past the famous Loreley rock and finally reach Rüdesheim. Here you have the opportunity to get to know the historically significant sights of Rüdesheim. Alternatively, you can treat yourself to a ride on the cable car to the Niederwald monument. From there, you can enjoy a magnificent view of Rüdesheim's old town and the river.
On your last cycling stage, you pass Eltville am Rhein, where the Electoral Castle is located. Continuing on your route, you reach Mainz, your destination for today. Mainz impresses with numerous impressive buildings. Perhaps you would like to visit the High Cathedral of St. Martin in Mainz or explore the Electoral Palace. Charming alleyways and squares such as Augustinerstraße and the Kirschgarten await you in the old town. The city offers a rich variety of cultural and historical sights.
Disembarkation at 9 am after breakfast.
Program subject to change without notice. If, for example, a route cannot be sailed due to low water, high water or bad weather, the skipper reserves the right to change the route for your safety (this is not a reason for withdrawal free of charge).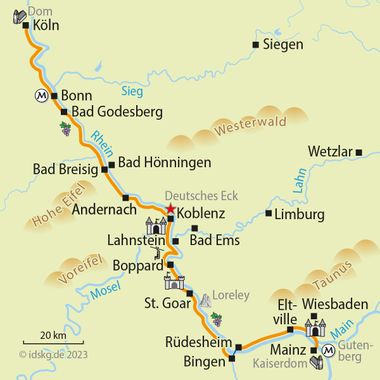 7 nights in outside cabins in the booked category
Full board: 7 x breakfast, 6 x packed lunch for bike tours or small lunch, 6 x coffee and cake in the afternoon, 7 x 3-course dinner
Program according to itinerary
All passenger and port fees
Welcome drink
Daily cabin cleaning, change of bed linen and towels as required
Maps for the individual tours 1 x per cabin
Daily bike route briefing
On-board tour guide
GPS data
Below you will find specific information about the bike and boat tour on the Rhine from Cologne to Mainz. If you have further questions about this trip, you simply call us: Phone: 06421 – 886890.
Arrival by train
Cologne is easily accessible from all major cities in Germany by train. All our partner hotels are located within easy access to the station. Current schedule information and price information can be found at: www.bahn.de.
Parking facilities in Cologne
Parking lot or parking garage Globus Parkgarage, guarded, only with advance reservation, approx. 6 km from the jetty in Cologne, costs approx. 109 - 134 € per week (as of May 2023).
Luggage
We recommend good rain gear, a bicycle helmet, sun hat and sports shoes. For reasons of space, we would like to ask you to refrain from carrying luggage with hard shells, the storage space in the cabin is very limited!
Condition of cycle paths
The route along the Rhine runs almost exclusively on asphalted and paved cycle paths and embankments or on quiet country roads without any significant gradients.
Available rental bikes
Smooth-running 7-speed unisex touring bikes and 8-speed e-bikes, each with handbrake, freewheel or coaster brake (limited availability, please specify as a non-binding customer request when booking) and pannier bag.
Velociped rental bikes
Own bikes
Due to the limited space available on the sun deck, it is only possible to bring your own bike on request and only to a limited extent.
Return journey to Cologne
You can travel by train from Cologne to Mainz in just over 2 - 3 hours for approx. € 25 - 45.
Subject to change
Subject to change. If a route cannot be travelled due to low or high water or bad weather, the skipper reserves the right to change the route for your safety. This is not a reason for cancellation free of charge.
Extra costs that are not included in the tour price
Arrival and departure, transfers, bike hire, optional excursions, entrance and sightseeing fees, city maps, insurance, tips and personal expenses.
7 day hotline service
Just in case the bike chain breaks, flooding makes it impossible to continue your tour or any other nasty surprise: You can reach us seven days a week and we will do anything to help you as fast as possible.
Passport and visa requirements
For EU citizens, there are no special passport or visa requirements and no health formalities to be considered for this trip.
Travel insurance
The tour price already includes the statutory insolvency insurance. In addition, we recommend that you take out travel cancellation insurance upon receipt of your travel confirmation in order to protect yourself against financial disadvantages in the event of travel cancellation, interruption of travel, illness or accident.
Velociped can withdraw from the tour twenty-one days before the starting date of the tour, at the latest, in case the minimum number of participants stated under the tour description is not attained. You will duly be informed without any delay in case of a withdrawal. Velociped will of course refund the paid tour price immediately. Please note our General Terms and Conditions.
You might also be interested in