Arrive a little earlier in Constance to visit its Old Town, you will not be disappointed! This is the place where the Council, fundamentally reorganized by the Catholic Church, met between 1414 and 1418 in the cathedrale and in the council building. Its most well-known victim was the Czech reformer Jan Hus, executed here in 1415. The aquariums of the Sea Life Center and the archaeological museum are also worth visiting.
Well-established bike trails guide your way out of Constance towards picturesque Swiss dishing villages. Always staying close to the lakeside of Lake Constance, you will reach Stein am Rhein. The great number of houses decorated with frescos and other, half-timbered houses will surely impress you. Until reaching Schaffhausen, you will continuously switch sides between Germany and Switzerland. In Schaffhausen, a walk around town is absolutely worthwhile. You will be impressed by the romantic, car-free narrow streets and places, the 171 bays as well as by the ornated middle-class houses.
A unique spectacle is the Rheinfall, the mightiest waterfall of Central Europe! A boat takes you to the Rheinfall rocks to witness the thunderous masses of water. But even more highlights are waiting for you today. Rheinau monastery, situated idyllically in a sinuosity, was for a long time the meeting point for mercenaries coming from all over Europe. You will then pass Kaiserstuhl, Switzerlands smallest town, and Bad Zurzach with its very modern brine baths. Later on, in Koblenz, you will cross the Rhine via Germanys oldest iron-made railway bridge. Finally, you will reach Waldshut-Tiengen, situated in the formerly Austrian territories in Southern Germany.
Another day with various highlights lies in front of you! Around noon, you will reach the town of Laufenburg, awarded for its exemplary public tidiness. After your break you will follow the course of the Rhine to Bad Säckingen. Marvel at the longest wooden bridge of Europe and visit the garbage museum. Just before Rheinfelden lies Beuggen castle, the former chair of the German order of knights.
our destination Basel will be reached by train to give you all the time you desire to visit the bishops chair and to dive into the rich history of the town still present nowadays in the medieval townscape. Basel is best to be discovered by foot. This concerns in particular the Old Town where many sights lie close to one another. Starting at the market place, it is best to follow the marked route in order to discover the beauty of the town in 90 minutes.
Todays route continues to the other direction. The Rhine and the bike trail following it turn northwards. Back Forest and Rhine seem come closer to each other again at the Isteiner Klotz. Level bike trails show you the way to Bad Bellingen in the Markgräfler Land, famous for its winegrowing, especially for the Gutedel. The landscape reminds of fairy tales and lies there in endless beauty in every season. The Markgräfler Land is characterized by the southern climate, idyllic vineyards, meadows, fields, orchards and forests. What a pleasure to be on a bike trip in this fantastic region! You will spend the night in Badenweiler, a town of very elegant flair. It is one of the spas with the most tradition in Europe.
Ever since the course of the Rhine has been artificially corrected in Napoleonic times, it flows dead straight through the landscape. To make your trip nevertheless a little more interesting, you will leave the river today to ride along the edge of the Black Forest where small spa towns and wealthy winegrowing villages complete the picture. Where the Höllental opens towards the Rhine, you can already perceive the tower of the Fribourg minster. The Old Town seems to spread a kind of magic attraction almost pulling you closer. It is now time to enjoy the town, former residence of the Zähringer sovereigns, with its numerous tiny water streams and the beautiful half-timbered houses. Let your day end with local delicacies and wine.
Your bike trip ends after breakfast. It is possible to prolong your stay.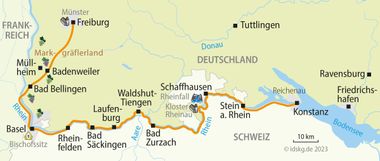 Accommodation incl. breakfast in hotels of the local 3 star category
Room with shower/bath/WC
Luggage transport
Boat trip to the Rhine Falls rock
Detailed route description
Map of bike trails with marked route
Tips for tour preparation
Touristic information
7 days hotline service
Please find more information about the bike tour Constance - Freiburg below. If you have any further questions feel free to contact us by phone: 0049 - (0)6421 - 886890.
Arrival by train
Constance is easily accessible from all major cities in Germany by train. We recommend to take a taxi from the station to get to our partner hotels in Konstanz. Current schedule information and price information can be found at:
Parking facilities at the hotel
There are free parking spaces on public roads, alternatively you can use public parking garages (Fischmarkt, Dammgasse, Lago, Altstadt, Benediktinerplatz - each approx. 10-25 EUR per day).
You can find free parking spaces on public roads.
A few hotels have paid parking spaces, details can be found in the travel documents.
It is also possible to park the car in a fenced parking lot for the duration of the bike tour (costs: EUR 45 per trip / per car). Reservation through Velociped is required.
Condition of cycle paths
You cycle on mostly flat cycle paths or separate cycle lanes. The last two stages are much more hilly; from time to time small climbs have to be mastered.
Trip with children: Due to the more demanding stages, we only recommend the trip for young people with good stamina.
Available rental bikes
27-speed touring bikes with derailleur gears (unisex) are available. Men's bikes can be booked from 1.75 m tall. 8-speed electric bicycles with freewheel can also be booked. All bikes are equipped with speedometers and handlebar bags.
Transfer back to the starting point
Back to Constance you can travel by train on your own. Trains leave every hour (duration 2,5 - 3 hours). For more information please visit the following website:
Currencies in Switzerland
For Switzerland, it is advisable to exchange it in swiss franc (Franken), although you can pay in euros. Swiss franc can be conveniently withdrawn from the ATM using an EC or credit card.
Extra costs which are not inculded in the price
A possibly applicable city tax is not part of the price and has to be paid at the hotel locally.
Die Bahnfahrt Rheinfelden – Basel inkl. Rad ist nicht im Reisepreis enhalten (Kosten ca. 8 Euro pro Person inkl. Rad).
7 days hotline service
Just in case the bike chain is broken, flooding makes it impossible to continue your tour or any other nasty surprise: you can reach us seven days a week and we will do anything to help you as fast as possible.
Passport and visa requirements
For EU citizens, there are no special passport or visa requirements and no health formalities to be considered for this trip.
Travel insurance
The tour price already includes the statutory insolvency insurance. In addition, we recommend that you take out travel cancellation insurance upon receipt of your travel confirmation in order to protect yourself against financial disadvantages in the event of travel cancellation, interruption of travel, illness or accident.
You might also be interested in