Don't hesitate to arrive early; the city of Munich is definitely worth being visited! There are varius places of interest like the "Englischer Garten", the "Hofbräuhaus" or the town-hall. More information can be requested at the hotel where the bikes are handed over.
A great biking day with lots of lakes! Riding through Forstenrieder Park you reach Starnberg, and then roll along the shore of the dark blue lake. Following beautiful paths along the Osterseen and Riegsee, Murnau at the Staffelsee will be reached. An additional night at the Starnberger See can be booked.
Today you will cross the largest bog area of central Europe! What a great variety of landscapes! Through untouched nature you follow the river Loisach to Garmisch Partenkirchen. Arriving early, taking a trip with the Zugspitzbahn in 2962 metres height is really worthwhile, as it is rewarded with a tremendous view over the Alps.
After a hearty breakfast, you will first cycle via Klais to the beautiful Barmsee. Then you have the option of cycling directly to Wallgau or taking a detour via Mittenwald and Scharnitz to the source of the Isar. Up to Scharnitz you will cover a total of approx. 300 metres in altitude. Now the adventure begins: Slightly uphill the trail leads through wild and romantic canyons and juicy mountain pastures to the source of the Isar. Through the sunny valleys offering a magnificent panorama view over Karwendel- and Wetterstein mountains you will reach Wallgau via Mittenwald. In Wallgau Bavarian traditions are still held up.
It is like in a movie: Past the Isarwinkel along the crystal-clear, turquoise and blue water you will reach the impressing Sylvensteinsee to continue to Bad Tölz via Lenggries. Looking for "Der Bulle von Tölz" you will explore the picturesque old town with richly decorated facades, quaint inns and attractive shops.
A wonderful day of cycling or rather a completely relaxed day of rest? Just as you like! You either cycle through the charming Tegernsee countryside to Gmund am Tegernsee with a magnificent lake panorama or you spend a quiet day in beautiful Bad Tölz.
The Isar bike trail will accompany you today. The green Isar with its white pebble banks and the excellent view over the Alps will make your heart rejoice. The landscape will become more and more charming today: Gentle hills and onion-shaped church towers line your way to the suburbs of Munich.
We are happy to book additional nights for you in order for you to explore Munichs beautiful city centre.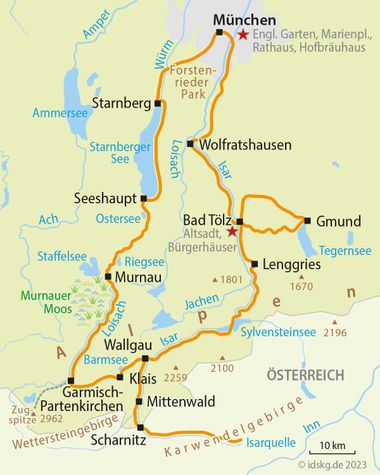 Overnight stay with breakfast
Room with shower/bath/WC
Luggage transport
Personal tour information on site
1 x Weißwurst breakfast
Cycling map with marked route
Digital route guidance via smartphone app
Tips for trip preparation
Rental bike insurance
7-day hotline service
ATTENTION: During trade fairs you have to reckon with surcharges for overnight stays in Munich. We will inform you of the amount of the surcharge on request.
Below you will find detailed information about the Munich lakes. If you have any further questions about this trip, please call us: Tel .: 06421 - 886890.
Arrival by train
München is easily accessible from all major cities in Germany by train. Our partner hotel can be reached from the station by taxi or in about 30 minutes by public transportation (subway). Current schedule information and price information can be found at:
Parking facilities at the hotel
Parking garage in Munich approx. € 49, - for 8 days, approx. 59, - for 10 days (payable locally, no reservation possible). Detailed information on parking at your hotel, you will receive together with the detailed travel documents two weeks prior to departure.
Condition of cycle paths
Easy tour. A few short climbs can also be conquered by pushing. You cycle on beautiful bike trails and small roads, on main roads only for short distances. Mostly you bike on paved path only some sections are on dirt roads.
Available rental bikes
You can choose between woman's and men's bicycles with 21-speed gear shift and freewheel or unisex-bikes with 7-speed gear shift and coaster brake or electric bikes (unisex).
Munich Trade fair
Please note: At trade fairs, you have to reckon with supplements for your overnight stay in Munich. The amount of the surcharge will be communicated to you on request.
Extra costs which are not inculded
A possibly applicable city tax is not included and has to be paid at the hotel locally.
7 days hotline service
Just in case the bike chain breaks, flooding makes it impossible to continue your tour or any other nasty surprise: You can reach us seven days a week and we will do anything to help you as fast as possible.
Passport and visa requirements
For EU citizens, there are no special passport or visa requirements and no health formalities to be considered for this trip.
Travel insurance
The tour price already includes the statutory insolvency insurance. In addition, we recommend that you take out travel cancellation insurance upon receipt of your travel confirmation in order to protect yourself against financial disadvantages in the event of travel cancellation, interruption of travel, illness or accident.
You might also be interested in