Your Hotel
MAREMÜRITZ Yachthafen Resort
The MAREMÜRITZ Yachthafen Resort awaits you with 184 high-quality vacation apartments including underground parking, restaurant as well as SPA and wellness facilities. The hotel is located south of the city of Waren. The 51-62 sqm apartments are stylishly furnished and each equipped with living and dining area, bathroom and private balcony.
MAREMÜRITZ Yachthafen Resort
Waren, your vacation destination for the next few days, awaits you with the largest freshwater aquarium in Germany, typical Nordic brick buildings and a picturesque old town. Take a short walk through the town on your first day and let the atmosphere take effect on you.
Today you will experience two of the proverbial thousand lakes of the Mecklenburg Lake District. You cycle through extensive pine forests to the bison reserve Damerower Werder. The picturesque towns of Klink, Malchow and Damerow also await your visit.
On your bike tour through the Müritz National Park today, keep an eye out for white-tailed or golden eagles. With a little luck, you can watch these majestic animals in flight. Here in the National Park, nature can develop on its own almost without any influence from humans. From Boek you enjoy the return trip to Waren by ship and let the impressions from the national park still work on you. Alternatively, you can cycle back to Waren from Röbel.
Today your bike tour leads you to the Torgelower Lake in the same protected landscape area. You cycle through areas with gnarled oaks and beeches. Cormorants have settled on an island in the lake. Visit the Torgelow manor house, which bears witness to human architecture. In the fieldstone church of the village Groß Gievitz you have the opportunity to admire wall paintings from the 13th century.
The Müritz is the largest inland lake located exclusively in Germany. Today's tour awaits you with half-timbered and brick buildings. You will visit the towns of Rechlin, Ludorf, Röbel and Klink and enjoy the last day of cycling during your trip to the Mecklenburg Lake District. If you like, you can board a ship in Röbel and sail comfortably back to Waren.
Today your relaxing bike tour ends after breakfast at the hotel. We would be happy to book an extension for you.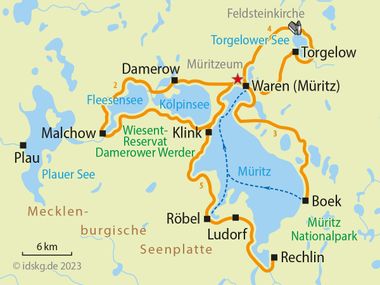 5 nights with breakfast in the booked category
Room with shower/bath/WC
Welcome drink
Personal welcome and tour breefing on site
1 boat trip from Boek via Röbel to Waren
1 multi-course dinner
10 % discount on all wellness treatments (only category A)
Müritz rallybooklet
Digital route guidance via smartphone app
Tips for tour preparation
Touristic information
7 days hotline service
Below you will find specific information about Mecklenburg Lakes and Müritz National Park: Star Bike Tour. If you have any further questions about this trip, just give us a call: Tel.: 06421 - 886890.
Arrival by train
Waren can be easily reached by train from all major cities in Germany. You can find timetable and price information at:
Parking at the hotel
A limited number of parking spaces are available at the hotel (for a fee).
Detailed information on parking facilities at the hotel booked for you will be sent to you with the detailed travel documents two weeks before the start of your trip.
Condition of the cycle paths
Good signposting, 80 - 90 % on developed cycle paths and side roads with little traffic. It is rather rare to cycle on footpaths and country lanes.
Available rental bikes
You can choose between 7-speed bikes with coaster brake or 21-speed gear bikes with shift and freewheel (bith uniswx and men's bikes). All unisex bikes have a low opening that makes mounting and dismounting much easier. Furthermore, 8-speed e-bikes with coaster brake (all unisex) are available on request. You simply indicate your bike wish when booking.
Extra costs, which are not included in the travel price
A possible tourist tax is not part of the travel price and therefore to be paid at the hotel on site.
7 days hotline service
If the bicycle chain is broken, floods make it impossible to continue your journey or other nasty surprises are waiting for you: We are available for you 7 days a week and organize help as quickly as possible.
Passport and visa requirements
For EU citizens, there are no special passport or visa requirements and no health formalities to be considered for this trip.
Travel insurance
The tour price already includes the statutory insolvency insurance. In addition, we recommend that you take out travel cancellation insurance upon receipt of your travel confirmation in order to protect yourself against financial disadvantages in the event of travel cancellation, interruption of travel, illness or accident.
You might also be interested in