Originally, the MS Allure was a Dutch river cruiser, completely redesigned for its service along the Main. Its 10 cabins are equipped with two seperated beds,
bathroom, toilet and shower, the bulleyes can be opened an aircondition on the alley cools the cabins, too.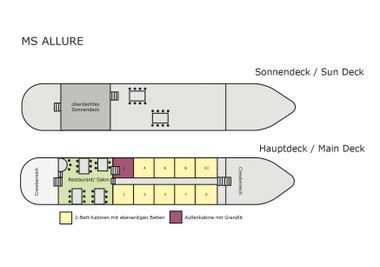 Your individual arrival and embarkation are planned from 4 pm in Aschaffenburg, where you will spend the night today. This city lies at the foot of the Spessart and, with its 70,000 inhabitants, offers a tranquil atmosphere. Aschaffenburg boasts a number of magnificent buildings along the River Main. Particularly noteworthy is Johannisburg Castle, an imposing Renaissance building made of red coloured sandstone, which is one of the most important and beautiful in Germany.
King Ludwig I praised the town's pleasant climate and described it as the "Bavarian Nice". Aschaffenburg is home to numerous wine bars, cosy cafés and traditional inns that invite you to linger.
Until shortly before Bürgstadt/Miltenberg, you have the option of cycling on either the right or left side of the Main. The floodplain forest between Nilkheim and Niedernheim offers a pleasant cycling route in summer. From Kleinwallstadt to Erlenbach, you will be accompanied by the "Planet Cycle Path", which provides information about astronomical objects. On your way along the Main, you will find numerous benches and rest areas that are ideal for relaxing or even swimming.
Today your ship is anchored in Freudenberg, only about 10 kilometres from Miltenberg. On a foothill of the Franconian Odenwald, Freudenburg Castle rises high above the Main and the town of Freudenberg, offering an impressive sight
While you enjoy a leisurely breakfast, the MS ALLURE will take you to Wertheim. In this town, which has retained its charm as a small Franconian town, you begin today's cycle tour through the characteristic Main landscape. The route to Lohr has numerous sights to offer, including the impressive old town of Lohr with its historic buildings and traditional Franconian half-timbered style.
Early in the morning, you continue your journey by boat, pass Gemünden and reach Karlstadt, where you change to your bikes. Explore the over 800-year-old buildings in the old town centre surrounded by walls, towers and gates. You then cycle leisurely to Würzburg, where you will meet up with the MS ALLURE again in the afternoon. Take the opportunity to visit the Würzburg Residence, which has been a UNESCO World Heritage Site since 1981, or enjoy the marvellous view from the Marienberg Fortress.
Your cycle tour takes you along the Main cycle path from Würzburg through the fertile landscape of the Ochsenfurther Gau to Ochsenfurt. Here you can admire the Lanzentürmchen tower, which is well worth seeing. The route continues via the historic town of Marktbreit, which impresses with its magnificent town houses, until you reach Kitzingen. In this town, wine culture takes centre stage and invites you to enjoy a delightful exploration.
Today's cycle tour takes you via the wine village of Dettelbach, where you have the option of leaving the ship and shortening the cycle tour. From there, you cycle on to Schwarzach am Main and then continue your route, first to Volkach. Here we recommend a visit to the pilgrimage church of St Maria im Weingarten. You then continue your journey to Fahr, where you will be greeted by a welcome sign in the shape of a Bocksbeutel. Continue along the Volkacher Mainschleife, where the valley narrows and the vineyards become more numerous, until you finally reach Schweinfurt.
In the morning, you continue your journey by boat and reach Haßfurt. From there, you cycle on via Zeil am Main, which is located right at the interface between wine and beer Franconia, until you finally reach Bamberg. This city was built on seven hills and is often called the "Franconian Rome" because of this characteristic. You have the opportunity to experience the fascination of this UNESCO World Heritage Site. Particularly worth seeing is the "Little Venice" fishermen's quarter, a row of 17th-century houses, and a visit to Bamberg should definitely include a cold beer. There are still eleven independent breweries in the city that keep the beer tradition alive.
Disembarkation after breakfast by 9 am and individual journey home.
Subject to change. If a route cannot be navigated due to low or high tide or bad weather, the skipper reserves the right to change the route for your safety. This is not a free cancellation reason.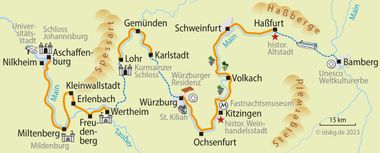 Cabin on the MS Allure
Full board (7 x breakfast, 6 x packed lunch, 7 x dinner)
Coffee and tea daily
Welcome drink
Cleaning of cabins as needed
Bed linen and towels supplied and changed as needed
All harbour, bridge and lock fees
Daily Routing discussion, guided cycling tours
Pre-travel documents (1x per cabin)
Below you will find specific information about this bike tour. If you have any further questions about this trip, simply give us a call: Tel.: 06421 - 886890.
Arrival in Aschaffenburg:
Aschaffenburg main station is approx. 1 km away from the pier (Mainufer). You will receive precise information on the location of the ship with the detailed travel documents no later than two weeks before the start of the trip.
Parking in Aschaffenburg
In Aschaffenburg, we recommend parking your car in the public car park Luitpoldstraße , the cost is around €10 per day (as of 2022). From here you can reach the landing stage in a few minutes on foot.
Embarkment
Embarkation on the MS Allure in Aschaffenburg takes place at 4:00 p.m.
Luggage
We recommend good rain gear, a bicycle helmet, sun hat and sports shoes. For reasons of space, we would like to ask you to refrain from carrying luggage with hard shells, the storage space in the cabin is very limited!
Condition of the bike paths
As the first cycle route in Germany, the Main cycle route was awarded five stars by the ADFC in 2008. Important criteria for this award were the almost continuous asphalting and the almost car-free routing. The consistently signposted cycle path usually runs along the banks of the Main and has no significant inclines.
Available rental bikes
So-called unisex bikes are available as rental bikes (suitable for men and women). They all have the 7-speed hub gear and freewheel and are available in different frame sizes. Electric bikes can also be provided on request. Please state your height when booking.
Due to the limited space, taking your own bikes with you is only possible on request and only to a limited extent.
Own bikes
Due to the limited space, taking your own bikes with you is only possible on request and only to a limited extent.
Return to the starting point
The train takes you to Aschaffenburg in just over 2 hours for around € 25.
Changes
Subject to change. If a route cannot be navigated due to low or high tide or bad weather, the skipper reserves the right to change the route for your safety. This is not a free cancellation reason.
Extra costs which are not included in the tour price
Arrival and departure, transfers, rental bike, optional excursions, entrance and sightseeing fees, city maps, insurance, tips and personal expenses.
7 day hotline service
If the bicycle chain has broken, flooding makes it impossible to continue your journey or other nasty surprises await you: we are available for you 7 days a week and will organize help as quickly as possible.
Passport and visa requirements
For EU citizens, there are no special passport or visa requirements and no health formalities to be considered for this trip.
Travel insurance
The tour price already includes the statutory insolvency insurance. In addition, we recommend that you take out travel cancellation insurance upon receipt of your travel confirmation in order to protect yourself against financial disadvantages in the event of travel cancellation, interruption of travel, illness or accident.
Velociped can withdraw from the tour twenty-one days before the starting date of the tour, at the latest, in case the minimum number of participants stated under the tour description is not attained. You will duly be informed without any delay in case of a withdrawal. Velociped will of course refund the paid tour price immediately. Please note our General Terms and Conditions.
You might also be interested in