Your Hotel
Landhotel Schnuck
The Landhotel Schnuck was opened in 1992 and significantly modernized in autumn 2016, many of the 130 rooms and bathrooms were completely renovated, the hall and entrance area were made more elegant, the bar area was rebuilt and, above all, a new à la carte restaurant was opened - ideal for holidaymakers who want to spend a relaxing or sporty time in the beautiful Lüneburg Heath. The hotel is a central starting point for leisure and sports activities in the surrounding area. The 130 tastefully decorated rooms have upscale furnishings and, of course, free W-LAN.
Larger accommodation is available for families of up to 5 people. In addition to the "Findlinger" restaurant, visitors to the hotel can also enjoy the '55' restaurant, which serves culinary delights at lunchtime and in the evening. For sporty leisure activities, there is a spinning room, several tennis courts and a bowling alley. The spacious wellness area with sauna, steam bath, relaxation zone and indoor pool with counter-current system is complemented by a beauty salon with a range of cosmetic treatments and massages.
Look forward to Schneverdingen! You will find heather and juniper bushes, cozy tranquility and merry bustle, tradition, art and culture.
Just a few kilometers you cycle, than already there is a sign "Welcome to the jewel in the Heath, welcome to the Forest Adventure Ehrhorn". Ehrhorn is a small forest settlement and former farmstead, which is now over 300 years old. The loose ensemble of various buildings is grouped under thick oak trees around the village square. Center is the exhibition space, which emerged as part of the World Exhibition EXPO 2000. Enjoy the peace and serenity of the place and go on an expedition. Explore on your own or with the assistance of the ant-lion "Wezi" the 3.5 km long trail, watch in a large "Formicarium" ants at work and take a look in the "insect village Ehrhorn". After rewarding break you cycle through forest and heath areas to Niederhaverbeck and from there through the valley of Haverbeeke back to Schneverdingen.
Today you cycle through the valley of the Veerse to the watermill in Lünzen. Marvel at the historic mill, which was first mentioned in 1587. Only in 1979, the last tenant stopped with the milling. Today the mill technology is fully obtained with a functioning water wheel. Then you will cycle to the municipality of Fintel, where an attractive tour through the typical heath village is offered. From here you cycle back along the Haswede and Osterwede to Schneverdingen.
Comfortably start your day because the train will take you in only 15 minutes to Soltau. Look forward to the remarkable City Hall and the Museum of Games. With one of the best toy collections in the world and many interactive games the museum is an attraction for young and old alike. Through Wieheholz you will cycle through the southern Osterheide to the courtyard Möhr, a heath farm that was cultivated until 1977. Stroll through the beautiful cottage garden and discover original fruit on the large orchard. Follow the trail "De Uhlenstieg" and discover valuable old trees. Through the wide forest area of Böhmheide you cycle back to the hotel.
Today you can visit a heather garden of superlatives. Approximately 120,000 plants and around 130 different kinds of heath have their place here and present throughout the year its impressive splendor. On the southern edge of the protected landscape Höpener Heide and Höpener Mountain, just minutes from the center of Schneverdingen, in front of an old sheepfold is this particularly magnificent heather garden located. Marvel at the meticulously and lovingly crafted Rondell, where around 80,000 garden heath plants grow. Get an overview of the plants and flowers from the observation deck and marvel at the surrounding landscape conservation area Höpen with its own special seasonal charms. Large heaths with distinctive juniper trees, forest islands, beehives and grazing moorland characterize the face of the beautiful countryside.
Time is flying. For all Heath fans who still want to stay, we are happy to extend your stay in Schneverdingen.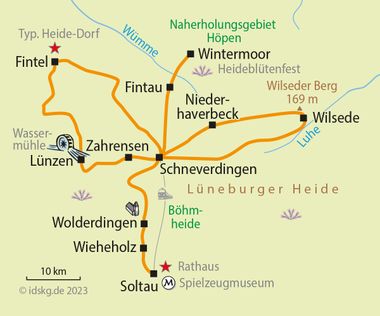 - Overnight stay with breakfast
- Room with shower and WC
- Luggage transport
- cycling map with marked route
- Digital route guidance via smartphone app
- Tips for trip preparation
- Tourist information
- 7-day hotline service
5 nights with breakfast buffet in the comfortable Landhotel Schnuck
Digital information talk
1 x dinner with severals courses
1 x train ride Schneverdingen – Soltau incl. bike
One-time 5 ,- € discount on carriage rides through the heather
Below you will find specific information about the Lüneburg Heath and surroundings. If you have further questions about this trip, you simply call us: Phone: 06421 – 886890.
Arrival by train
Lüneburg is easily accessible from Bremen by train. We recommend to take a taxi from the station to get to our partner hotels in Lüneburg. Current schedule information and price information can be found at:
Parking facilities at the hotel
You can park your car in the underground garage for the duration of the journey. The cost is about 12 euros per day. Reservation is not possible, parking is subject to availability. Free parking is available in the surrounding area. Detailed information about the parking facilities is available with the travel documents approx. 2 weeks before arrival.
Condition of cycle paths
Easy to moderate. The route runs mostly on farm roads and small roads and bike paths. On the way, you will sometimes encounter slightly hilly, unpaved forest roads, occasionally sand paths.
Available rental bikes
You can choose between unisex and men's bicycles either with 7-speed gear shift and coaster brake (not recommended due to the route) or 21-speed gear shift and freewheel as well al electric bikes (unisex). You simply specify your wishes at time of booking.
Tourinformation and bike rental
On the day of arrival the information meeting (2023: only in German, 2024: in German and English) takes place in the start hotel. Here also rented bicycles are handed out.
Individual departure dates
From at least 4 persons special dates are available on request.
Costs which are not included in the travel price
A possibly resulting tourist tax is not part of the travel price and has to be paid in the hotel locally.
7 day hotline service
Just in case the bike chain breaks, flooding makes it impossible to continue your tour or any other nasty surprise: You can reach us seven days a week and we will do anything to help you as fast as possible.
Passport and visa requirements
For EU citizens, there are no special passport or visa requirements and no health formalities to be considered for this trip.
Travel insurance
The tour price already includes the statutory insolvency insurance. In addition, we recommend that you take out travel cancellation insurance upon receipt of your travel confirmation in order to protect yourself against financial disadvantages in the event of travel cancellation, interruption of travel, illness or accident.
You might also be interested in