We recommend arriving early to have the time to visit the source of this major river.
Lets get on our bikes at last! Full of energy you will get to know the "Baar", a very unique landscape. We suggest a side trip to the Entenburg castle in Pfohren before it gets exciting in Immendingen: For the most part of the year, the small Danube disappears in the porous limestone! Instead of mouthing into the Black Sea as documented by the maps, the masses of water pass by Lake Constance and reach the North Sea via the Rhine River. A unique spectacle of nature! After a well-deserved break you can roll comfortably down the narrow valley of the Swabian Alb to Mühlheim.
The most exciting part of your trip lies ahead of you now: the Danube gorge! Between Fridingen and Beuron all there is is the most beautiful landscape, the bike trail and the cyclists. You will pass in between towering lime stone rocks and reach Sigmaringen, the former capital of the correspondent principality, in no time. The Residenzschloss is still inhabited today and can be visited on a guided tour.
A day of castles and monasteries. The Danube takes you to Zwiefaltendorf with its beautiful moated castle. Worthwhile is also a trip to the Benedictine monastery Zwiefalten with its beautiful Baroque and Rococo architecture. In Obermarchtal awaits the next Baroque monastery, this time the Premonstratensian.
Today you can visit great attractions. Follow the young Danube to Ulm (55 km) or be seduced by an idyllic drive through the Blautal to Blaubeuren. Behind the monastery is the famous Blautopf, a strong karst spring and the beginning of a large cave system. From here you follow the blue, while you accompany medieval castles and ruins to the Swabian-Bavarian twin city of Ulm. Marvel at the highest church tower in the world on a city tour and stroll through the picturesque fishing and tanning district with its crooked half-timbered houses.
Individual departure or extension of your trip along the Danube to Passau.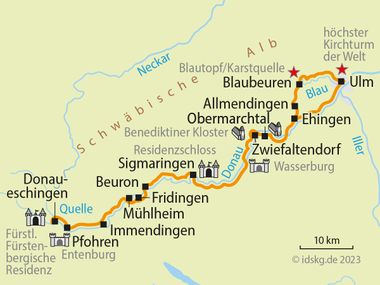 Accommodation incl. breakfast in hotels of the local 3 star category
Room with shower/bath/WC
Luggage transport
Guided tour of Sigmaringen castle
Admission to the Münsterturm Ulm
Detailed route description
Map of bike trails with marked route
Tips for tour preparation
Touristic information
7 days hotline service
Below you will find specific information about the German Danube: Source to Ulm. If you have further questions about this trip, you simply call us: Phone: 06421 – 886890.
Arrival by train
Donauschingen is easily accessible from all major cities in Germany by train. We recommend to take a taxi from the station to get to our partner hotels in Donauschingen. Current schedule information and price information can be found at: www.bahn.de.
Parking facilities at the hotel
Our partner hotels in Donauschingen always provide parking possibilities for the entire duration of your bike trip, sometimes even for free. No pre-reservation is necessary. Detailed information on parking at your hotel, you will receive together with the detailed travel documents two weeks prior to departure.
Condition of cycle paths
You cycle mostly on flat and paved bike trails. Between Mülheim and Sigmaringen there are some sections on dirt tracks. There are short uphill climbs brief in Mülheim, Beuron and Munderkingen.
Available rental bikes
If you choose to rent a velocipede-rental bike for the tour, we take it to your first hotel and pick it up at your destination. You can choose between woman's and men's bicycles either with 8-speed gear shift and coaster brake or 27-speed gear shift and freewheel or electric bikes. All ladies' bikes have a low opening that makes mounting and dismounting much easier. The bikes are suitable for all ladies from 150 cm in height and for all gentlemen from 165 cm in height. You simply specify your wishes at time of booking.
Transfer back to the starting point of the journey
Sundays there is the possibility to transfer back to Donaueschingen with a small bus (with bike trailer). The driver comes to pick you up at your hotel around 09:00 am and has much room for you, your luggage and where required your own bicycle. The bus takes you back to your first hotel, thus ensuring a perfect return service without transfer and the hassle of hauling luggage.
Extra costs which are not included in the price
A possibly applicable tourism tax is not part of the travel price and therefore has to be paid at the hotel locally.
7 day hotline service
Just in case the bike chain breaks, flooding makes it impossible to continue your tour or any other nasty surprise: You can reach us seven days a week and we will do anything to help you as fast as possible.
Passport and visa requirements
For EU citizens, there are no special passport or visa requirements and no health formalities to be considered for this trip.
Travel insurance
The tour price already includes the statutory insolvency insurance. In addition, we recommend that you take out travel cancellation insurance upon receipt of your travel confirmation in order to protect yourself against financial disadvantages in the event of travel cancellation, interruption of travel, illness or accident.
You might also be interested in