Look forward to the Bavarian-Swabian Danube pearl on the Romantic Road and to a romantic stroll through the former Free Imperial City, whose town houses proudly present their neat gables.
Marvel at Bertoldsheim Castle and Stepperg Castle. The highlight of the day is Neuburg, where the most beautiful Renaissance castle on the Danube awaits your visit. Afterwards you cycle through large wooded areas to Ingolstadt, where the old town with its medieval city wall beckons.
Today you follow the Danube Cycle Path to Neustadt and on through hop fields to Bad Gögging. The town actively cultivates its ancient traditions and offers numerous wellness options with its natural moor, sulphur and mineral thermal waters. In Abensberg, you will be tempted by the lovably renovated historic old town. Don't miss the beer garden of the Kuchlbauer brewery with its Hundertwasser tower!
Today you cycle to Weltenburg Abbey. Marvel at the Benedictine abbey, which is one of the most beautiful monasteries in Bavaria, and taste the local specialities in the monastery's own beer garden. A special natural spectacle awaits you on the trip through the Danube bridge by boat (6 km) - certainly a unique experience. Today's stage destination is Regensburg, probably the best-preserved major German city, which is a UNESCO World Heritage Site!
Look forward to a rest in Donaustauf and visit the Valhalla, a replica of the Pantheon. Roll leisurely through the wide Danube plain past Wörth Castle to Straubing with its striking city tower.
Today you cycle through Bogen, which gained fame because of its pregnant Madonna found in 1104. Afterwards, you cycle leisurely to the Benedictine Abbey of Metten before reaching Deggendorf, the gateway to the Bavarian Forest. Look forward to a city tour, as Gothic and Baroque characterise the beautiful old town.
On your last cycling stage, you will be amazed by Niederaltaich Monastery, which has been in flames 13 times over the course of time, and the three-river city of Passau. On a boat trip across the Danube, Inn and Ilz, you will discover the city from many sides. What a wonderful finale!
Perhaps you will have time for a stroll through the old town today to visit the cathedral with the largest church organ in the world. Your cycling tour ends after breakfast at the hotel.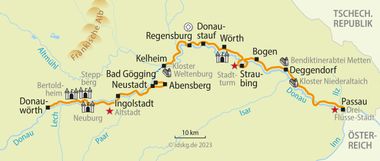 Accommodation incl. breakfast in hotels of the local 3 star category
Room with shower/bath/WC
Luggage transport
Admission to Museum Mobile in Ingolstadt
Boat trip Weltenburg Monastery - Kelheim incl. bike
Detailed route description
Map of bike trails with marked route
Tips for tour preparation
Touristic information
7 days hotline service
Below you will find specific information on the cycle tour German Danube: Donauwörth - Passau. If you have any further questions about this tour, please do not hesitate to call us: Tel: 06421 - 886890
Arrival by train
Donauwörth and Wörnitzstein are easy to reach by train from all major cities in Germany. The best way to reach our partner hotels in Donauwörth from the station is to take a short taxi ride. You can find up-to-date timetable information and price information very conveniently at www.bahn.de.
Parking facilities at the starting hotel
Donauwörth: parking garage at the Ried, approx. 5 € per day.
Wörnitzstein: free public parking, approx. 600 m from the starting hotel.
Occasionally there are also paid parking spaces available at the partner hotels, no reservation possible.
You will receive detailed information about the parking facilities at the hotel booked for you with the detailed travel documents two weeks before the start of your trip.
Condition of the cycle paths
You cycle largely on level asphalt cycle paths. There are also longer stretches on compacted earth paths, small sections run through forest, and there are rarely short stretches on roads with less or more traffic.
Available rental bikes
8-speed touring bikes hub gears (unisex) with coaster brake or 27-speed touring bikes derailleur gears (unisex) are available. Men's bikes can be booked from 1.75 m in height. All bikes are equipped with speedometers and handlebar bags. Electric bikes with freewheel, hub gears are available on request.
Extra costs not included in the tour price
A possible tourism tax is not part of the tour price and therefore has to be paid at the hotel on site.
7-day hotline service
If the bicycle chain is broken, flooding makes it impossible to continue your journey or other nasty surprises await you: We are available 7 days a week and will organise help as quickly as possible.
Passport and visa requirements
For EU citizens, there are no special passport or visa requirements and no health formalities to be considered for this trip.
Travel insurance
The tour price already includes the statutory insolvency insurance. In addition, we recommend that you take out travel cancellation insurance upon receipt of your travel confirmation in order to protect yourself against financial disadvantages in the event of travel cancellation, interruption of travel, illness or accident.
You might also be interested in