Look forward to Meppen and arrive early. Walk around the old town on the completely preserved city fortification ring.
Your bike tour starts idyllically with a bike stage through the nature reserve Borkener Paradies. The approximately 30 ha large protected area is surrounded by an oxbow lake of the Ems. Marvel at the old Hutel landscape, flooded floodplain forests, large pastures and imposing old oaks. Look forward to the skipper town Haren. Visit the Emsland Cathedral in Haren and enjoy the maritime and nostalgic flair of the museum harbor. On your way to Papenburg, make a short detour to the Transrapid test track. It was a test site for the Transrapid magnetic levitation train with a 31.8-kilometer test track. In the future, a center for electromobility is to be built on the site, which is now closed down. In the afternoon, stroll through the beautiful center of Papenburg, whose Meyer Werft shipyard is known worldwide for building cruise ships. The city center presents itself extremely neatly with idyllic canals, the wooden bascule and swing bridges and many old sailing ships.
Entdecken Sie auf Ihrer heutigen Etappe das imposante Schloss Clemenswerth. Die aus einem zentralen Hauptschloss und acht Pavillons bestehende Anlage gehört zu den Hauptwerken des westfälisch geprägten Barock. In den Jahren 1737-1747 ließ sich Kurfürst Clemens August dieses Jagdschloss erbauen. Die einzelnen Pavillons um das eigentliche Schloss tragen die Namen des Kurfürsten seiner Bistümer: Köln, Münster, Paderborn, Hildesheim, Osnabrück und des Deutschordenssitzes Mergentheim. Noch wesentlich ältere Baukunst entdecken Sie auf dem Rad am weiteren Wegesrand. Staunen Sie über die mehr als 5000 Jahre alte Megalithgräber. Am Nachmittag erreichen Sie Haselünne, die älteste Stadt im Herzen des Emslandes. Die alte Korn- und Hansestadt Haselünne war bereits im Mittelalter berühmt. Schon vor 1272 erhielt sie Stadtrechte. Bereits 1749 gab es in Haselünne 26 Brennereien. Noch heute können Sie in drei verschiedenen Brennereien die Kunst des Kornbrennens beobachten. Bummeln Sie durch die historische Innenstadt und genießen Sie einen entspannten Abend in Haselünne.
Between well-kept farms, lovingly restored half-timbered houses, water mills, meadows and forests you cycle today from village to village. Idyllically situated in a small forest near Lengerich is Ramings Mühle, a water mill built in 1550 with a bakehouse. In Lengerich itself, it's worth taking a look at the Protestant Reformed Church, which features murals from the 16th century inside. Quietly and comfortably you spend the night today in Spelle in the southern Emsland.
Adding even more color to your bike tour today is Emsflower in Emsbüren. The Emsflower experience park offers interesting insights behind the scenes of Europe's largest bedding plant nursery. Over 300 million plants leave the greenhouses in Emsbüren every year! Be amazed by the automated production processes, stroll through the adjacent tropical garden, discover exotic animals and hundreds of free-flying butterflies in the butterfly garden. Emsbüren also offers an open-air museum worth seeing, which provides deep insights into the working and living culture of the old Emslanders. After a worthwhile break you cycle to Lingen. The university and fortress town awaits you with historic buildings from different eras and a traffic-calmed city center.
The last stage is the shortest - there is plenty of time for a worthwhile detour to the Emsland Moormuseum. The 800 m² exhibition provides information about the working and living conditions at that time and shows the development of peat extraction from its beginnings to industrial peat extraction. The 30 ha outdoor area of the Emsland Moormuseum offers a denatured raised bog. The area is accessible via grass paths, boardwalks and an approx. 3 km long field railway track. On the raised bog area, several information sites provide information about the flora and fauna of the bogs, renaturation of bogs and the importance of the bogs for the climate. Also visit the settlers' farm with stables, the pretty cottage garden and the Archehof, where Bentheimer Landschafe, the Bunte Bentheimer pig, Westphalian Totlegerhühner and Diepholzer geese feel at home. Round off your visit with a stop at the museum restaurant, where the products produced in the Emsland Moormuseum to the greatest possible extent according to ecological standards are offered. Thus strengthened, the last kilometers to Meppen are quickly cycled. Let your journey come to a relaxed end here and stroll through the listed cul-de-sac, at the end of which stands Meppen's oldest town house, some of whose timbers date back to 1561.
After breakfast your beautiful round trip through the flat and wide Emsland ends.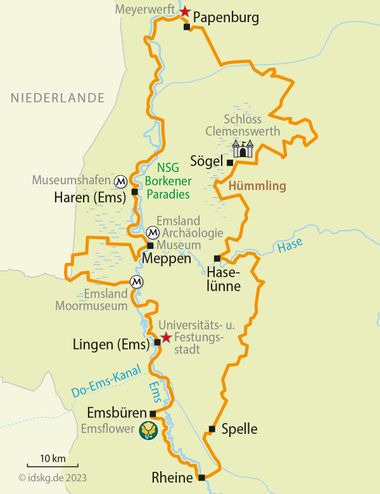 - Overnight stays with breakfast
- Room with bath/WC
- Luggage transport
- cycling map with marked route
- Digital route guidance via app
- Tips for trip preparation
- Tourist information
- 7-day hotline service
Below please find more information about your bike trip. If you have any further questions please feel free to contact us by phone: 0049 - (0)6421-886890.
Arrival by train
Meppen can be reached by train from all major cities in Germany. The hotels are located approx. 400m to 2.2 km from the main train station and can be easily reached by a short cab ride or public transport. You can find up-to-date timetable information and prices at www.bahn.de
Parking facilities
The partner hotels in Meppen offer parking facilities with limited space, sometimes even free of charge, for the entire duration of your cycle tour. Advance reservations are not possible. You will receive detailed information on parking facilities at the hotel you have booked with your detailed travel documents two weeks before the start of your trip.
Condition of cycle paths
You cycle mostly on bike paths with overwhelming good surface and only short sections on hiking path and field paths. As far as possible you cycle away from roads with heavy traffic. Field, forest and farm tracks.
Available rental bikes
You can choose between unisex bike with 7-speed hub gear and coaster brake as well as electric bikes with 7-speed gear shift and coaster brake. The touring bikes have a gel saddle and are sprung at the front. Men's bikes available on request. On request and availability, the rental bikes can be equipped with a pannier, repair kit and map holder.
Costs which are not included in the travel price
A possibly resulting tourist tax is not part of the travel price and therefore it has to be paid locally in the Hotel. The cost is between EUR 1.50 and EUR 2.00 per day.
7 day hotline service
Just in case the bike chain breaks, flooding makes it impossible to continue your tour or any other nasty surprise: You can reach us seven days a week and we will do anythig to help you as fast as possible.
Passport and visa requirements
For EU citizens, there are no special passport or visa requirements and no health formalities to be considered for this trip.
Travel insurance
The tour price already includes the statutory insolvency insurance. In addition, we recommend that you take out travel cancellation insurance upon receipt of your travel confirmation in order to protect yourself against financial disadvantages in the event of travel cancellation, interruption of travel, illness or accident.
You might also be interested in