There could be no better start for a bike tour than the bike city Münster! In Münster cyclists are the kings. By bike you will explore the the university town, the city palace and the traffic-calmed city center. There is much to discover!
A little wistfully, leave the bustling university city Münster. Soon you'll cycle through the green meadows of the EU Bird Protection Area "Riesenfelder". Spotted cows and farms will be your companion on the 100-Castles Route along the Ems river. Take a short breather in Greven and Emsdetten and enjoy the pretty town of Rheine with its historic town houses.
Today you'll follow once the Ems river, once the Dortmund-Ems-Canal and on your way you will see many passing ships. In Emsbüren you have the opportunity to visit the famous open air museum which gives deep insight into the working and living culture of the ancient people living in the Emsland. In Lingen you'll find many historical buildings from different areas and a beautiful traffic-calmed city center. And who knows, maybe you have the chance to experience Lingens international theater and music scene.
Slowly but steady you'll breathe sea air! Take a worthwhile stopover in Groß Hesepe to explore the "Emsland Moormuseum". Your destination for today is Meppen, feel free to explore the town on your own initiative. Walk around the old city and climb on top of the complete preserved fortification ring (1360), visit the Provost church, the Jesuit residence and the renaissance town hall.
Today you'll discover old and modern. At first, you'll visit the interesting "Emslanddom" in Haren, than you'll make a small detour to see the Transrapid test track and finally you'll discover the old fen colony Papenburg. Have a walk through the beautiful center with its idyllic channels, wooden bascule and swing bridges and old sailing ships.
And another highlight: In the morning you have the possibility to visit the Meyer shipyard, the largest indoor dry dock in the world (only with pre-registration). After this impressive tour you'll cycle along the Ems until Leer. Go for a walk and discover the beauty of this fishing town with its thousand-year history and its winding old streets.
Today you get a healthy breeze of the North Sea. Arrived in Emden, the pretty seaport town on the Dollard, you have many possibilities: Make a harbour cruise, stroll through numerous museums or take a public guided city tour.
Individual departure. Who wants return to Münster can take the direct train that leaves hourly from Emden. After an relaxing two hour ride you'll be back in Münster. Alternatively, you can book the practical back transfer service (at least 4 people).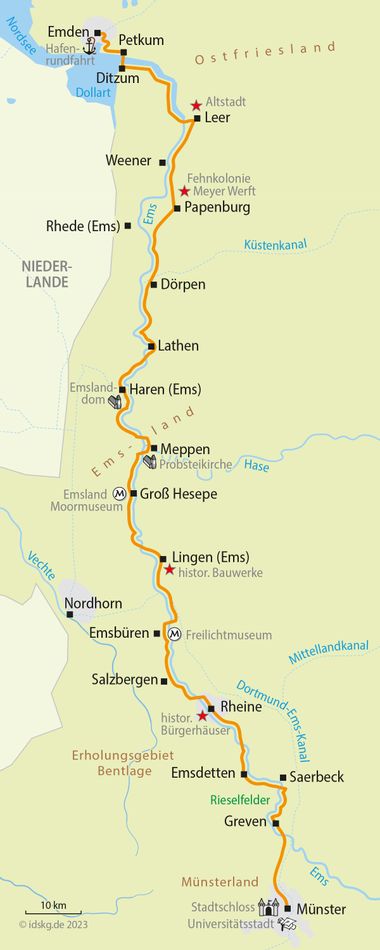 Accommodation incl. breakfast
Room with shower/bath/WC
Luggage transport
Map of bike trails with marked route
Digital route guidance via smartphone app
Tips for tour preparation
Touristic information
7 days hotline service
Below you will find specific information about the Ems bike trail and surroundings. If you have further questions about this trip, you simply call us: Phone: 06421 – 886890.
Arrival by train
Münster is easily accessible from all major cities in Germany by train. Current schedule information and price information can be found at www.bahn.de .
Parking facilities at the hotel
Parking in at the starting Hotel in Münster is possible (approx. 19,00 € per night), reservation not possible. Detailed information on parking at the hotel, you will receive together with the detailed travel documents two weeks prior to departure.
Condition of cycle paths
The area along the River Ems is ideal for cycling. All routes are mostly flat or lead through slightly undulating terrain. You cycle on asphalted or paved rural roads, sometimes on small side roads or bike paths. The routes are also suitable for beginners and bike groups.
Available rental bikes
You can choose between unisex and men's bicycles either with 7-speed gear shift and coaster brake or 21-speed gear shift and freewheel as well al electric bikes (unisex). You simply specify your wishes at time of booking.
Tour information and rental bike
On the day of arrival, there will be an information meeting in the evening in the start hotel. Here also possibly rented bicycles are handed out.
Transfer back to the starting point of the journey
There is the option of booking back to Münster. The driver comes to your hotel and has enough room for you, your luggage and, if necessary, your private bike. He drives you back to your starting hotel and ensures a perfect return journey without the hassle of changing trains or lugging your suitcase. Alternatively, you can return from Emden to Münster by train (about 2 hours, price approx. 35,00 € p.p. plus bike transport).
Extra costs, which are not included
A possibly resulting tourist tax is not part of the travel price and therefore payable locally in the hotel.
7 day hotline service
Just in case the bike chain breaks, flooding makes it impossible to continue your tour or any other nasty surprise: You can reach us seven days a week and we will do anything to help you as fast as possible.
Passport and visa requirements
For EU citizens, there are no special passport or visa requirements and no health formalities to be considered for this trip.
Travel insurance
The tour price already includes the statutory insolvency insurance. In addition, we recommend that you take out travel cancellation insurance upon receipt of your travel confirmation in order to protect yourself against financial disadvantages in the event of travel cancellation, interruption of travel, illness or accident.
You might also be interested in